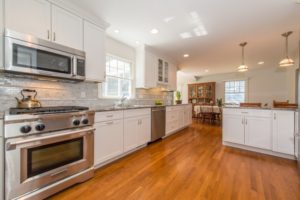 As soon as you begin speaking with contractors about a remodeling project, one of the first things they will want to know is if you have established your budget. For many this may seem like a daunting task, especially if this is your first major renovation. JMC is here to help by providing you with 5 tips to guide you in setting a realistic remodeling budget.
Define your reasons for wanting to remodel and how long you plan to stay in your home. Common motivations for remodeling include: improving the function or flow of an existing floorplan, expanding family size, downsizing, aging in place, or repair due to damage. Next, do you plan to stay in your home for ten years or more? If you do, be generous with your budget to ensure that you can get what you want and need.
Research the average costs of quality remodeling projects in your city or metro area. Remodeling Magazine puts out a Cost Vs. Value Report every year and breaks the country into metro areas and by specific project types. This report can be very helpful. It's important to keep in mind that these are only averages, but it will give you a place to start.
Determine how much you can spend. This may include looking at your savings, determining how much equity you have in your home or consulting a bank to find out how much you can borrow. Perhaps you plan to pay for your remodel by using a combination of savings, an equity line or loan or another type of loan. Whatever the case, it's important to set your maximum comfort level.
Create a list of "must haves". These are features or materials that your remodeling project must include. It can be anything from hardwood floors to black granite countertops. These items will allow your remodeler to know what's most important to you. Keep in mind that they may have alternate suggestions and be open to hearing them, as they may be able to save you money or offer a better solution.
Consult a professional design build firm. After working through steps 1 through 4, you are ready to call a professional. Typically, they will ask you a series of questions on the phone to establish your needs and understand your remodeling budget. This discussion will help them determine if they are the right firm to handle your project. The next step would be to schedule an in-home visit to gain a better understanding of your wants and needs.
Please contact JMC Home Improvement Specialists if you are considering remodeling your home and want assistance establishing your budget. Our team is here to help and we look forward to speaking with you.