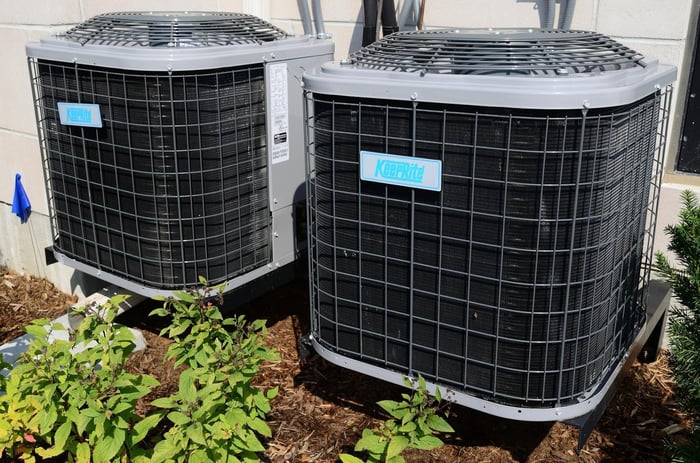 If there's one system in your home you depend on heavily for comfort it's your HVAC system. In the winter, it keeps you cozy and warm and serves as a reprieve from the bone-chilling outdoor air; in the summer, it keeps you nice and cool and is a welcome blast of cool air when you walk through the door with beads of sweat on your forehead. If anything goes wrong with your HVAC system, it quickly becomes a priority to fix, but repairs can be pricey. It is strongly advised that you don't make repairs yourself, but there are several DIY maintenance tips you can employ to keep your HVAC system running smoothly all year long.
Educate Yourself
Before you start digging into the HVAC maintenance, it's important that you dig into some reading material first to get a better understanding of your system as a whole. Become familiar with the various parts, including the filters, registers, and fans, as well as the sound your system makes when it is running effectively. You don't need to be able to name every single part and its purpose, but you can learn more about your system by reading online guides.
Keep Your Home Sealed
Your HVAC isn't meant to run continuously. Once it heats or cools your home to the desired temperature, it shuts off. However, if you have air leaks in your home, your system has to work overtime to keep you comfortable. To prevent wasted money and keep your HVAC unit from playing out, seal air leaks using caulking and weatherstripping on doors and windows. Be sure to check for leaks where plumbing, duct, or electrical wiring comes through your walls, floors, and ceilings, as these places are notorious for having small gaps that let air out.
Stay on Top of Filter Replacements
Changing your HVAC's air filter is one of those things you know you need to do, but how often you do it is a gray area. There are four factors that affect how often you should change your air filter: frequency of use, number of people/pets, type of air filter, and allergies. For those especially cold or hot months where you are relying on your system heavily, it can't hurt to change the filter every month. Having pets means additional dust, dirt, and pet dander, and as well as a shorter filter life. Allergy sufferers will find that changing the filter often helps them to breathe better. The type of filter you have will come with its own replacement recommendations, but keep in mind that it should be altered depending on your household size and system usage. Changing and/or cleaning your filter is quite simple, and this guide lays it out step by step.
Keep Your System Clean
Your HVAC unit is a lot like your ceiling fan blades — you never think to clean them until you realize just how dirty they can get. By cleaning your unit, you can save money by preventing early replacement and even extend it's lifespan altogether. Turn off the power to your unit, and start with the outdoor unit first. Remove the fan cage and remove any dirt, leaves, or other debris that have gotten trapped inside (tip: leave at least two feet of clear space around the unit to help air flow). Use a hose to gently spray the fins. Head inside and give the evaporator coil a good spray-down with cleaner you can find at your local home improvement store. The cleaner will drip into the drain pan, which you can then clean with a mixture of equal parts bleach and water to prevent clogs and algae growth.
You don't have to be an HVAC pro to stay on top of maintenance. Get familiar with your system and how it works. Then, stay on top of gaps, filter changes, and cleanings to keep your system in pristine condition through each and every season.