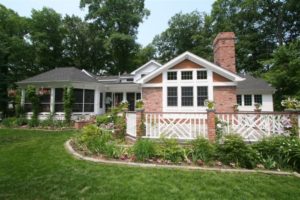 We're excited to share the news of our latest award. JMC Home Remodeling Specialists has been recognized with a "Best of Houzz" badge for Customer Service, for the third consecutive year by Houzz.com, the leading platform for home remodeling and design. This award holds special meaning for the JMC team as it's based solely on reviews posted to our Houzz profile by our clients.
"We're very proud of this third-time achievement and want to extend our sincere thanks to all of the clients who have shared their experience with JMC by posting a review for us," said John MacDougall, President of JMC Home Remodeling Specialists. This award is reassurance that we're delivering on our commitment to provide our clients with the best possible remodeling experience."
If you aren't familiar with Houzz, we encourage you to check it out. It's a free online resource filled with ideas and inspiration for remodeling and decorating projects. Users create their own profile and save their favorite photos in idea books. They can also search for service providers in their area when they are ready to get started on a project. JMC uses Houzz to collaborate with clients by sharing photos that can guide the design of an upcoming project. We also post photos of our finished projects so our clients and followers can see our latest work.
We invite you to visit our Houzz profile and read our reviews. If you're considering a remodeling project, please contact us today to discuss your ideas!