When you're waiting at the starting line, wanting to finally begin that home remodeling project you've been dreaming of, you might be wondering what time of year is the best to renovate a house. The answer is that each season has its pros and cons for starting a remodeling project. However, we're going to outline why starting a remodeling project in spring might be the best time for you.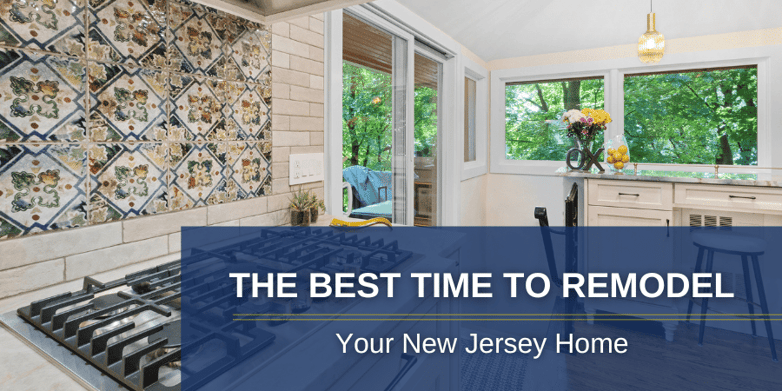 1. Perfect Weather Conditions
Spring in New Jersey offers a delightful blend of moderate temperatures, making it neither too cold like winter nor too hot like summer. Such conditions are not only comfortable for homeowners but also ideal for your design-build team. Mild weather ensures fewer disruptions due to rain or extreme temperatures, allowing the project to progress smoothly.
Spring provides the perfect middle ground between the freezing winter and sweltering summer, ensuring efficient work and fewer weather-related delays. Even with interior remodeling projects, the design-build team may need to keep equipment and materials outside, depending on how much space is allowed indoors. Moreover, the predictability of the weather means fewer surprises, ensuring a smoother renovation process for your basement remodel or complete home reimagining. The gentle breezes of spring also aid in drying paints and finishes faster, accelerating the project's timeline.
2. A Season of Renewal
Spring symbolizes rebirth and renewal. As nature rejuvenates itself, homeowners feel inspired to refresh and revitalize their living spaces. Lean into that motivation to transform your home to align with the vibrant energy of spring. The transformation isn't just about aesthetics; it's about embracing a new beginning and setting a positive tone for the rest of the year. Bathroom remodels, kitchen expansions, and whole home remodels are a great way to feel refreshed and improve your everyday life.
3. Financial Benefits
With tax season in full swing, many homeowners anticipate tax returns. Investing this amount in home renovations not only enhances the living space but also adds value to the property and improves your quality of life. Putting these spare funds into your home office remodel, kitchen remodel, or complete home makeover can increase the overall resale value of your home, making it a wise investment for the future.
4. Preparing for the Busy Season
Summer is often filled with gatherings, barbecues, parties, and celebrations. Undertaking renovations in spring ensures that your home is ready to host and impress by the time summer rolls around. With your home in top shape, you can entertain guests with pride, showcasing your newly renovated spaces. Plus, completing renovations in spring means fewer disruptions during peak holiday seasons, allowing your family to enjoy your home fully.
5. Longer Days, More Productivity
Spring brings with it longer daylight hours, thanks to daylight savings. The added daylight is not just beneficial for the contractors; it also allows homeowners to review and assess the day's work progress in natural light. This ensures better decision-making and adjustments if needed. Furthermore, the extended daylight hours can lead to a more energized workforce, leading to enhanced productivity and efficiency.
6. Strategic Planning for the Future
If you're contemplating, "When is the best time of year to remodel a kitchen?", starting in spring provides ample time for your project's completion if you start planning before spring arrives. This ensures that by the time winter arrives, all renovations are complete, and you can enjoy your revamped kitchen without any pending tasks. You will be able to rest easy knowing your completely remodeled kitchen is more than ready for the busy holiday season at the end of the year.
If you're looking years into the future, remodeling your home with safety and accessibility in mind is a great idea. Your design-build remodeling team can ensure your home is ready for aging in place sooner rather than later. After all, remodeling your home for accessibility is certainly something you don't want to put off.
Get Your Home Remodeling Project Started Right Away
The winter is the time to contact a dependable design-build team to have your remodel started in the spring. Beginning the process now allows for time to make sure your in-home assessment, design process, and pre-construction phase can all be thoroughly completed before construction in the spring begins.
In the heart of New Jersey, where the climate varies quite a bit with each season, spring emerges as the best time for home remodeling. Whether you're considering a kitchen makeover, bathroom addition, or a whole home remodel, spring offers the ideal conditions, both in terms of weather and financial benefits. So, as the question arises, "Is now a good time to renovate my house?", the answer is a resounding yes. Embrace the spirit of spring and embark on your home renovation journey with confidence and enthusiasm.
In Northern New Jersey, JMC Home Improvement Specialists is your trusted design-build partner in this endeavor. With a calming and reassuring design-build approach, we ensure that your vision is brought to life within budget, transforming your house into the dream home you've always wanted. Contact us right away to get started on planning your project if you'd like to begin your transformation during the best season for a remodel.