Our Process
We at JMC Home Improvement Specialists pride ourselves knowing that our relationships with our clients are what makes us stand apart in the home remodeling and reconstruction industry. Based on Guild Quality surveys to all of our clients, we appreciate the fact that over 93% of our customers would recommend us to their friends and family. Knowing that we've been in the community since 1977 and that we'll be here when you need us most, are other assets that set us apart from our competition.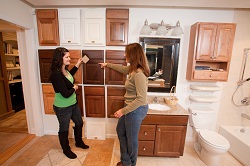 We are always striving to make your experience with us the best possible one that you can have during your bath, kitchen, basement, alteration or addition. We are continually refining our processes and procedures to make sure that nothing falls through the cracks during your project and you know that you're in the best possible hands. We get to know you and your family through an in-depth process so that we ensure your home reflects the best possible solutions.
We believe investment in your home is an investment in your future. It is an investment that you and your family can enjoy now and for years to come. We continually refine our project process to ensure that our homeowners are completely satisfied with their experience with JMC and that we have exceeded their expectations. We continually evolve our processes based upon feedback we get throughout your project, and we survey every client regardless of the size of the job.
Most projects follow the process below. Of course, based upon the details involved in the project, there may be more (or fewer) meetings between the homeowner and the designer, John MacDougall and/or the project manager.
Our basic process follows these steps.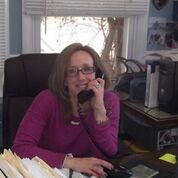 Step 1 – Initial phone call
Our process begins when you call the office and speak with our Office Manager. You'll have a chance to ask some questions and answer a few of ours. Then, you will have a conversation with John MacDougall, the owner of JMC, to determine if we are the right company for you. He'll briefly talk you through our process, and an appointment will then be set for your free, in-home consultation.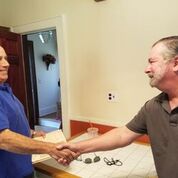 Step 2 – Your In-Home Consultation
We will come to your home to discuss and determine your wants and needs. This will include space planning, taking measurements and photos and a discussion of timing and budget. We may suggest a design/build relationship or set a meeting in our showroom to review a design.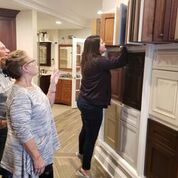 Step 3 – Showroom Meeting
Once you arrive at our office, you will be introduced to our staff and have a chance to look through our showroom. You will sit with our design team to review the initial concept and be able to see 3D drawings of the proposed ideas. Our designer will guide you through our showroom to get a general idea of your material choices.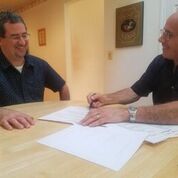 Step 4 – Estimate Overview & Deposit
After your showroom meeting, typically within a week, we will create an estimate to be discussed with you. Although this is not a final estimate, this early pricing is usually within 10% of the final agreement. Once you are ready to proceed, you will authorize the agreement and a design deposit will be placed.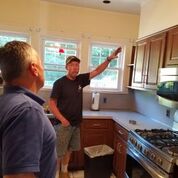 Step 5 – Pre-Construction Visit and Meeting
We will meet with you in your home to confirm measurements, takes photos and discuss the logistics of what is involved in your home remodeling project. We will also be able to answer any questions or concerns you may have.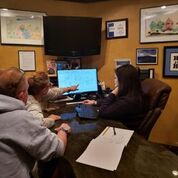 Step 6 – Final Material Selections
We will meet with you in our showroom and partner together to nail down your selections and finalize our agreement.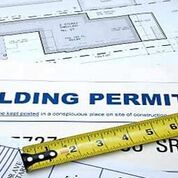 Step 7 – Applications and Permits
We will submit all applications and drawings to your town hall for the permit process. We will send you a detailed set of plans to review and authorize and call you to set up the start date once the permits have been issued.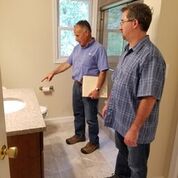 Step 8 – Pre-Job Walkthrough
We will meet in your home to review the details of your remodeling project. Our project manager will introduce you to your project lead and other key team members who will be at your home.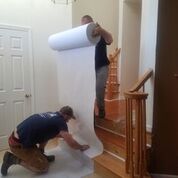 Step 9 – Start of Construction
Your home will be prepared for the project to begin. We will seal off the construction area to ensure cleanliness and safety. At the end of each work day, your project will be swept, vacuumed and all materials and tools will be neatly stored away.
You and your daily on-site project lead will communicate during your home remodeling project.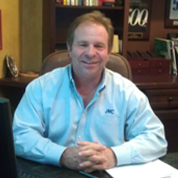 Step 10 – During Job Follow-Up Call
During the project, you will be contacted by John MacDougall to make sure you are completely satisfied.
Step 11 – Meetings
We will communicate throughout your project by having meetings and/or phone calls with you. The intent is to keep you informed and answer any questions that may arise during the construction of your project.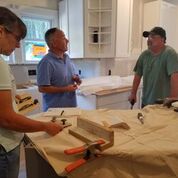 Step 12 – Substantial Completion/Walkthrough
Once the project is in its final stages, we will perform a walkthrough at your home with you and develop a punch list of items that will be addressed to complete your project.
Our goal is for you to be fully satisfied with our work, from the design development to the completion of every single detail.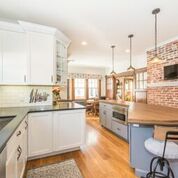 Step 13 – Project Completion/Final Inspections
Upon project completion, we will coordinate with you to make sure final inspections are completed.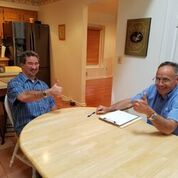 Step 14 – Project Closing Meeting
The project manager or John MacDougall conducts a closing meeting at your home to make sure that you are 110% satisfied with the whole remodeling experience and pleased with the final project.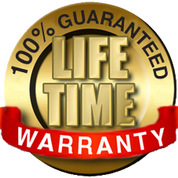 Step 15 – Warranties
You will receive our JMC Customer Care Package, which includes the details regarding your project, but is not limited to product information, warranties, care requirements and you will find our "lifetime warranty certificate."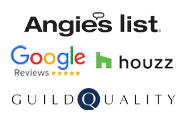 Step 16 – Survey and Review Request
Upon completion, you will receive a survey from Guild Quality, an independent firm that provides customer satisfaction surveys for building professionals and a request from our office for online reviews.
What to Expect throughout the Project
During the first week of work in your home, expect to hear from Tammy, our designer, to see how things are going. Your project manager will be on-site frequently. John MacDougall will call you during the course of the job to make sure you're happy, and if you have any concerns. Of course, we expect you to call us if any issues arise so that we can attend to them immediately to ensure your experience with JMC stays on schedule, on budget, and to your fullest satisfaction. You will always hear from the crew each morning to let you know they will be there at the appointed time. Our goal is for the completion of your project with a zero punch list. That means we want to ensure all details are finalized, again on schedule and within budget.
For more details, please review our "Remodeling Your Bathroom the JMC Way" to get a full picture of the work that gets done for a simple bathroom. This illustrates our process.
Testimonials
"Our two bathroom remodels by JMC exceeded our expectations at every step in the process. From design to completion, the JMC team ensured everything went as planned and the assigned project manager was always available and in touch. The design phase allowed us to visit the showroom, see 3D designs and actual products to select […]
"Overall, we have had a very positive experience with JMC. This is now our second major project with them. The quality of their work is top rate and you can tell their employees really care about their work. JMC makes it easy to transform a concept into a finished product with the help of their excellent designer, Tammy. In […]
"This group of professionals are some of the finest artists I have ever met. We have come to consider them friends and feel very fortunate to have found them. They were very trustworthy and it was a pleasure getting to know the entire staff. In my many years of working with various groups of people this team was the most […]
1

Initial Phone Call

2

Your In-Home Consultation

3

Showroom Meeting

4

Estimate Overview & Deposit

5

Pre-Construction Visit and Meeting

6

Final Material Selections

7

Applications and Permits

8

Pre-Job Walkthrough

9

Start of Construction

10

During Job Follow-Up Call

11

Meetings

12

Substantial Completion/Walkthrough

13

Project Completion/Final Inspections

14

Project Closing Meeting

15

Warranties

16

Survey and Review Request