Kitchen Remodeling Contractor in Morris County & the Surrounding North Jersey Areas
Schedule Your Kitchen Renovation in Summit, New Providence, Short Hills, or the Surrounding Areas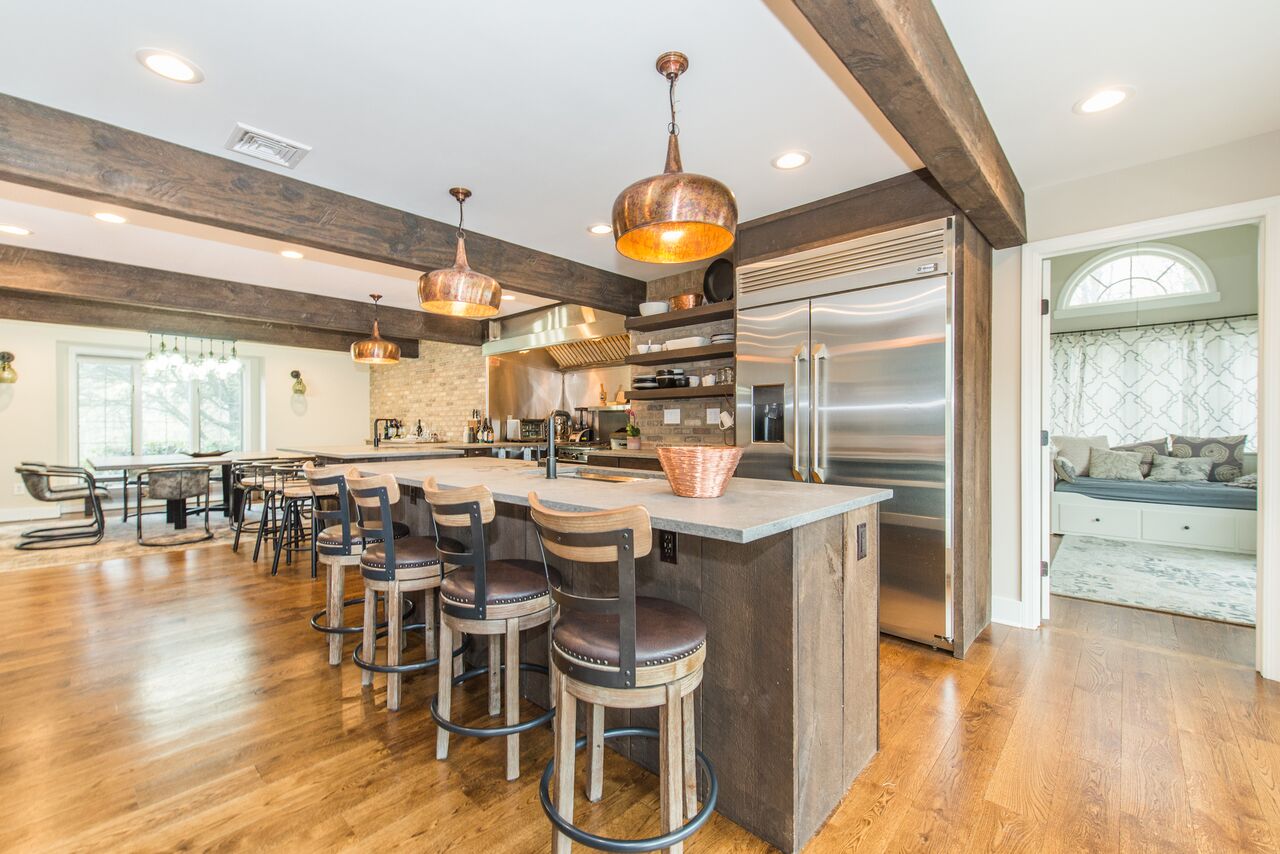 The kitchen is where you gather with family and friends to share good food and even better company. A functional kitchen is about more than having the ability to prepare a meal—it's about making memories that last a lifetime.
If your kitchen doesn't meet your needs, let the design/build professionals at JMC Home Improvement Specialists help you reimagine the space. We'll create a kitchen that has all the features you need to feed your hungry family and entertain guests. Our knowledgeable team has been providing first-rate kitchen remodeling services to residents of Morris, Union, and Essex counties since 1977. We'll help you explore your options, from a modest renovation to a complete kitchen overhaul.
To schedule your kitchen remodel in Morris County or the surrounding North Jersey areas, please contact JMC. We offer free in-home consultations to get your project started on the right foot. You can also visit our showroom by appointment only.
What Are the Benefits of a Kitchen Remodel?
You may decide you need to remodel your kitchen to meet the unique needs of your family. Whether you choose to add double ovens to ease holiday baking or push out the walls to make room for a breakfast nook, here are the types of benefits you can expect when you remodel your kitchen:
Better functionality: Changing your kitchen's layout, adding a second sink, and updating the appliances help the space work better for your family.
Improved aesthetics: New cabinetry, countertops, and flooring can make a huge difference in the way your kitchen looks and feels. Choose designs and finishes from your favorite home improvement magazines, and we'll replicate the look in your home.
High return on investment: Whether you're planning to move soon or not, you can expect a kitchen renovation to increase the resale value of your home.
To learn more about our kitchen renovations in Summit, New Providence, Short Hills, and the surrounding areas, contact our team today.
Our Design/Build Process
Some contractors only offer design services. Others provide construction work. At JMC, our design/build process means we work with you from start to finish. This method simplifies your kitchen renovation, makes your budget go further, and helps you maximize the benefits of this home improvement project.
We begin with a consultation, gathering your input on the type of design you want to see in your kitchen. Our expert designers draft a plan for your new space, and with your full approval, our experienced construction crew performs the renovation. Once you're completely satisfied following the final walkthrough, we deem the job complete. Our kitchen remodel prices start between $40K and $70K. Call now for an estimate.
For more information on our kitchen remodels in Summit and the surrounding areas in North Jersey, contact us now.
Why Choose JMC for Your Kitchen Renovation in Morris County or a Surrounding Area in North Jersey?
Just as every cook needs different ingredients to bake their signature dish, you need the right team of professionals by your side to make your dream kitchen a reality. Our design team will work closely with you to discuss your needs and the changes you envision. We have thousands of kitchen renovations under our belt, and we're confident we can deliver a job well done on your upcoming project.
Here's what sets us apart:
We have over four decades of experience.
We are a BPI-certified contractor.
We back up everything we do with our JMC Guarantee.
We have over 500 five-star reviews.
We have won multiple awards.
Schedule Kitchen Remodeling in Summit, New Providence & the Surrounding Areas
If you think it's time to update your home with a kitchen remodel, start by checking out our kitchen renovation portfolio for inspiration. Like what you see? Then stop by our showroom to see products in person and ask questions of the JMC design team.
When you're ready, contact us and schedule your kitchen renovation in Morris County, including Summit, New Providence, Short Hills, and the surrounding areas in North Jersey.
Testimonials
"Our two bathroom remodels by JMC exceeded our expectations at every step in the process. From design to completion, the JMC team ensured everything went as planned and the assigned project manager was always available and in touch. The design phase allowed us to visit the showroom, see 3D designs and actual products to select […]
"Overall, we have had a very positive experience with JMC. This is now our second major project with them. The quality of their work is top rate and you can tell their employees really care about their work. JMC makes it easy to transform a concept into a finished product with the help of their excellent designer, Tammy. In […]
"This group of professionals are some of the finest artists I have ever met. We have come to consider them friends and feel very fortunate to have found them. They were very trustworthy and it was a pleasure getting to know the entire staff. In my many years of working with various groups of people this team was the most […]
1

Initial Phone Call

2

Your In-Home Consultation

3

Showroom Meeting

4

Estimate Overview & Deposit

5

Pre-Construction Visit and Meeting

6

Final Material Selections

7

Applications and Permits

8

Pre-Job Walkthrough

9

Start of Construction

10

During Job Follow-Up Call

11

Meetings

12

Substantial Completion/Walkthrough

13

Project Completion/Final Inspections

14

Project Closing Meeting

15

Warranties

16

Survey and Review Request