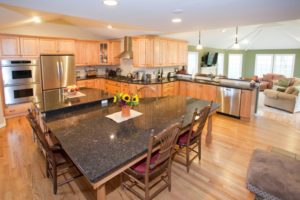 Once you've decided you're ready to remodel your home, the first thing you need to do is find the right firm to complete the job. We recommend that you ask each contractor you are considering to provide you with the names of past clients that you can call on for a reference. When you're asking a contractor these references, you're probably going to get the same five he gives every prospective client. Doesn't every contractor have 5?
Today's contractor needs to be more transparent and it's your job to ensure he is. Consumers are smarter and more demanding than ever.
Here's how you can uncover more about the contractors you're looking at to do your home remodel.
Throw away those five references and ask him for the following:
1. References of similar value, scope, and project type (don't get a reference about windows if you're putting an addition on).
2. Two jobs they're working on TODAY that are still in the construction phase.
3. Two jobs they completed six months ago.
4. Two jobs they did a year ago.
5. Two jobs they did 5 years ago.
This is a proactive exercise to gain the knowledge of the consistency of the contractor. We all have five good "go-to" references. Know what's happening today. Speak to the remodelers' clients. Visit their jobsites. If getting these references takes more than a couple of days, beware….
Coming next … what questions to ask.