Guild Quality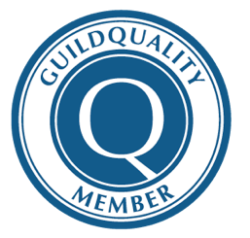 For several years, JMC Home Improvement Specialists has worked with the Guild Quality, surveying all of our clients once a job is completed. North America's best home builders, remodelers, contractors, and real estate companies rely on GuildQuality's customer satisfaction surveying and performance reporting to help them monitor and improve the quality of their work.
We are proud to say that we consistently earn the "Great Customer Experiences" badge which shows that 20 customers in a row give us the highest possible score in response to the question "Likely to Recommend", which to date is 96% of those surveyed.
Please check out our Guild Quality Profile and read through over 285 reviews so far.
Testimonials
"Our two bathroom remodels by JMC exceeded our expectations at every step in the process. From design to completion, the JMC team ensured everything went as planned and the assigned project manager was always available and in touch. The design phase allowed us to visit the showroom, see 3D designs and actual products to select […]
"Overall, we have had a very positive experience with JMC. This is now our second major project with them. The quality of their work is top rate and you can tell their employees really care about their work. JMC makes it easy to transform a concept into a finished product with the help of their excellent designer, Tammy. In […]
"This group of professionals are some of the finest artists I have ever met. We have come to consider them friends and feel very fortunate to have found them. They were very trustworthy and it was a pleasure getting to know the entire staff. In my many years of working with various groups of people this team was the most […]