Energy Audits & Retrofits
We help our clients save money by finding ways to increase the energy efficiency of their homes. As a Building Performance Institute (BPI) Certified Contractor, we provide professional services to determine where your home may be losing energy, coming up with solutions to improve your home's energy performance, and providing you with professional craftsmen who can fix any problems uncovered.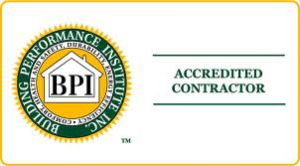 The first step is a home energy audit, which includes blower door and thermal testing to identify where air is coming into or leaving your home and where the insulation of your home and where the insulation of your home is insufficient, negatively impacting your home's energy efficiency.
What services might be included in a home performance project?
The project will start with a comprehensive assessment, including an interview with you and a thorough walk-through—both indoors and out. Our professional may use an infrared camera to get a visual on temperature differences in different areas, conduct a blower door test to depressurize the house to assess air leakage levels, and test for leakage in the duct work of forced-air HV/AC systems. We may also perform other function and safety tests on HV/AC equipment, including carbon monoxide levels and combustion back-draft testing. At the end of the comprehensive whole-home assessment, your home performance contractor should be able to provide you with a scientific, objective view of the situation. We will be able to help you prioritize repairs in order—from must-do to nice-to-do—so you can solve the biggest problems without making smaller problems worse.
Home Improvement Repairs to Increase Home Performance May Include:

Air sealing the building envelope, including compartmentalizing the attic or basement from the conditioned living space
Weather-stripping doors and/or windows
Adding insulation
Sealing ductwork
Tuning-up HV/AC equipment
Upgrading to energy efficient HVAC equipment and/or ENERGY STAR® rated appliances
Upgrading to ENERGY STAR® rated doors or windows.
And, as a licensed home remodeling company, we can complete all of the repairs you choose to do.
For more information on how to increase your home's energy, follow this link "Benefits of Home Performance". You'll find all practical details and frequently asked questions that homeowners have while considering having a Home Energy Audit.
Testimonials
"Our two bathroom remodels by JMC exceeded our expectations at every step in the process. From design to completion, the JMC team ensured everything went as planned and the assigned project manager was always available and in touch. The design phase allowed us to visit the showroom, see 3D designs and actual products to select […]
"Overall, we have had a very positive experience with JMC. This is now our second major project with them. The quality of their work is top rate and you can tell their employees really care about their work. JMC makes it easy to transform a concept into a finished product with the help of their excellent designer, Tammy. In […]
"This group of professionals are some of the finest artists I have ever met. We have come to consider them friends and feel very fortunate to have found them. They were very trustworthy and it was a pleasure getting to know the entire staff. In my many years of working with various groups of people this team was the most […]