When it comes to home remodeling projects, understanding the difference between design-build and hiring an architect is an important first step. Here, we'll explore what to expect if you hire an architect and builder separately, the benefits of design-build remodeling, and the advantages of working with a cohesive design-build team. Let's dive in!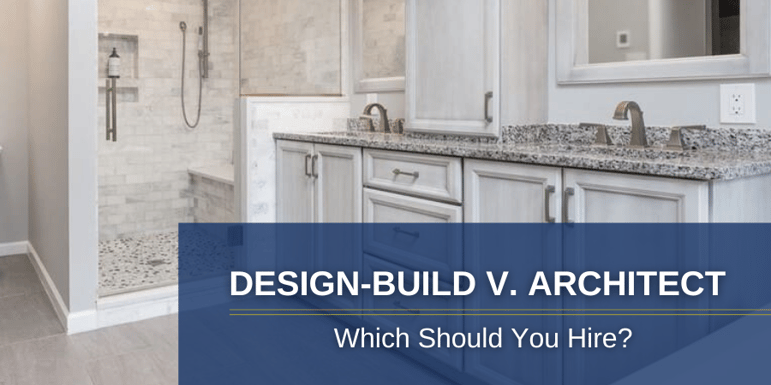 Should I Use an Architect or a Design-Builder? What Is the Difference?
Working with an Architect and Builder Separately
When considering home renovations, some homeowners choose to work with an architect and builder separately. This traditional approach, known as the design-bid-build process, involves hiring two separate companies, working with your architect, seeking bids, and hiring the lowest bidder. Then, you will work with your builder to see if your design is feasible and figure out if it will actually fit within your budget. This is clearly a lot of steps and can result in spending extra time reworking your design and even going over budget.
The Role of an Architect
An architect's role in the design-bid-build process is to learn about your design goals and create your design. Architects specialize in creating architectural plans but could lack valuable feasibility knowledge or accurate material costs. Depending on the architect, your fee may include project management, or they may only create the design and hand it off to your builder.
Cost Considerations
When hiring an architect, it's essential to consider the associated costs. The fees vary based on the scope and cost of the project. One thing to mention is that the fees of the architect will depend on the detail of the drawings. Often times, design build firms will take an architectural plan and then work out all of the details with the elevations, final design and choices. Typically, architects don't directly assist in selecting design materials. Instead, they often recommend supply houses and suggest collaborating with the remodeling company you've hired to work through these choices. However, it's worth noting that design-build companies can often offer more cost-effective solutions, as they have in-house designers and construction professionals working together under one roof.

The Advantages of Design-Build Remodeling
Choosing a design-build remodeling company offers numerous advantages over the traditional approach.
Streamlined Communication and Accountability
Design-build is an integrated approach where one team handles both the design and construction aspects of a project. This streamlined process eliminates the need for separate professionals and enhances collaboration, communication, and accountability.
Working with a cohesive design-build team ensures a seamless process. With all professionals under one roof, there's no need for homeowners to act as intermediaries or juggle multiple points of contact. This leads to better coordination, fewer misunderstandings, and efficient decision-making.
Budget-Friendly Approach
Design-build companies consider construction costs right from the initial design phase. This proactive approach allows homeowners to make informed decisions that align with their budget. With a cohesive team managing the project, the risk of costly change orders is mitigated, keeping the project on track financially.
Efficient Design and Construction Process
The design-build method eliminates the traditional linear approach of design first, then construction. Instead, the design and construction phases overlap, saving time and reducing the overall project duration. This efficient process ensures that the project progresses smoothly and avoids delays caused by miscommunication or design revisions.
Expertise and Collaboration
Design-build teams consist of experts in both design and construction. This expertise fosters collaboration from the project's inception, resulting in innovative solutions and high-quality craftsmanship. The seamless integration of design and construction allows for better problem-solving, value engineering, and attention to detail.

Is Design-Build Better?
When deciding between hiring an architect and working with a design-build remodeling company, it's important to consider the advantages of the design-build approach. Design-build provides a cohesive, efficient, and cost-effective solution, streamlining communication, accountability, and overall project management. Overall, the integrated nature of design-build ensures a smooth and successful outcome.
Finding the Right Design-Build Firm for Your Northern New Jersey Remodel
Now that you understand the advantages of using the design-build method for your New Jersey home remodel, it's time to find the firm that's the best fit for your project. As you peruse online portfolios and read reviews of New Jersey design-build companies near you, add JMC Home Improvement Specialists to your shortlist.
Since 1977, we have not only worked diligently to create a seamless process to deliver excellent design and craft but take pride in the trusting relationships we build with our clients. This is why our clients often recommend our services to family and friends. When you're ready to learn more about what makes our team and JMC as a whole stand out from the crowd, contact us to schedule a consultation. Want to learn more about design-build? Download our eBook now!