A master bathroom remodel is an exciting journey of transformation, brimming with endless design possibilities that cater to your unique tastes and preferences. At JMC Home Improvement Specialists, we understand that navigating through the multitude of choices can be overwhelming. We're here to lay out the design decisions you can expect to make during the design process. From cabinetry to lighting and everything in between, let's explore a comprehensive list of the design details you'll encounter during the design phase of your New Jersey master bathroom remodel.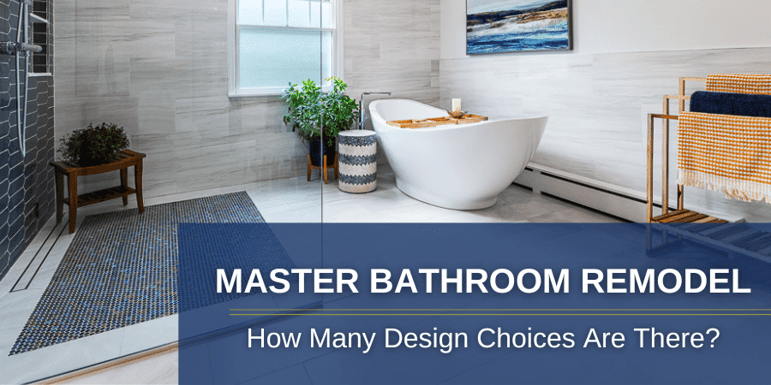 Cabinetry and Storage
Will you opt for all wood or particle board? Imported or domestic? As for the doors, select a style that resonates with your ideal overall style. You will be able to choose from a spectrum of colors, stains, and wood types that mirror your personal style.
Your bathroom cabinets can include custom storage solutions that work for your needs and lifestyle:
Slow-close or soft-close drawers
Slide-out shelves
Dividers for makeup and other smaller objects in shallow drawers
Heat-resistant drawer inserts with a hidden outlet for hair tools
Pull-out hamper
Finishing off your cabinet design will be your hardware selections, including the metal finish and style.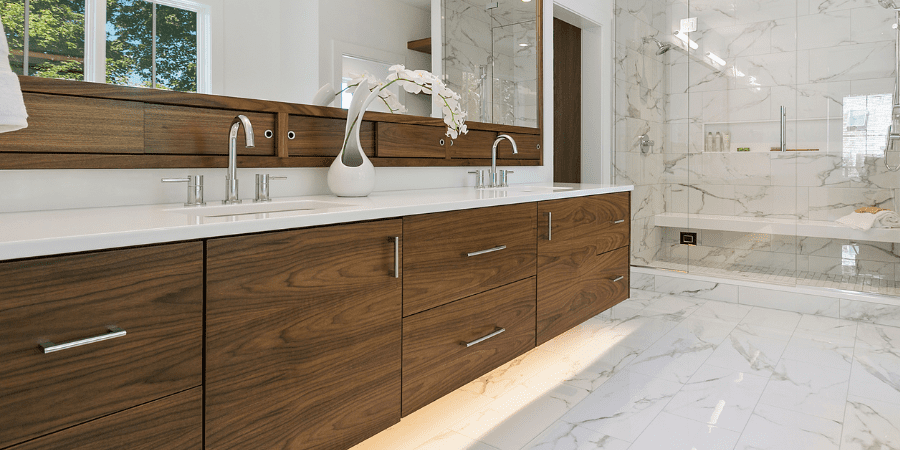 Countertops
There is a long list of material options to choose from for your bathroom vanity countertops, including:
Marble
Soapstone
Quartzite
Quartz
Granite
You will also decide on the edge type, select the thickness that appeals to you, and choose between a glossy or matte finish. Your design-build team will help you decide based on your design goals, color palette, and your desired countertop durability.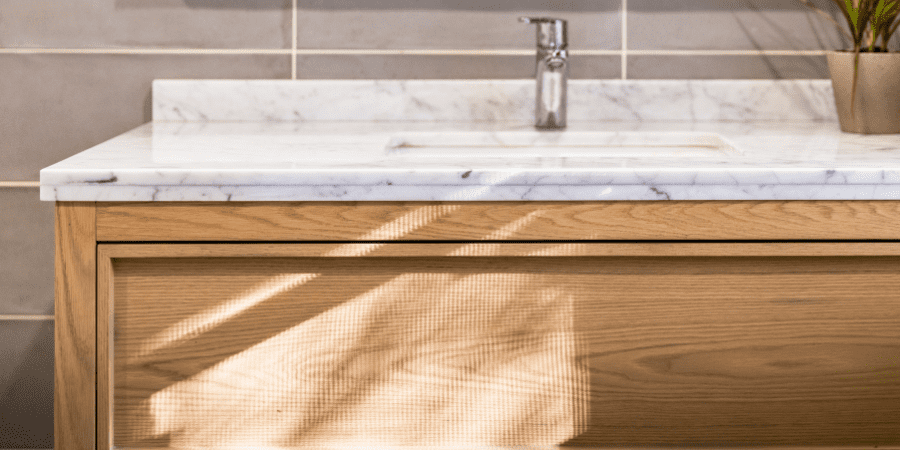 Sink Selections that Reflect You
Every detail counts in your master bath remodel, including the sinks. Choose between:
Undermount
Rectangular
Square
Vessel
Sinks are crafted from various materials like porcelain, glass, or stone. Each choice contributes to your bathroom's overall aesthetic and functionality.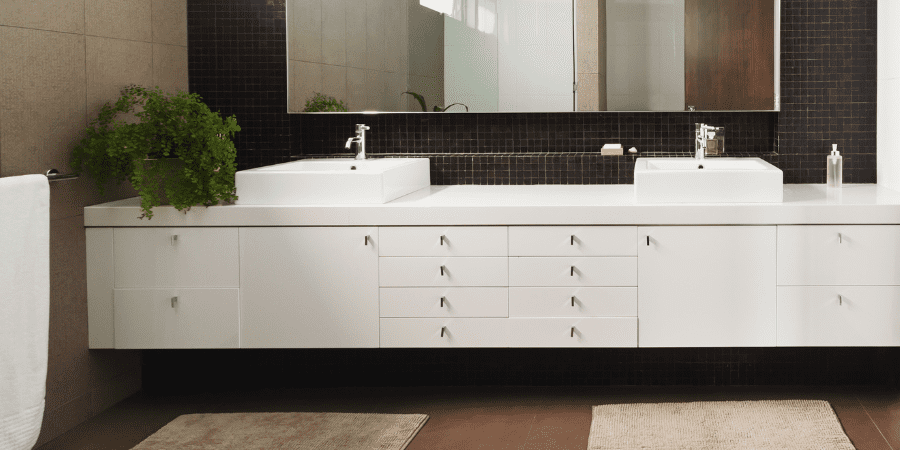 Medicine Cabinets and Mirrors
Elevate your master bath with elements that seamlessly merge functionality and style. Medicine cabinets are available in various sizes, offering ample storage within arm's reach. Opt for features like interior lighting, fog-free technology, and built-in outlets.
Complement the cabinetry with mirrors that reflect your unique taste. Choose from:
Framed mirror
Frameless for a minimalist aesthetic
Back-lit mirrors for an ethereal glow
Beveled edges
Smart mirrors
Shower Details and Layout
Decide on the entry style, such as a curb or curbless entry. You may prefer a half wall for privacy or an all-glass enclosure. Select the floor tile, considering slip resistance, color, and texture. A shower seat is a popular feature, especially for aging-in-place design. Add storage convenience with niches or corner shelves. Choose shower valves that meet your needs, featuring thermostatic controls, body sprays, and hand showers, all available in an array of finishes.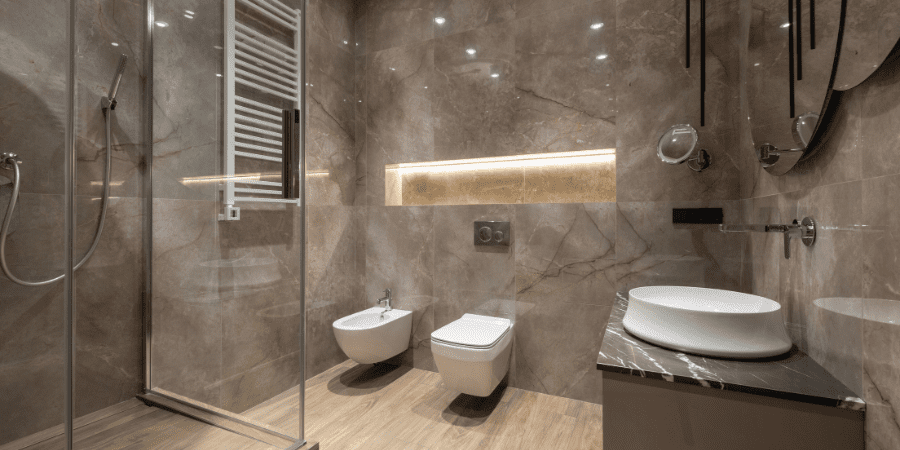 Tiles Choices
When it comes to floor and wall tiles, the possibilities for expression are limitless. For the floor, explore tile types such as:
Stone
Porcelain
Ceramic
Luxury vinyl tile
Cement
Engineered stone
Depending on the material, you'll also have your fair share of colors and textures to choose from, as well as the grout color. Some shapes, sizes, and materials are more slip-resistant than others. Your design-build team will be able to advise you on the best material for your needs.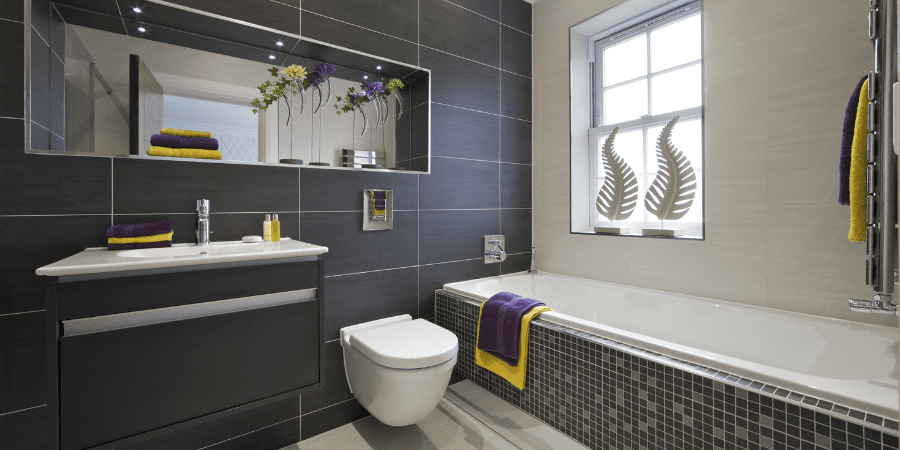 Bathtubs
Built-in or freestanding? Smart features or classic low-tech? Composite, acrylic, or cast iron? There are more options to choosing your bathtub than one might think. The bathtub takes up quite a bit of visual real estate in the bathroom. Your design-build team will help guide you through the options to find the bathtub that works with your style, layout, and function goals.
As for the details, you and your designer will decide where the faucet should be placed, the metal choice, and if any other fixtures are desired, such as a handheld showerhead.
Fixtures and Accessories
Selecting the fixtures and accessories is akin to the cabinet hardware. The details seem small, but given the quantity, they could bring a lot to the style of your bathroom. For added luxury, your bathroom could feature a towel warmer. If you're remodeling in order to age in place, grab bars today are designed to look like stylish towel bars. You'll choose the metal color and design style of these common accessories:
Grab bars
Towel bars
Towel rings
Towel hooks
TP holder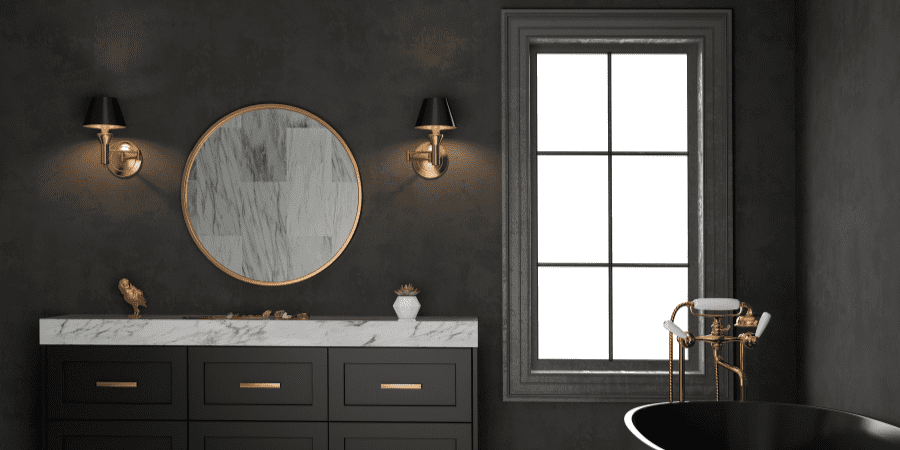 Lighting
Your master bathroom requires various lighting that ranges from effective allover lighting for your morning routine to a soft glow for relaxing at the end of the day. The light fixture types may include:
High hats, 4" or 6"
Wall sconces
Back lit mirrors
Under-cabinet lighting
Chandeliers
Other decisions you will make with your design-build team will concern: dimmer switches; light fixture placement; integrating smart lighting; and aging-in-place specifications.
Doors and Windows
Decide on the type of door that resonates with your aesthetic—opt for wood, stain, or paint that complements your overall design. Your door hardware can match the metal shade of other fixtures in your bathroom or coordinate with the color and style of the other doors in your home.
The windows you choose for your bathroom will likely match in color and material as the rest of your home, but can vary in style. Choose a window with filtered glass if privacy is a concern. If wall space is sparse, you could add a skylight to your bathroom remodel design.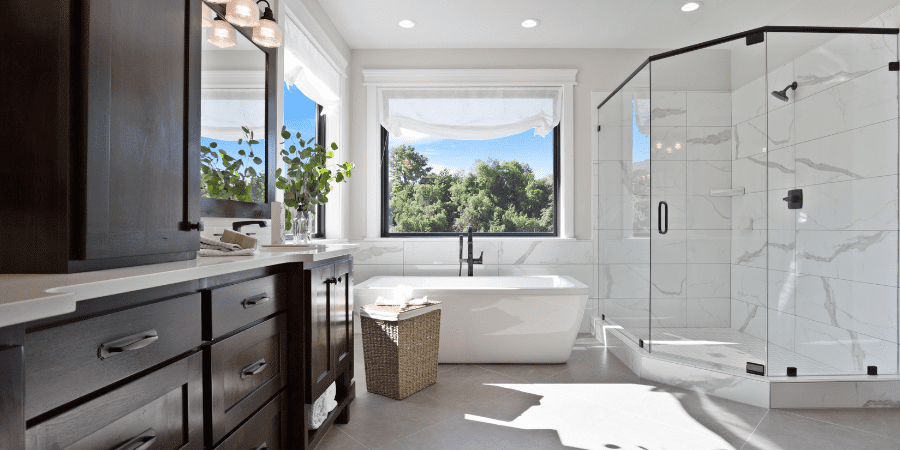 Walls and Trim
Your bathroom walls and trim could range from ornate to minimalistic. Crown molding, door and window trim, and baseboards could feature intricate details or be simplistic in design, depending on the style you're after. The wall color could continue onto the trim, or contrast the walls and trim to make a statement.
Concerning your bathroom walls, some of the design choices you may incorporate into your bathroom remodel design could include:
Paint color
Wallpaper
Wainscoting
Tile accent wall
Picture frame wall trim
Electrical Details
Choosing the electrical features in your bathroom may not be as exciting as your bathroom design details, but are important for the function of your space. Along with your design-build team, you'll make decisions concerning:
Exhaust fans: placement, quantity, CFM, timers, switch options
Humidistats
Outlets: quantity and placement
Switches: placement and style
In-floor radiant heating
Accessibility

Avoid Decision Fatigue with the Right Design-Build Team
As you can see, there are quite a lot of design and function decisions that go into planning your master bathroom remodel. The design-build team you choose can affect how easy or difficult it will be to make your way through this list. Avoid decision fatigue by working with a design-build team with the knowledge and experience necessary to guide you through this process.
At JMC Home Improvement Specialists, we're here to guide you through every step of the process, ensuring that your New Jersey master bath becomes a masterpiece of functionality and aesthetics. Contact JMC Home Improvement Specialists to experience the seamlessness of the design-build process.