The spa bathroom is by far the most in-demand and popular bathroom style. An at-home spa is a perfect way to start the day, end the day, or prepare for a night out with friends. On the surface, a spa atmosphere seems easy enough to pull off, but it's actually very calculated, with a perfect balance of color, textures, features, and details. How can you design your bathroom to mimic your favorite spa right at home and within your budget? We'll break down every aspect to create a dream spa with.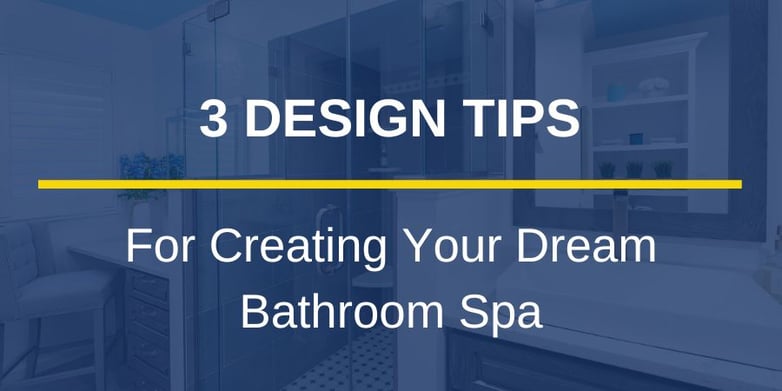 How to Design a Home Spa Bathroom?
1. Calming Color Palette
The color palette is key to creating a spa-inspired bathroom. Whites, soft earthy greens, and muted blues are the best colors to evoke a feeling of serenity most common in spas. If you'd like to use color on the walls, go for the lightest version of that color to avoid a heavy appearance. The goal is to make your bathroom feel as light and airy as possible and not overwhelm the senses. If you'd like a mostly white bathroom spa with small doses of color, incorporate these soothing tones in your décor, the bathroom vanity, or your shower tile.
2. Natural Materials and Textures
Nothing says 'spa' like adding natural touches to your space. In your spa bathroom, use natural textures and tones sparingly to keep the overall look clean. A natural fiber rug at the vanity, plenty of live plants, bamboo shades on the windows, and woven rattan baskets are small but meaningful natural elements to add.
3. Upgrade Your Shower
The shower is too often only seen as a tool with a job, but it could be so much more. A steam shower system has the power to wake you up in the morning and completely dissolve the day away at night. High-end steam showers are also equipped with chromotherapy, programmable settings to get the temperature and pressure just right every time, and even have a built-in Bluetooth speaker to suit the mood. A steam shower does require a certain shower structure, so work with your designer to make the most of it.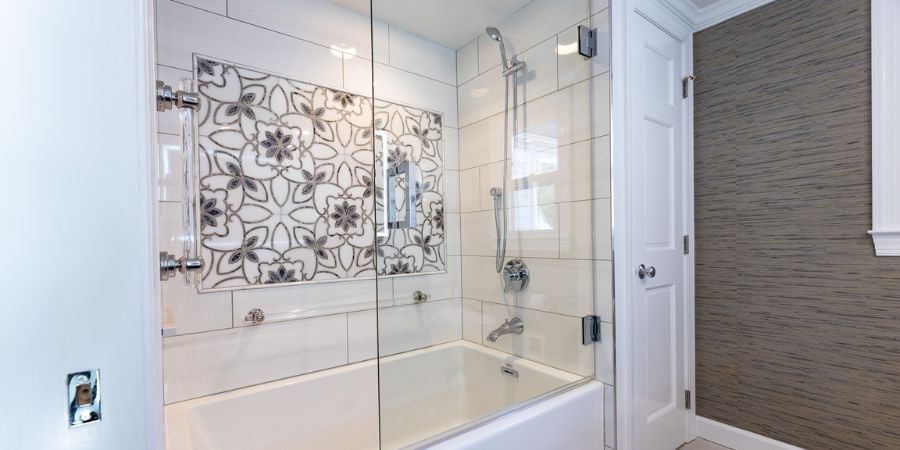 4. Include a Freestanding Tub
Too many homeowners have experienced regret when they design a bathroom without a bathtub. Your freestanding tub will offer a perfect weekend retreat when you have extra time to just sit back and relax. Standard freestanding tubs offer a beautiful focal point in the bathroom, while more advanced tubs can level up your bathroom spa experience. These bathroom centerpieces are available with jets, heated tub walls, and even sound bath technology that syncs to your favorite music.
5. The Right Lighting
Spa lighting for the bathroom should be soft and relaxing. The bathroom is also a space that needs great lighting as well. Achieve the best of both worlds with dimmer switches and zoned lighting. Dimmed sconces on the wall behind the freestanding tub and beside the vanity mirrors will create a nice glow. Recessed lighting in the ceiling on a separate switch will give you brighter lighting when you need it. Consider a statement light fixture in the center of the room for style but keep it minimal to continue the clean and tidy theme integral to a spa environment.
6. A Sleek Vanity
You won't find a lot of fussy details in a spa, so you wouldn't include them in your spa bathroom either. Choose a minimalistic vanity that's also warm. A floating wood-toned vanity with flat front cabinets will offer style but not compete for your attention. If storage is a concern, choose a full-height vanity in white to reduce its size visually. If you'd like a little more detail, shaker-style cabinets will also fit in with the spa feel.
7. Let the Sunshine In
Use artificial light when you need it, but work with your designer to introduce natural light into the space where you can. A skylight is perfect for the bathroom. You'll retain privacy while getting a lot of great sunlight. If windows are possible, filtered or textured glass will let light in but also give you much-needed privacy.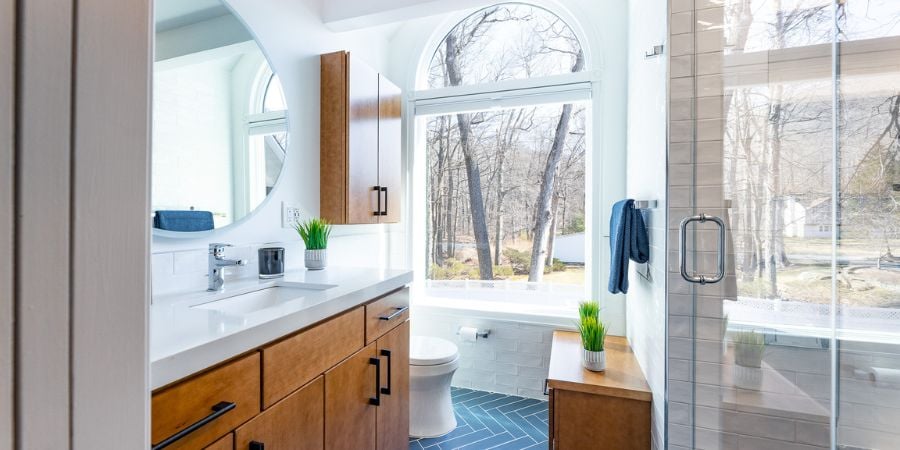 8. Choosing the Best Tile
Your tile should follow along the same style as the rest of the finishes and fixtures on this list. Choose a tile that isn't too detailed or busy in a subtle color or simply white. For your flooring, ceramic wood look tile in a light tone will work nicely. Natural stone, like white or gray marble or quartz is another excellent choice. The shower walls are a great place to play with a little color in greens or blues, but remember to keep it subtle. Intricate designs or vivid colors will take away from your spa atmosphere. Larger tile will create a more clean backdrop for your home spa overall.
9. All in the Details
The bathroom is already a pretty visually-busy place, so what you add on top of the necessities could make or break your spa aesthetic. The key is to be restrained and deliberate with your material and color choices as well as keeping décor to an absolute minimum.
All-white towels are a spa standard, especially if they will be out in the open on towel rods or rolled up in baskets. Also choose a white or natural rug, a few live plants (they'll love the humidity), and all matching containers for everyday items. Containers made from bamboo, white ceramic, or glass will finish the look.
As for the plumbing fixtures, you can't go wrong with polished chrome in your spa bathroom. It's a bathroom staple that may not be the most trending option, but it is timeless.
To make your space as comforting and cozy as a spa, install in-floor radiant heating. It's a more efficient way to heat your space and will help you avoid cold-to-the-touch flooring when you step out of a relaxing steam.
Ready to Enjoy Your Own Spa Bathroom?
Spa bathrooms are elegant, calming, timeless, and stylish. At JMC Home Improvement Specialists, we know that a great design depends on getting every little detail just right. Not only can we design your perfect spa resort right in your own New Jersey home, but we can also create it with our team of talented craftspeople. We'll take your project from concept to construction with our proven design-build process. It's almost as seamless and stress-free as your spa bathroom will be after your project is complete. Contact JMC today to schedule a consultation and let's discuss your perfect spa bathroom.