Noise. Dust. Hassle. These are a few of the things that inevitably accompany a home remodel. The problem is that life must go on, even if your bathroom, kitchen or entire house is being renovated for weeks or months on end.
As you prepare for your residential improvement project in Morristown, you must figure out whether you want to endure these little daily inconveniences or if it's worthwhile to move out during the construction phase and escape the mess altogether.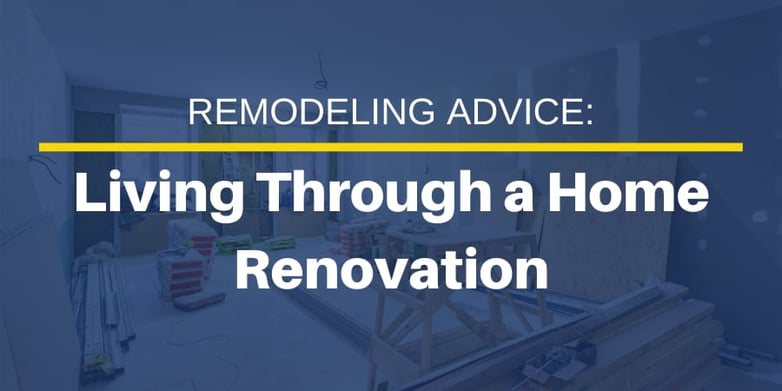 Can You Live in Your House While Renovating?
It is common for homeowners in New Jersey to choose to keep living at home during a remodel, especially if you are targeting a single area—like a bathroom or basement. Even if you are redoing your kitchen or tackling a whole home remodel, it's possible to stay in place. However, thinking ahead and setting realistic expectations can lay the foundation for a smoother and more efficient process. Here are a few ideas and tips to help you prepare for and cope with the impending disturbances that typically accompany renovation construction:
1. Pack Up and Protect Your Belongings
The dust and debris that is created during the renovation process can be a health and safety hazard for your family, as well as damage your personal belongings. Before starting demolition, your team should help you protect the areas that aren't being remodeled, seal off your ventilation system and lay down tarps. You also should pack up curtains, bedding, clothing and other linens that you won't be using for the next few months so they don't collect wayward dust and debris. Try not to run your heating or AC during the day while construction is underway to prevent air from carrying dust throughout your house.
2. Establish Parameters
Planning ahead will mitigate the chaotic hassle that often leads to stress. Your project manager should set a detailed yet flexible timeline that includes what work will take place where and when. This enables you to steer clear of specific areas when they are apt to be dusty and noisy; create proactive strategies for daily chores and activities; and maintain a regular schedule as best you can. From the get-go, you should establish when your remodeling crew can be onsite and when you need to preserve personal space. The project will run more smoothly if everyone is on the same page and understands the boundaries.
3. Protect Kids, Pets and Older Adults
As you plan ahead for living at home during your New Jersey remodel, prioritize the most vulnerable members of your family, including children, older adults and pets. Assign traffic patterns, entrances and living spaces for your family members to use that are separate from your work crew's. That way they aren't exposed to heavy equipment, materials and fixtures. Make sure all their necessities are stored in their designated rooms, so they are comfortable and well cared for. In general, keep a close eye on your kids while the team is working. You may also want to set up temporary barriers for your pets to deter them from entering the construction zone.
4. Create Strategies
One of the best tips for living at home during a remodel is to simply plan ahead based on your scope of work. For example, if your bathroom or kitchen is being redone, you can expect that space to be out of commission for several weeks. Talk to your remodeling team about setting up a temporary kitchen in your basement, garage or another area in your home. Plan to grill food outdoors, order takeout and visit your friends and family for a meal every now and then. If possible, only renovate one of your bathrooms at a time. Even then, you may need to plan ahead with your household members to make sure everyone has access to the space according to school and work schedules, despite the limited availability.
5. Remodel During Spring or Summer
If you aren't stuck to a specific timeline, try to schedule the bulk of the construction phase of your remodel for spring or summer. With warmer weather and extra daylight, you should be able to spend more time outdoors, getting fresh air and space from the chaotic din and activity. This is especially important if your family includes pets or young children who may get restless being cooped up indoors while construction is underway. You can plan plenty of picnics, outings to the park, and afternoons playing in the yard. Before the renovation starts, make sure you've got what you need for your outdoor living spaces to make them more functional and enjoyable.
6. Set Up an Escape Zone
Along with clearly identifying, marking off and containing the areas of your home that are under construction, you should also create a special zone that is sealed off and construction-free. This gives you a quiet, relaxing place to escape to when you need a moment away from the construction zone. You also can utilize the room for doing work, making phone calls, and handling other activities that require a lack of disturbance.
7. Schedule a Vacation
Even with all your careful planning, there may be a point where you become overwhelmed by the whole home renovation process. If your home makeover in Morristown is expected to last a couple of months, try to plan one or two weekend getaways or a longer vacation during that time. Give your family the chance to truly escape the construction zone so you can relax and recharge. At the very least, plan to spend a few afternoons at a friend's house and have a backup location to stay at in case the construction becomes too much to handle at some point.
Planning a Residential Remodel in New Jersey
Remodeling your home in New Jersey is a major undertaking, but it doesn't necessarily have to be stressful or challenging. Hiring the right design-build contractor to assist with your project is one of the most effective ways to ensure a smooth process and minimal hassle when you're living at home during the construction. Whether you're planning to redo your kitchen or bathroom or transform your whole home in the greater Morris County area, JMC Remodeling can help you handle each aspect of the project, from start to finish.