If you need more livable space in your home, the best place to look may be down. For families in New Jersey, the basement has the potential to be converted for a number of uses that improve home value and quality of life.
Whether you need a new bedroom, a home office, a game room or some other unique space, your basement can be finished and remodeled for that purpose. The question is, how much should you invest into the project and what sort of return on investment (ROI) can you expect by improving your New Jersey home in this way?
The first step to answering these questions involves identifying your project priorities, starting with what new purpose you want to give your basement.
Average Basement Remodeling Costs in New Jersey
As with most home improvement projects, the cost of remodeling your basement in Morristown or the surrounding area will depend on several factors, including the size and condition of the space and your intended scope of work. It's also important to keep in mind that finishing a basement and remodeling often go hand in hand, but they are distinct.
Finishing a basement includes insulating and painting the walls; making sure you have an accessible entryway or access point; installing heat and electricity; adding a ceiling; and laying down flooring. In short, you want it to be a livable space akin to your upstairs area. The cost to finish a basement typically ranges from about $40,000 to $115,000.
Remodeling or converting your basement, on the other hand, involves improving or replacing existing features, adding new fixtures and appliances, and turning the room into something new. You may also need to reconfigure the layout by adding or removing walls. In New Jersey, you should expect the cost of your basement remodel to start at $40,000.
Depending on the type and quality of materials, fixtures and finishes you select, the overall price will increase. Additionally, it comes down to how the room will be used. Converting your basement into a home gym or office space is less expensive than creating a kitchen or an in-law suite with a functional bathroom to support multi-generational living at your house. Doing the plumbing, electrical and ventilation work required for a kitchen or bathroom—not to mention adding the types of appliances and fixtures are used in those rooms—calls for a larger budget. A premium basement space that's been turned into an extravagant home theater, luxurious bar area or fully-outfitted apartment could cost upward of $75,000.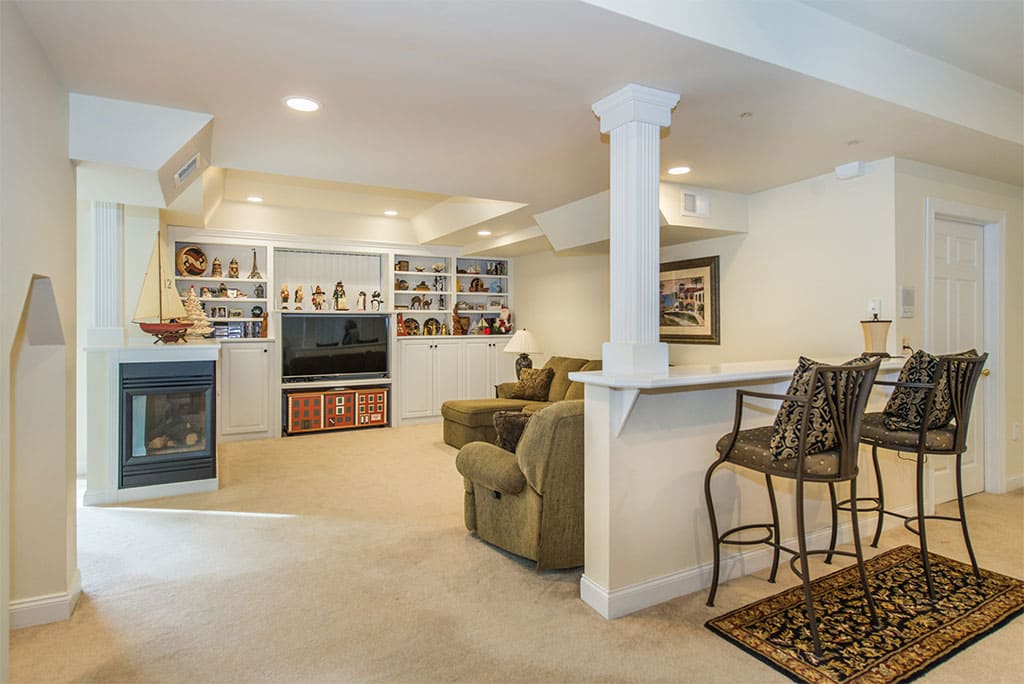 Breaking Down Costs of Basement Remodeling
Another way to calculate a starting point for your budget is by looking at the individual projects wrapped up in your overarching scope of work. Depending on the current condition of your basement and how you want it to function and feel when you're done, you'll need to include certain tasks in your remodel.
In New Jersey, you also must obtain a building permit from your local township before remodeling a basement. As part of that, you will have inspections done to make sure various aspects of the space are up to code in terms of health and safety. You should factor the cost of obtaining the proper building permits into your overall budget. For example, according to the Morristown Building Department's fee schedule, you pay $25 in permitting fees for every $1,000 in residential renovations and alterations up to $50,000. On projects that are above $50,000, you pay $20 per $1,000. There are also separate fees for electrical, fire protection, plumbing and alarm systems.
How Much Value Does a Basement Remodel Add?
In general, remodeling a basement in New Jersey increases the potential resale value of your home by about 70%. Your exact ROI, however, depends on several factors, including the overall value and condition of your property, current housing trends, the value of neighborhood comparables and the state of the real estate market when you sell your house.
How you remodeled your basement also impacts your projected ROI. Certain uses for the space may be more universally desirable to prospective buyers than others. For example, a family den with a half bathroom, a versatile home office with built-ins or an in-law suite hold wider appeal than a room with a unique purpose, such as a wine cellar, home theater or bowling alley.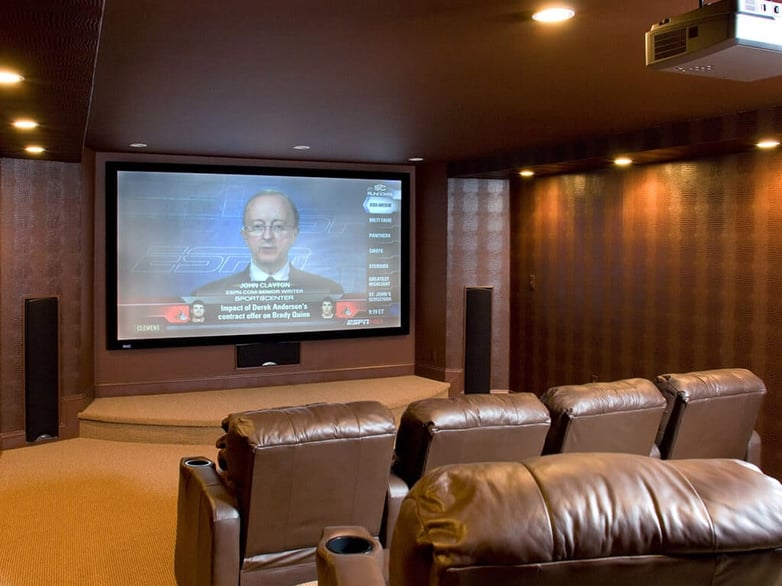 You also want to make sure your remodeled basement complements the rest of the house. If your upstairs area mostly includes midrange-level materials, finishes and appliances, an upscale bedroom and bathroom remodel or extravagant wet bar addition is unlikely to provide a high ROI. However you plan to use your newly remodeled basement, it should blend with the design and quality of the rest of your New Jersey home.
Upgrading Your Basement in New Jersey
Your basement is valuable indoor space that often goes under-utilized or even neglected. If you want to enhance the value of your home, your livable space and your quality of life, consider finishing or converting your basement in Morristown. JMC Home Improvement Specialists is experienced in a variety of basement remodels and we have the personnel to handle your project from start to finish. Whether you need a new bedroom, home office or extra storage, our team at JMC can help you develop a remodeling design and bring it to fruition.