Your available budget is going to be the driver for every design choice that goes into your remodel. Whether you've saved for the project or sought out a lender, your design-build team will use your vision to design a project that meets your needs, achieves the style you want, and doesn't exceed your budget.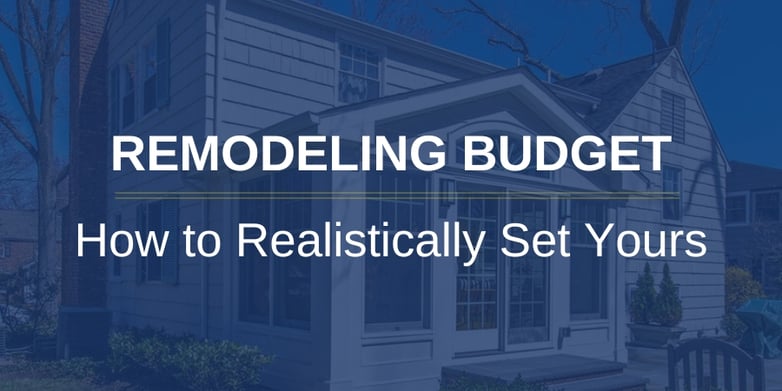 How can you set a realistic budget for your New Jersey home remodel?
1. Don't Spend Too Much (Or Too Little) in a Single Room
A big question these days is how much to spend on home improvement. It's suggested that a kitchen remodel budget should fall within 7-20% of your home's value. To decide where in that range your remodel will fall, many factors will come into play.
For example, how long do you intend to live in your home? If you intend to sell within the next 5 years, do as minor a modification as possible. In other words, don't change the layout or move walls and get new, but comparable, appliances. Update the cabinets and counters with midrange options, but leave the floor as is. Remove wallpaper and paint the walls a neutral color to give your kitchen a fresh and more attractive look for a potential buyer. The budget for a modest update will be as low as 7-10% of your home's value, giving you a desirable return on investment (ROI).
If you plan to stay in your home for the next 20 years or more, it's suggested to do what pleases you most, without focusing too much on ROI. How much work will be needed to achieve the design that makes you and your family happy? If you choose to change the layout, by removing a wall and a complete update to all finishes and features, you will probably be in the area of 15-20% of the home's value.
As for a bathroom remodel, ask yourself the same questions. How long do you intend to stay in your home? If this is your forever home, what design changes would make you most happy? On average, you should budget around 3-7% of your home's value for a bathroom remodel.
If you plan to sell your home within the next few years, keep the layout of your bathroom but update the fixtures with brand-new midrange models. Choose a neutral paint color, like white, which is a timeless bathroom color. Replace your tile, but avoid trends that will become outdated quickly. Planning to stay in your home? Create a layout change that works for you, or expand your bathroom. Choose a color palette, tile patterns, and plumbing fixtures that will bring you joy in your space.
When you work with a reputable design-build company, both the designer and builder will ask the right questions and guide the process. This way, they will help you create the budget that's right for you and your home.
2. What Affects the Range of Costs?
Your budget will be determined by several factors that your design-build team can identify. These include your design goals, the scope of work, the finishes and features you choose, and the current condition or age of your home. If your remodel includes removing or moving walls, gutting rooms, and installing high-end or luxury finishes, expect for your cost to sit on the high range.
An older home will require more below-the-surface work than a newer home. Old wiring and plumbing, significant wear and tear over the years, or damage can affect how much you'll have in your budget to spend elsewhere, like high-end finishes. Your remodeler will determine what work is needed during your assessment so you'll know how much to budget early on in the process.
3. Prioritize Your Must-Have List
Most remodels are borne from some degree of frustration: not enough space, dated finishes, not enough natural light, issues with accessibility, insufficient storage, a poor layout. You already know why you need a remodel, now it's time to get more specific. Take a walk around your home and make a list of what's not working.
Divide your list by room first, then an overall home list second. Next, rank your must-haves. What items make your remodel absolutely necessary, and work your way down to what would be secondary. Something that may be high on the priority list is better storage in the kitchen, while something that's lower priority may be a skylight in your primary bathroom. Your remodeler can help you prioritize your must-haves so you'll be left with a space that meets your needs and stays within your budget.
Your designer will use problem-solving to eliminate your home's challenges, then work toward designing your dream home. You'll work closely with your designer and builder to prioritize your must-haves so you won't go over budget.
4. Know When to Compromise
Having a comprehensive list of your home's challenges is a great start. Now focus on adding your wish-list items. This could be a marble slab backsplash in the kitchen, a wet room in your primary bathroom, a home gym in your basement, a vaulted ceiling with exposed beams in your living room, or designer statement lighting throughout. List every wish-list item and begin to rank these as well.
When you focus on what's most important in your remodel design, you'll know where you're willing to compromise when working with your designer. Depending on your budget, you may need to swap out the marble for quartz, or if marble is a priority, compromise with midrange durable luxury vinyl tile flooring for your kitchen rather than wood look ceramic tile. Your design-build team will help you choose alternative options that keep your budget intact but still get the look and feel you want.
5. What's Not Included in Your Cost?
It's important to know what may not be included in your price so you'll know what else to factor into your budget. Some of what's not included varies from builder to builder while other items are standard, so be sure to ask. Here are examples of what will need to be subtracted from your budget before the design is underway.
Appliances
Not all builders include appliances in their estimates. Appliances can amount to tens of thousands of dollars depending on which you choose and at what quality.
Furniture
This may seem like an obvious one, however, some companies do offer interior design services for an additional fee in addition to the cost of furniture. Regardless, if a remodel will inspire purchasing new furniture, deduct this amount from your budget if you don't want to put it on credit or pay cash.
Landscaping
Not every remodel will affect your landscaping, but if it does, you'll want to be prepared to replace or refresh your landscaping once your remodel is complete. Ask your builder if the remodel will affect your home's landscaping so you can have a plan in place and ask for landscape architect recommendations.
Alternate Housing
If your home remodel is significant enough to disrupt your daily life, consider arranging a temporary move-out and how you'll cover the expense.
Hire a Knowledgeable Design-Build Team With Experience
One of the most important things you can do to make sure your budget stays intact and your design meets your vision is to hire a design-build team that's honest, knowledgeable, and experienced. The design-build method will save you time and money while delivering excellent design within your budget.
JMC Home Improvement Specialists is a New Jersey design-build firm that does just that. With decades of experience, impeccable problem-solving capabilities, an outstanding customer satisfaction record, and stunning in-house design services, JMC is the premier New Jersey high-end home remodeler. Contact JMC to schedule a consultation today.