The kitchen is the heart of any home. It's where you enjoy meals and snacks. It's a major workplace, especially if you're feeding a family every day, and it's a major party spot if you enjoy entertaining friends and family. In short, the kitchen is a living space du jour. So it stands to reason that you would want your New Jersey kitchen remodeling job to go off without a hitch.
To do that, you need a plan that works, one that will deliver the desired results. Your plan should take into consideration your overall floor plan, including parts of the house not directly adjacent to the kitchen. That's because the kitchen is not an isolated unit. It works as part of a system with the rest of the home. You need to work with an experienced New Jersey kitchen remodeling contractor who is professional, and who will see the job through from start to your satisfaction.
The best place to begin is to put down a price point to budget in accordance with. Different types and levels of renovation have varying prices. That means you need to know how to get what you want within the amount you're willing to spend.
How Much to Remodel a Kitchen in New Jersey in 2021 & 2022?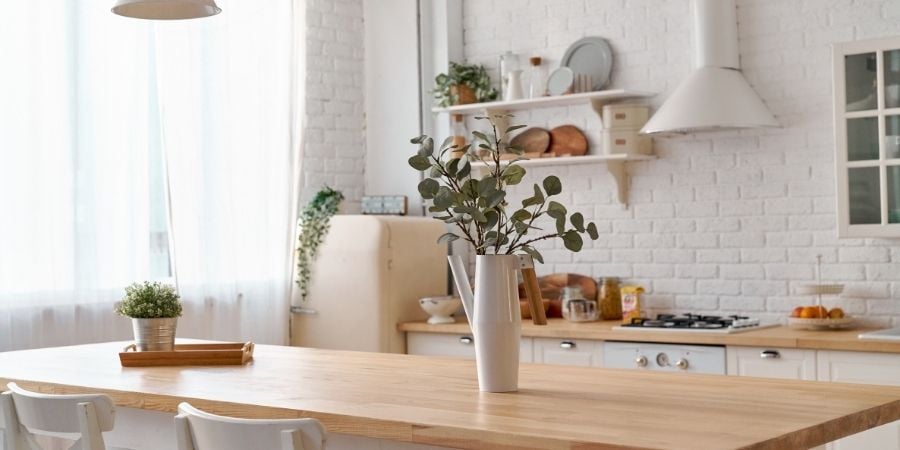 The answer to this question will depend on the size of your kitchen, or the depth of the changes you want to make. What's more, if you plan to expand the size of your kitchen, the size-related costs will be expanded to the total size of your intended end product, plus the costs of removing and refitting whatever is in the way of your vision currently.
Most kitchens in Morristown, Parsippany, Florham Park, and other nearby towns in the region are about 10 by 10 square feet in size. That's small, but it gives us a nice solid number to work from. A room of that size will have about 20 feet of wall space, depending on certain features that may or may not be present.
The average cost to remodel a kitchen based on that basic floor plan is between $40,000 and $60,000.
Average Kitchen Renovation Costs by Size
Medium: $45,000 and $60,000

Large: $75,000 and $90,000

Open floor concept kitchen $90,000-$120,000
Of course, there's no one-size-fits-all pricing solution to home renovation in NJ. So let's look at price points according to the type of remodeling job.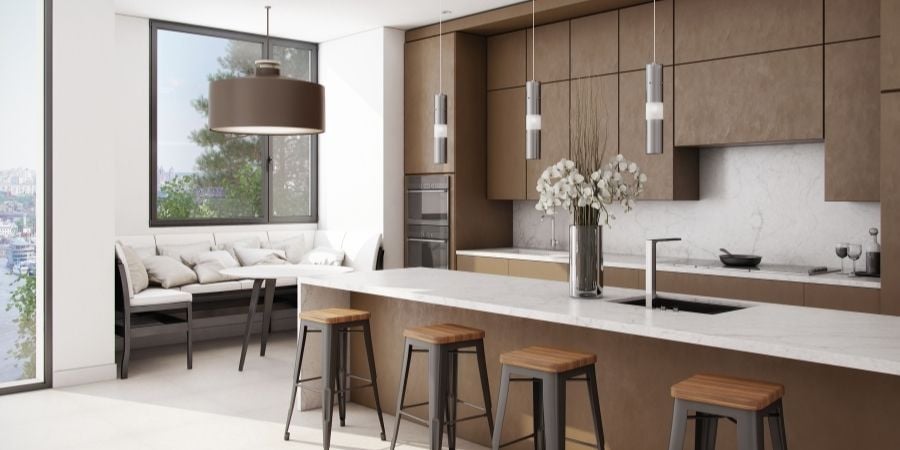 Cost to Remodel a Medium Kitchen
The cost to renovate a medium-sized kitchen in North Jersey is an average of $45,000 to $60,000. The project begins with demolition, this will take at least one full day, depending on what kitchen components or appliances you're removing. By getting rid of the old, which in some cases may entail a fully gutted room, your kitchen remodeling team has open space for installing the new fixtures and appliances.
For a minor kitchen remodel, the current floor plan stays intact, which means new plumbing for replacement fixtures remains in the same location. Additionally, the remodel includes new insulation, sheetrock and trim; electrical work with under cabinet lighting; an undermount stainless sink with a new faucet; and installation of a new hardwood or tile floor. Your budget also generally covers all-wood, American-made cabinetry; quartz countertops; a tile backsplash; and a fresh coat of paint. Acquiring permits for the project, installing new appliances, and decorative light fixtures are additional costs to account for beyond the cost of raw materials.
Cost to Remodel a Large Kitchen
If you're feeling cramped in your current space, you can undertake a major remodel to open the space and create a large kitchen. The cost to renovate a large kitchen ranges between $70,000 to $90,000.
The scope of work for that budget typically includes creating a new floor plan with additional cabinetry; installing new plumbing for your relocated fixtures; and electrical work with premium under-cabinet lighting.
Along with demolition, you also must remove at least one wall to open the space. Generally, this is a load-bearing exterior wall, although it could be an interior wall if you want to expand your kitchen within the existing footprint of your New Jersey home. Removing a load-bearing wall is significantly more complicated than removing an interior wall, as the former is a structural element helping to support the weight of your home. Your kitchen remodeling team must replace the wall with a beam to keep your house structurally sound. The cost for this aspect of the project is an average of $1,200 to $3,000 for a single-level home and between $3,500 and $10,000 for a multi-level home.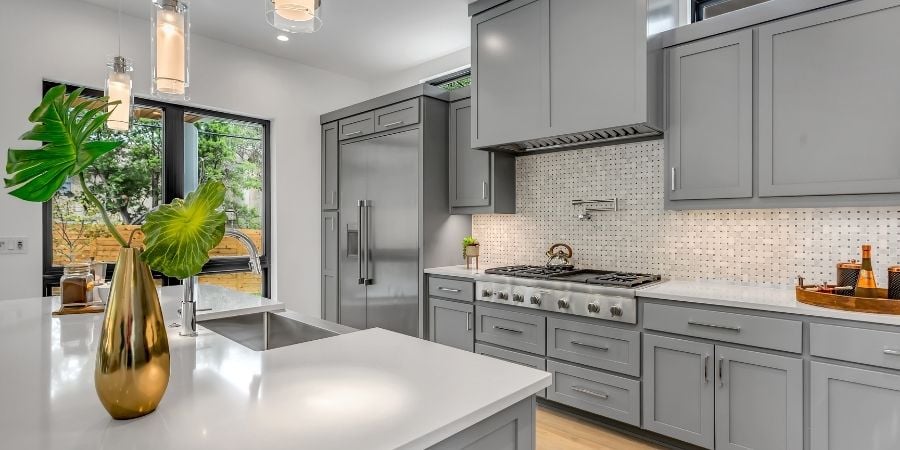 Additionally, your large kitchen remodel may include installing a new hardwood, vinyl, or tile floor, including in the expanded area; adding a kitchen island with a bar sink and faucet; and putting in new trimming and crown molding.
If you want to take your kitchen renovation to the next level and create a spacious, beautiful open-floor concept, the cost is more in the $90,000 to $120,000 range. In addition to expanding the layout and removing structural walls, the renovation also includes upscale features and fixtures, such as customized, all-wood cabinetry, a natural stone backsplash, customized quartz or granite countertops, and a larger island with custom overhang for seating. You may also choose to replace your windows and doors and install new lighting.
Luxury Renovation
The overall size of the remodel is one thing, but you should also consider how the overall quality of the materials chosen will impact the price.
For a complete luxury kitchen renovation, complete with the best quality materials, you can expect to pay between $50,000 and $150,000. This type of remodeling project begins by stripping the room down to the studs. It is part of a standard method of adding additional space to a room. It is also a good way to address underlying problems like mold and leaky pipes. This type of kitchen makeover caters to the most comprehensive needs and requires three months to 16 weeks on average to complete because everything will be custom-made.
To learn more about kitchen renovations, get in touch with New Jersey's most experienced kitchen contractor, JMC Home Remodeling. Our team does all the work, with no outsourced contracting. We are a full-service luxury kitchen and bathroom remodeling company with more than 50 years of combined experience.