Cabinets set the tone for your kitchen. The format, style, and colors you select for your kitchen cabinetry collectively influence your other structural and design options, as well as the overall aesthetic of the space.
As you're planning out your kitchen remodel in Northern New Jersey, cabinetry is a good place to start. The first step is thinking about how you primarily use your kitchen and what kitchen style you prefer. After identifying your goals and refining your vision, it will be much easier to sift through the myriad of cabinetry choices you face.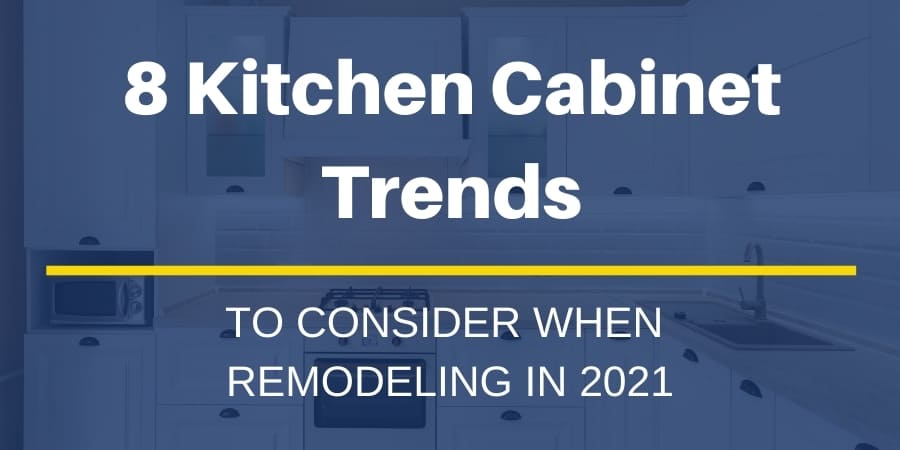 Kitchen Cabinet Ideas for Your Remodel
As modern lifestyles and family dynamics change, kitchen trends also evolve. Remodeling your kitchen in Morris, Essex or Union counties gives you the opportunity to update the space for a new season of your life while also investing in your home and improving its value. To start the design process, consider these 2020 kitchen cabinet trends that show promise of staying popular into the upcoming year:
1. Two-toned Cabinets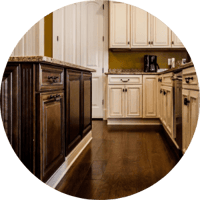 When it comes to timeless kitchen cabinets, all-white cabinetry is a safe option. However, homeowners are starting to desire something a bit bolder, which is why two-toned cabinets are on the rise. The most popular way to accomplish this look is to select one color or material for the bottom cabinets and another for the top. You can combine white with a range of other colors and materials—such as rich blues and greens, soft yellows, wood or metal. Or you can ditch white altogether and pair teal with wood, cream with charcoal, or dark wood and pale yellow.
2. Reclaimed Wood Cabinets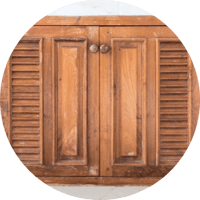 Eco-friendly materials are expanding their presence in the entire construction industry, and the kitchen is no exception. For your kitchen remodel in 2021, you can make custom cabinets with rough-hewn, reclaimed wood or even find stock options that incorporate repurposed and recycled products. This look is especially sophisticated if you incorporate other design elements with matching reclaimed wood throughout your home.
3. Handleless Kitchen Cabinets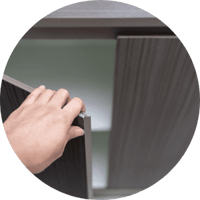 Touch-to-open and other handleless cabinets are becoming quite the trend in kitchen design, especially for modern and contemporary aesthetics that prioritize minimalism and clean lines. Handleless kitchen cabinets make your space look less cluttered, but some homeowners find them more difficult to open quickly when they're busy cooking in the kitchen. It's important to consider who frequently uses your kitchen and for what purposes as you decide whether handleless cabinets are the right choice for you and which opening mechanism is preferable.
4. Open Shelving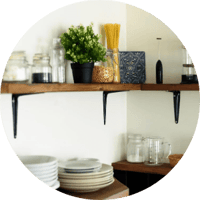 Another kitchen design trend for 2020 is open shelving. Switching out some of your top cabinets for open shelves still provides you with necessary storage space while simultaneously making your kitchen feel more open and spacious, which is especially fitting for small spaces or those embodying an open kitchen concept. This also gives you the opportunity to showcase some of your heirloom pieces, matching dinnerware, and other interesting and ornate antiques. Plus, you won't waste time searching through your storage space to get what you need when you're preparing food or drinks.
5. Colorful Kitchen Cabinets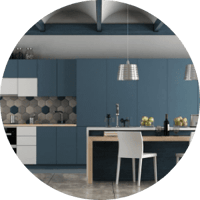 There are different types of kitchen cabinets, and then you also get to choose the color. Neutral color palettes feel like a safe choice for a kitchen remodel if you're planning to sell your home in the next few years. Colors, however, when done correctly, can make your kitchen equally, if not more, unique and stylish. Increasingly popular kitchen cabinet colors for 2020 include vibrant blue-green, petrol green and navy blue. If you are a fan of a more warm, cozy atmosphere, go with rich earth tones, such as coppers, golds, terracotta, moss green, and soft beige. More and more people are also moving toward using matte black and other extremely dark hues in their kitchen.
6. Metal Kitchen Cabinets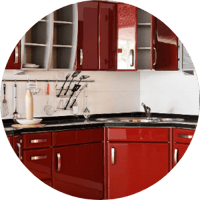 Many homeowners are taking a shine to metal kitchen cabinets this year. Although they aren't right for every kitchen style, metal cabinets are perfect for an industrial or contemporary style kitchen. They somehow manage to be a little bit retro and futuristic at the same time, but they are undeniably sleek, durable and even glamorous. Stainless steel is the most common material for metal cabinets, but you can also select copper, brass, or other monochromatic metals.
7. Brightening Your Cabinets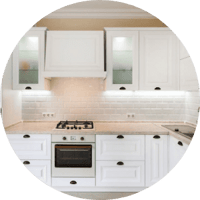 Adding some light to kitchen cabinetry is another way for New Jersey homeowners to stay on trend for remodeling projects slated for the upcoming year. There are a couple ways to incorporate this latest fashion into your project. You can select under-cabinet lights or install internal lights into your top row of glass-front cabinets so they are illuminated from within. Both options contribute to a lavish atmosphere while also serving a practical purpose when you're using your kitchen for a variety of activities.
8. Floor-to-ceiling Cabinets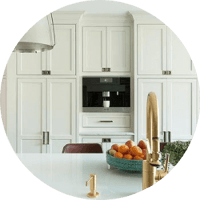 If you're looking for kitchen cabinet storage ideas, consider installing floor-to-ceiling, armoire-style cabinetry. This kitchen trend fits into a wide range of styles, from industrial and modern to traditional, French country, or eclectic. Try creating a wall of cabinets or installing built-in cabinets around other appliances to maximize your storage space. You can also hide your kitchen appliances with fronts that mimic your cabinetry, which creates a very streamlined and sophisticated appearance in the space.
Updating Your Kitchen in 2021
If you're expecting to renovate your kitchen in Northern New Jersey this year but you don't know what design styles are trending, don't worry. At JMC Home Improvement Specialists, helping you design your remodel project and walking you through various selections at our showroom are part of our process. We can guide you through selecting the perfect type of kitchen cabinets to meet your remodeling goals and support your current lifestyle.