Energy efficiency is a top priority for New Jersey homeowners like you. Designing your remodel with energy-efficiency in mind usually takes hours of homework to update your knowledge about new methods and energy-saving opportunities. You're in luck! We've collected the most effective ways to save on energy costs for your New Jersey remodel right here.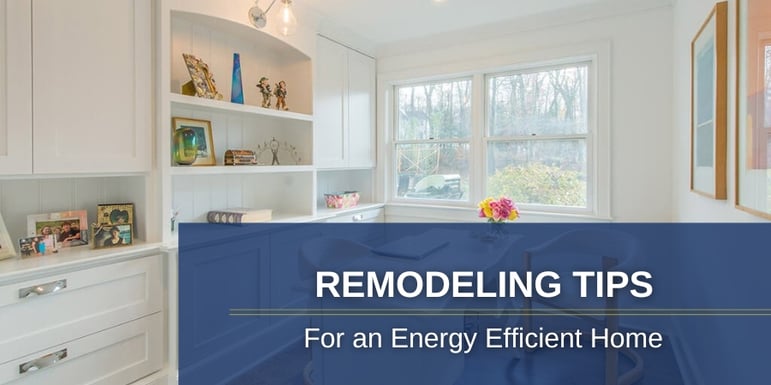 What Are the Top 10 Ways to Improve Your Home's Energy-Efficiency During Your Remodel?
1. Energy-Efficient Appliances
Buying energy-efficient appliances is a common go-to for homeowners looking to save on energy costs. If this was your first thought, then you're off to a great energy-saving start! Invest in a refrigerator, washing machine, dryer, and dishwasher with great ENERGY STAR ratings for the most savings.
Keep in mind that how you use these appliances will also affect your savings. New dishwashers are designed to keep you from having to rinse your dishes before you load the machine. Forgo the rinsing and save hundreds of gallons of water a year without sacrificing cleanliness. As for refrigerators, today's models use less energy per hour than a 60-watt incandescent lightbulb, as long as you use the correct setting. In other words, colder isn't necessarily better.
Optimize your energy savings even more by changing the way you heat water. For example, swap out your water heater for a tankless model and reduce your energy usage by over 20%.
2. Improve Your HVAC System
Heating and cooling your New Jersey home will consume the largest percentage of energy use (over 40%!). To maximize energy savings, update your HVAC system. Explore zoned heating and cooling systems that allow for temperature regulation in different areas of your home, avoiding unnecessary heating or cooling of unoccupied spaces. By optimizing your HVAC system, you can achieve significant energy savings, improved comfort, and lower utility bills.
3. Invest in a Solar Power System
Want to take your energy savings to the next level? A solar power system can reduce your utility bill to only pay the monthly fee. Pairing your solar power system with updated ENERGY STAR appliances and HVAC system is the epitome of energy savings. Talk to your design-build team about which solar power system size is right for your home. In addition to lowering your utility bills, New Jersey offers various incentives and programs that can offset the installation costs.
4. Add a Smart or Programmable Thermostat
When it comes to energy-efficient home upgrades, programmable thermostats are a game-changer. By replacing your traditional thermostat with a programmable or smart model, you can easily schedule temperature adjustments based on your daily routine. This allows you to lower energy consumption when you're not at home. In New Jersey, where heating conservation is crucial, programmable thermostats enable you to optimize energy usage, ensuring a cozy environment when needed while minimizing wasted energy.
Some thermostat models will even detect where cold spots are in the home and direct added heat specifically to those spaces. This will keep you from turning the heat up on the whole home to compensate for that one area.
Along with a programmable thermostat, a good tip and trick to include in your home to save money is a timer on your fan.
Using timers on fans saves energy, money, and extends fan lifespan. A fan left on all day can exhaust the air three times, resulting in wasted energy. Timers automatically switch off fans when not needed, reducing electricity bills and allowing the fan to rest and cool down. This energy conservation also contributes to environmental sustainability by reducing carbon emissions. Overall, timers on fans offer a convenient and cost-effective solution to save energy and money.
5. Install Energy-Efficient Windows
One of the most effective ways to enhance energy efficiency in your New Jersey home is by upgrading to energy-efficient windows. Traditional single-pane, and even double-pane, windows will contribute to significant heat loss during the winter and heat gain during the summer.
Opt for ENERGY STAR-rated windows with low-emissivity (Low-E) coatings and triple glazing to minimize heat transfer and drafts. These advanced window technologies help maintain comfortable indoor temperatures while reducing the workload on your heating and cooling systems, leading to substantial energy savings. Make the most of your window investment by hiring a design-build team that will do the job right the first time. After all, a window is only as good as its installation.
6. Focus on Increasing Natural Light
When you begin to work with your design-build remodeling team, communicate that you'd like to focus on increasing natural light in your home. Maximizing natural light in your home is an excellent way to save energy while enhancing the beauty of your home. Strategically placing windows and skylights will reduce the need for artificial lighting during the day.
To prevent heat gain in the summer, just install window treatments that are designed for blocking heat. By harnessing the power of natural light, you can reduce electricity consumption and create a more energy-efficient and comfortable living environment in your New Jersey home.
7. Create a Tight Envelope
Your home's envelope is any part of the home that's exposed to the outside. Your roof, foundation, walls, and insulation all work to keep your home comfortable. However, when you're undergoing a home remodel, a great design-build team will assess how permeable your home is and take measures to improve your home's envelope. Communicate to your team what your energy efficiency goals are and they will address any air leaks around your home.
This helps maintain a comfortable indoor temperature and reduces the workload on your heating and cooling systems. In New Jersey, where heating conservation is vital, sealing air leaks ensures that your home stays cozy during the winter while minimizing energy waste, leading to substantial cost savings.
8. Use Spray Foam Insulation
When you're planning your remodel with your design-build team, ask them about using spray foam insulation rather than fiberglass. This can reduce your heating and cooling costs by about 40%. Spray foam can provide an air-tight seal, reduce the likelihood of mold growth by acting as a moisture barrier, and even add structural reinforcement.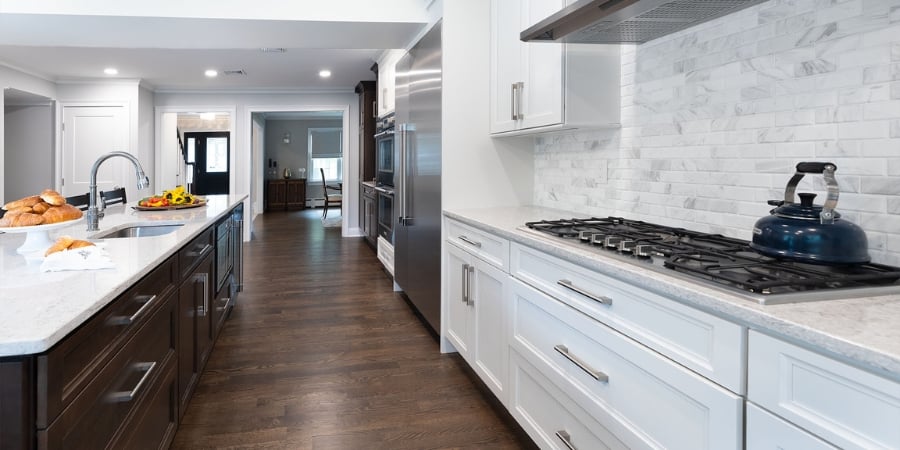 Save Even More with Cash-Back Incentives
Your energy-saving goals can qualify for cash-back incentives through the 2023 New Jersey Home Performance with ENERGY STAR program. It provides New Jersey homeowners with up to $5,000 worth of cash-back incentives and up to $15,000 worth of zero-interest financing toward installing energy efficiency upgrades! Your cash-back amount will be based on the projected energy savings of your home's updates, so the more energy you save, the more you'll receive.
Work with a New Jersey Design-Build Team That Cares About Energy Efficiency
The team at JMC Home Improvement Specialists understands the importance of energy efficiency. With every changing standard, incentive, and technology advancement, we remain focused on constant education so you can trust that we'll exceed your energy-saving goals. Contact us today to schedule a consultation and let's update your New Jersey home together.