Saving money on building materials never looked so good. Gone are the days when choosing a material that mimics stone or wood is a compromise. There are so many materials to include in your New Jersey home that will be easy on your budget but still look absolutely beautiful. Which building material is most cost-effective for your home remodeling project? What affordable building and flooring materials are the most popular today?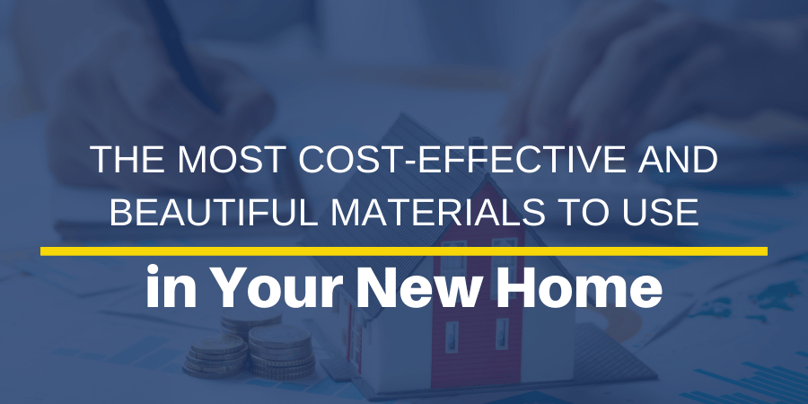 Affordable Building Materials
The price of some construction and building materials has seen a large fluctuation recently. However, low-cost building materials are both highly accessible and incredibly beautiful. Reclaimed, engineered, and alternative building materials are on the rise and for great reasons. Low-cost building materials no longer mean low quality or low on style. Read on to learn more about affordable construction materials that look luxurious.
1. Reclaimed Wood
Using reclaimed wood in your home is cost-effective and
environmentally responsible. It's also stronger than new lumber because reclaimed wood has fully dried out, making it far less likely to twist, bow, or split. Luckily, there is plenty of reclaimed timber, which keeps this material affordable.
When sourcing reclaimed wood for the purposes of architectural building materials, such as reclaimed wood beams and flooring, you will want to find a reputable supplier that ensures the integrity of the pieces. Your designer, architect, or contractor may already have these resources, but if not, they are just an online search away.
2. Industrial Steel and Iron
Iron is another material that we have an abundance of, making steel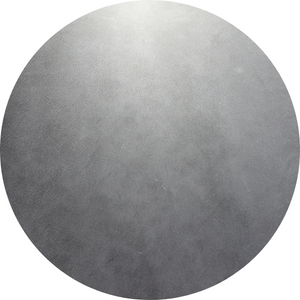 an affordable and strong building material substitute for wood framing. Steel is also fireproof, won't rot, can't be eaten by insects, and is recyclable.
As for capitalizing on the beauty of this material, pressed steel sheets make for an interesting modern addition to kitchen islands, the fireplace façade, or to use in your outdoor kitchen and bar.
3. Concrete
Concrete is an incredibly versatile material that can be used across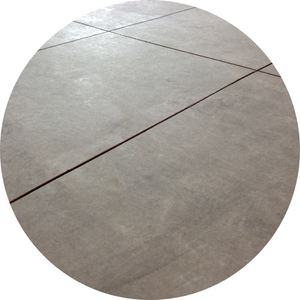 the home. As a building material, concrete is fireproof, insulating, and durable. Because concrete can be poured either in a controlled climate location or on-site, there are many different names for concrete products when it comes to custom construction.
Concrete sheets, or cement boards, are prefabricated panels made of a mixture of cement and cellulose fibers and used in place of drywall or subfloor. Concrete sheeting is usually available in 3' x 5' sheets. It goes for about $10 per sheet, is moisture resistant, and requires no maintenance. It's also mold-resistant because it doesn't contain any organic materials.
Concrete precast wall panels can be used for privacy fencing around the pool area outside or as a sleek accent wall in the family room. Concrete can be polished or painted to fit your style and color palette.
Low-Cost Popular Flooring
1. Bamboo
As a flooring option, bamboo is transformed into planks that can retain its unique nodal pattern or be made in a way that closely resembles wood. The cost of bamboo flooring is so affordable because bamboo is considered a highly renewable resource and grows incredibly fast, year-round.
Bamboo is made into flooring by first being split into strips, treated to withstand moisture, then assembled in one of three ways that will affect each plank's strength and appearance. Bamboo can be dyed and stained to resemble different wood tones, from ash to deep ebony, or left with its natural warm golden tone.
2. Vinyl
Vinyl is an incredibly durable and affordable flooring option that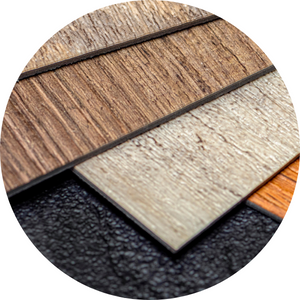 comes in every color and pattern you can imagine. It's available in planks, squares, and rolls, depending on your space or the style you're after. Vinyl tiles are an affordable alternative to porcelain or hardwood and are made to look much more refined than they did decades ago. The cost of vinyl plank flooring makes it that much more attractive.
The benefits of vinyl are nearly endless, including being waterproof and very durable, making vinyl especially great for the kitchen or bathroom flooring. If a tile does get damaged, you can simply replace the single tile rather than having to repair it or take out multiple.
What is vinyl plank flooring exactly? Luxury vinyl plank (LVP) is a refined version of vinyl flooring and can be made to look almost exactly like the much-desired hardwood floors or natural stone tile. LVP is more rigid and thick, so it's available in planks that snap together. LVP, or any vinyl, is a great opportunity to have affordable and beautiful flooring in any room of the home.
3. Concrete
Polished concrete flooring is inexpensive and highly customizable. It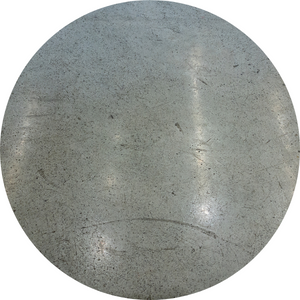 can be dyed, inlaid, textured, or mixed with other materials for interest. If properly poured and sealed, concrete floors can last a lifetime with very little maintenance.
Concrete floor costs can typically range from $2 to $8 per square foot. This durable material is also pretty hard and has no give when you walk across it, so rugs will be a necessity. Concrete floors are best used in your hardest-working rooms, like the kitchen, bathroom, and mudroom. They're also useful in the all-weather room, sunroom, and screened-in porch.
Inexpensive Trending Features
1. Reclaimed Wood
Reclaimed wood is listed twice in this list because it can be used both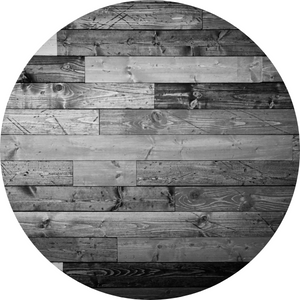 practically and superficially. A reclaimed wood beam, for example, may not be contributing structurally to a vaulted family room, but still adds character and a focal piece that draws the eye upward.
Use reclaimed wood as paneling, to clad your kitchen island, to frame an archway, or as floating shelves in the spare bathroom. It's an excellent, inexpensive way to add richness in texture and color to any room.
Find reclaimed wood through a local distributor, on websites or apps that post-free materials, or through your designer or contractor. When you source reclaimed wood, expect irregularities and variations in grain and color. This variety will only add more character to the project.
2. Stone Veneer
Veneer is a great way to use the material you want at a fraction of the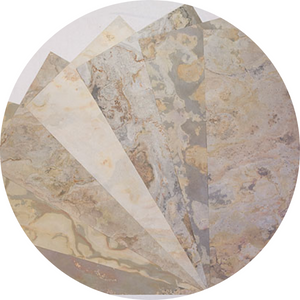 price you'd pay for a solid piece. Using veneer also weighs less, meaning you won't have to consider the amount of support needed for a thicker piece.
Use stone veneer siding to cover your fireplace, exterior posts, or a portion of the exterior siding of your home. The colors and materials differ, which means the price will also differ depending on your preferences. On average, stone veneer will begin at around $10 per square foot.
Choose a Design-Build Firm That Cares About the Bottom Line
You want your home remodel to suit your needs and to feel like the entire project was worth the effort, but you don't want to overspend. With so many materials on the market that give you the style and function you want at a price that fits within your budget, there's no reason to overspend. When you're looking for a design-build firm to handle your remodel, make sure they can deliver on quality and value.
JMC Home Improvement Specialists are more than experienced in delivering a beautiful home remodel within your budget without feeling like you've compromised. Contact JMC Home Improvement Specialists to talk about your remodeling design goals for your home in Essex, Morris, or Union Counties.