There is a lot that goes into a home remodel–more than you may think. At JMC Home Improvement Specialists, we take care of it all. As a trusted design-build firm that has served Northern New Jersey, homeowners, for decades, we understand the value of transparency and honesty. That is why we're going to reveal everything you can expect to be included in your home remodeling budget.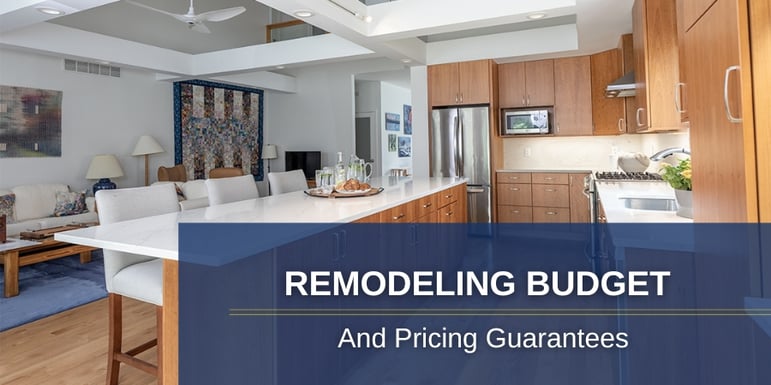 What's Included in Your Remodeling Budget With an Expert Design-Build Team?
Consultation & Exploration
Your remodeling process will include a free initial consultation. Some design-build firms will charge for this; but at JMC, we include this as a complementary service. We'll get the main concepts of the job and what your goals are conceptually. Your exploration phase of your remodel will include backwards planning; which starts with the big picture and drills down into the specifics.
Ballpark Budget
JMC will provide a ballpark budget based on historical pricing of similar projects and your conceptual design. The budget will be within 15% of your final investment at the most. - not true. We provide a wide range, then once we work in design, we refine to a 15% variance in price.
Design Services
With a design-build team, you won't have to pay a separate professional for the design of your remodel. We include this in our remodeling services. We'll guide your finish selections, identify your electrical and plumbing requirements, and determine structural and material needs to achieve your design.
Having every detail nailed down, we'll be able to come to a final price with a 0% variance. To compare this to other remodelers, they will usually include an allowance, which leaves room for an error in the quote. At JMC, our process doesn't require room for error. not only does our thorough investigation keep your budget on track, as well as having a thorough design process identifies your needs and desires so you will not be asking for any scope changes during the project. (put in the right words please and use your judgement.)
Permitting & Engineering
With JMC, you won't have to seek out an engineer or navigate the permitting process. Your budget will cover these services. We will handle all of the necessary plans and documentation that are needed to obtain your permit.
Materials and Finishes
Every material and finish that goes into your project is included in your budget. The quantities, models, and other specifications are detailed in your plans. Your budget includes the time we put into sourcing and pricing the materials we selected in the design phase. This kind of acute attention to detail is what allows us to come to a 0% variance.
Labor & Construction
Your budget will also include all of the labor that goes into the planning and execution of your remodeling project. Our design-build field crew team members include carpenters, kitchen and bath mechanics, and a sheetrock and painting specialist. By choosing to work with JMC, you're working with an established team with seamless communication and a harmonious workflow.
Project Management
Project management should always be included in your home remodeling budget. However, not all design-build firms use construction management software. You'll receive access to the customer portal for easy communication. You will also be able to view job documents, view progress photos, invoices, and schedules. With your client portal access, you'll save time and effort by foregoing all of the back-and-forth emails and phone calls.
Dust Mitigation, Cleaning, & Safety
Your remodeling budget also covers our exhaustive list of dust and debris mitigation tactics. Hepa vacuum air filters, stomp pads, plastic draping, zipper doors, and exterior-window fans are our standard methods for keeping your home clean and safe. You can also expect your work site to be cleaned and cleared on a daily basis during the construction phase.
JMC Lifetime Warranty
At JMC, we stand behind our process and our workmanship. That's why we'll follow up with you after your project is complete to ensure you're happy with your New Jersey home remodel. You can call us anytime if something needs our attention.
Will Hiring a Design-Build Team Save Money?
On average, working with a design-build team (compared to the traditional design-bid-build method) can lead to cost savings of 6% to 10% on a home remodeling project. The design-build approach offers effective communication, scheduling, and flexibility, but its most significant advantage is cost control. Having a single point of contact avoids additional expenses and schedule delays. With a seamless process and streamlined communication, you can devote less time to your remodeling project and feel confident that your budget is protected.
JMC Home Improvement Specialists have built a strong reputation for not only incredible design and craftsmanship but staying within budget and completing projects on time. Contact us to schedule a consultation and to find out more about our process and what you can expect when you hire a premier design-build firm.