You know your home can be improved but knowing exactly where to start can be tricky. Start your home renovation journey here, with a list of the top five most common reasons homeowners choose to remodel their homes. From comfort to efficiency, your home may only check off one of these reasons but it's not uncommon for a home to check each one.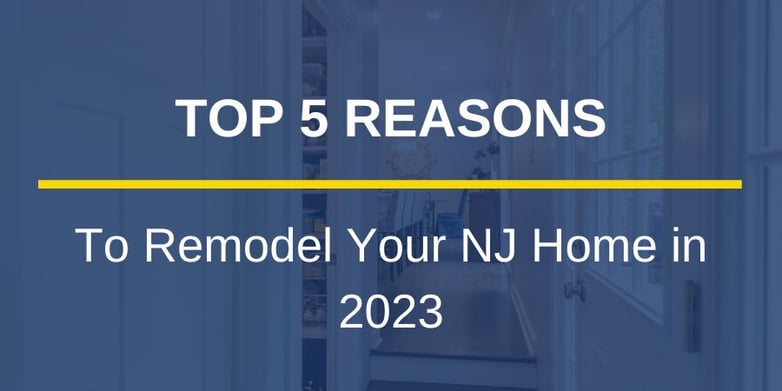 What Are the Top 5 Reasons Homeowners Renovate Their Homes?
1. Increase Your Home's Value
If you're planning to sell your home within the next few years, a remodel is a great way to increase your home's value and buyers' interest. Updating your exterior is especially beneficial because curb appeal can go a long way in making a great first impression, which is why exterior remodeling projects consistently have the best return on investments (ROI).
Also, creating an open floor plan, if you don't already have one, is something almost every buyer has on their must-have list in a new home. This will likely include remodeling your kitchen and living room. Another high ROI remodeling project is creating a primary, or master, suite, particularly if your home doesn't have one. Many buyers won't want to take on these larger projects when they purchase a home, meaning your home could stay on the market much longer than you'd like.
Projects That Can Hurt Your Home's Value
Some remodeling projects seem like a great idea but can actually hurt their value. If your goal is to ready your home to put it on the market, avoid these updates:
Garage conversion

Too much wallpaper

Very personalized tilework

Overspending in the kitchen and bathrooms

An in-ground pool
2. Improve Comfort
Comfort means something different to each family. Maybe your home's windows and doors are ill-fitting and your home is drafty. Perhaps your home is dark and it affects your everyday mood. If you're working from home at the kitchen island every day, you could use a home office, either in the home or in a new above-garage apartment. Or, if you bought your home and feel like you've been living in someone else's space for years. Remodeling to make your home more comfortable for you and your family will improve your quality of life at home, which can improve your everyday mood.
Installing smart home features will also make your home more comfortable. A smart thermostat, security system, appliances, and other smart features are convenient, improve security, and add peace of mind knowing you can control and monitor it all from your smartphone.
3. Create More Space
Feeling cramped in your own home can be a matter of comfort but it can also be because you're expecting your family to grow, your children are getting older and need more independence, and you'd like a special space for a home gym, music studio, or home office. Some of the more common additions homeowners like to have done are kitchen expansions, adding a bedroom, adding a full or half bathroom, a guest space or in-law suite, or adding a sunroom. Additions can also work to improve the flow of your home, create fewer bottlenecks, and give everyone the space they need.
Creating more space outdoors is also a popular home addition, especially in the last few years, giving you a great ROI. Outdoor kitchens, an al fresco dining space, or a fire pit with space to lounge are popular choices. When your outdoor living area is off of your kitchen or living room, consider adding a movable glass wall to really open up your space and make your home feel that much larger.
4. Update Your Home's Style
The style of your home will likely need some updates if you've had the same finishes and features for the last 20 years. Your tile, flooring, backsplash, paint colors, cabinets, and lighting fixtures have likely fallen out of style making your home feel drab or, worse, tacky. Cosmetic updates throughout the home will give you that new-home feeling again.
When planning to remodel the style of your home, take inventory of every detail and look around online for style ideas that range from trending to timeless. To avoid remodeling again within only a few years, be sure to choose timeless design elements for the larger, more expensive details, like your cabinets or bathroom floor tile. Following interior design trends are great for details that can be updated easily, like wall colors, lighting fixtures, or plumbing fixtures. To make the most of your remodel, such as in your primary bathroom, choose a balance of luxury upgrades and midrange features. This will improve your experience at home and keep your budget balanced.
5. Improve Energy Efficiency
Homes built even ten years ago are lacking the energy efficiency of homes today. Updating your windows, doors, HVAC system, and appliances will greatly improve your home's energy efficiency. Replace your water heater with a tankless option, install in-floor radiant heating in your bathrooms, opt for a heat pump to heat and cool your home, and choose kitchen appliances rated by ENERGY STAR. Also, consider a solar power system. When you work with an energy efficiency consultant to choose the right size system for your home, you can reduce your utility bill to almost zero.
What Are Your Home Remodeling Needs?
Your home may check off one of these top remodeling reasons, or even all five. You may even know your home is due for a remodel but aren't quite sure how to address your home's challenges. This is when bringing in a home remodeling consultant for an in-home assessment is a great first step.
JMC Home Improvement Specialists is the premier expert New Jersey remodeler that offers a full-service experience, from design to construction. Working with a design-build professional for your remodel means you're only having to work with one point of contact, making your process seamless and easy without sacrificing excellent design and impeccable craft. When you're ready to discover how a remodel can improve your home life or your home's value, contact JMC to schedule a consultation.