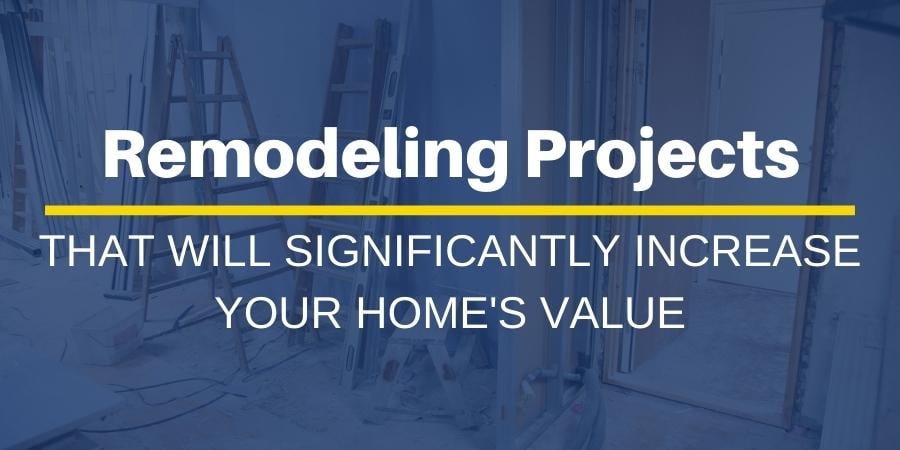 The best home improvements to increase your home's value are in both obvious places and perhaps not so obvious. The bathroom and kitchen are always great places to start, but what other projects could give you an excellent return on investment, or ROI? Whether you're remodeling your home with the goal of selling, or would just like to increase its value, here are a few of the best places to invest your time and budget.

1. Bathroom
The bathroom is one of the most commonly remodeled rooms in the home. It experiences some of the most wear and tear and with so many elements that make up this space, it can feel dated sooner than later. Not to mention, with all of the technological innovations that have gone on the market to elevate your experience in this space, a remodel to take advantage of what's available should be a top priority.
As for how much you should spend on your bathroom remodel, it's suggested that 5% of the home's value will be plenty. That is unless your goal for your bathroom remodel goes beyond resale value and includes your desire to have a luxury spa-worthy retreat to begin and end your day. Either way, a bathroom remodel can cover only a few cosmetic changes or a whole reconfiguration of the space.
For a minor bathroom remodel, you can expect a ROI of 102%. It's the highest ROI you can get out of a remodeling job but really depends, of course, on how luxurious you'd like to make the space. Also, don't forget that considering a bathroom remodel should go beyond the master suite. The powder room and any guest bathroom may also need attention. Consider a minor remodel across all bathrooms for the best ROI. These smaller upgrades can include updating the fixtures, fresh paint, adding wallpaper, replacing the vanity, and improving the lighting.
As for a major bathroom remodel, this will get you a ROI of 93.2%. With a complete overhaul of a bathroom, you should expect to perhaps change the floorplan to include better storage, the addition of a closet, and perhaps a luxurious freestanding tub with custom tilework. Since a major remodel is like starting from scratch, include designs that prep your space for aging in place, like a curbless shower or a wall-mounted sink.
Whether you're going big or small for your bathroom remodel, find a New Jersey remodeler that will work with your style goals. Even a job that seems small could become more complicated than you expected and having a professional team on the job from the beginning could save you time and money in the end.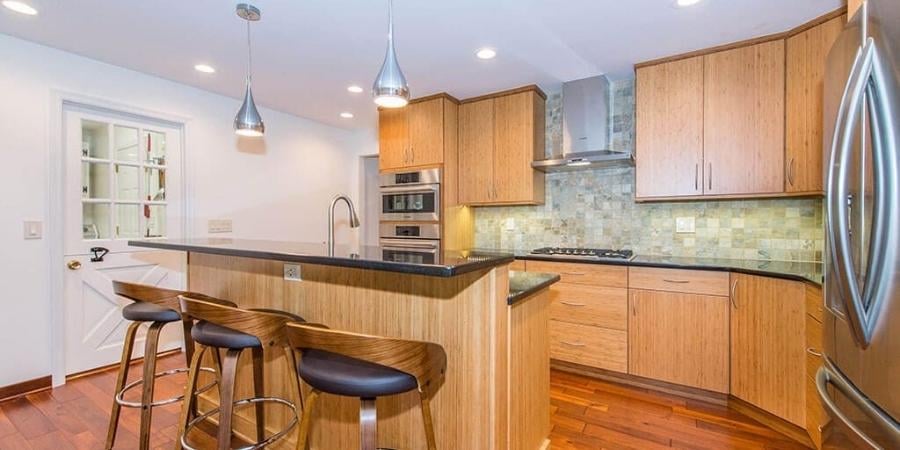 2. Kitchen
A kitchen remodel is another great home improvement project that will add value to your home. Not all homes require a full gut job in the kitchen, so it's good to take a look at your space with a trusted New Jersey remodeler and decide if a minor or major kitchen remodel is what's needed.
If only a minor kitchen remodel will elevate your kitchen to where you'd like it to be, you can expect a ROI of 98.5%. You can increase the value of your home pretty significantly without any major remodeling work. Replacing appliances, fresh paint, and upgrading your cabinets are enough to give your kitchen a whole new feel. Also with minor remodels, because you retain the same footprint, think about design elements that could really take advantage of every square inch.
A major kitchen remodel shouldn't exceed 10% of your home's value. At an ROI of 91%, a major remodel doesn't have the return of a minor remodel but could be necessary depending on how dated or how much wear and tear your kitchen may have. A major remodel will include a full reworking of the space, like taking out a wall to open the floorplan. If selling your home is right around the corner, opening the kitchen to the rest of the living space is a big must-have for homeowners. A major remodel will also likely include replacing cabinetry, appliances, and perhaps the flooring.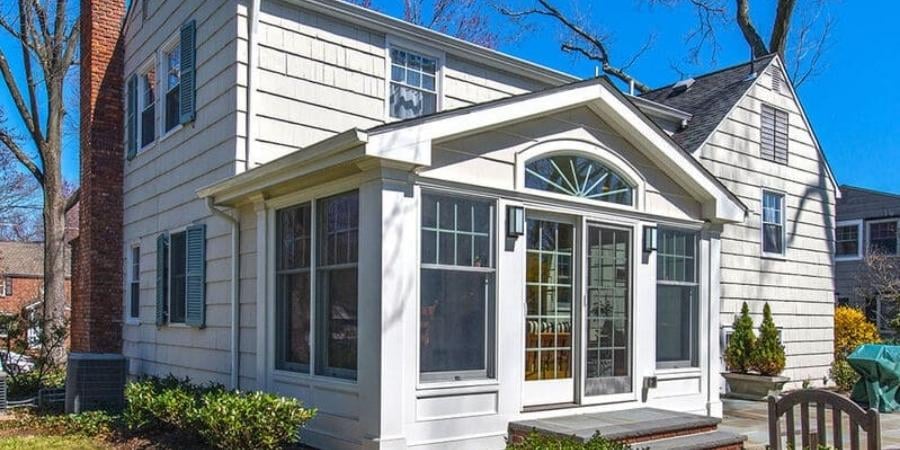 3. Entry Door Replacement
This particular home improvement upgrade may seem small but boasts a ROI of 90.7%. Replacing an entry door has the power to improve your entire curb appeal because it's one of the first things you'll notice about a home. Also, an upgrade could simply be a replacement of the door and its frame or could be as dramatic and high-end as cutting a larger opening for a double door entry with side windows. Consider new lighting to accompany your grand entrance and this part of your facade just became a lot more high-end.
As for the possibility of selling your home, the first impression is immensely important, making the front entryway a great place to invest in an upgrade.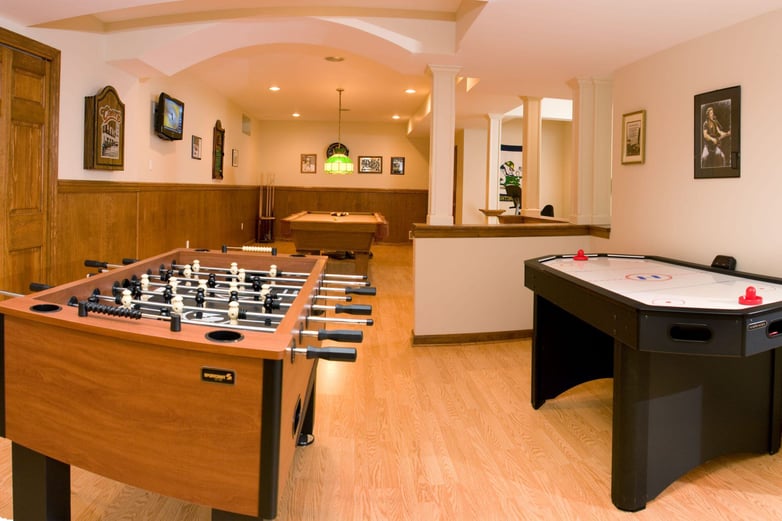 4. Basement Remodel
A basement is a place with loads of potential. This is great for the ROI, which is 90.1% but can be intimidating when it comes to making design decisions. If you're wanting to increase the value of your home but don't necessarily plan to sell, these decisions will of course depend on how your family would like to use the space. Would you like a spare guest suite, a home theater, or a combination bar and game room?
If you plan to sell, however, creating a guest suite in the basement is likely to bring the most value. This is one of the most common uses of the space because it's also still pretty versatile. It can also be used for entertainment and gaming with the right additions.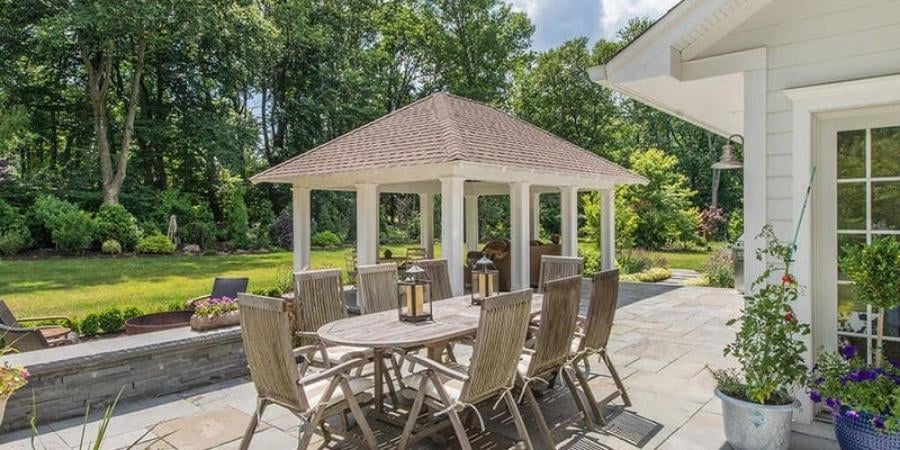 5. Outdoor Living Space
Having an outdoor living space has become more desirable over the past couple of years for many homebuyers and homeowners. With a ROI of 90.3%, it's an excellent place to focus on spending your remodeling budget. Of course, creating an outdoor living space will depend on how much square footage you have to work with, so consider plenty of options and configurations with your New Jersey remodeler.
An outdoor kitchen with a built-in grill, refrigeration and storage is an outdoor entertainer's dream if you have the space. Also, consider a covered lounge area with ample space for seating and a fire pit. Even simply a deck off of the kitchen for al fresco dining would go a long way in increasing the home's value and appeal.
If you're remodeling to sell, an outdoor space will likely be on a buyer's must-have list. If you plan to stay and enjoy your outdoor living space, you'll be very glad you made the investment as Spring rolls around.
Are You Ready to Increase the Value of Your New Jersey Home?
Whether you're increasing the value of your home to stay or to go, investing in high-end improvements across your home is always a worthwhile investment. Work with an experienced design-build team that will be with you from the very beginning of the design phase through the last walk-through of your finished project. JMC Home Improvement Specialists offer virtual consultations for your utmost convenience and want to make sure your design needs and wishes are met and within your budget. JMC is committed to delivering a luxury home you'll both love to stay and enjoy or feel proud handing the keys off to future owners.