Just like every other space in the home, your bathroom can be more than the standard three-piece ensemble that does the bare minimum. When you're planning a bathroom remodel, think outside the basics and explore features and amenities that you didn't know you needed in your home. Many homeowners could benefit from the ideas on this list, and it's worth working with your designer to see what could fit within your budget.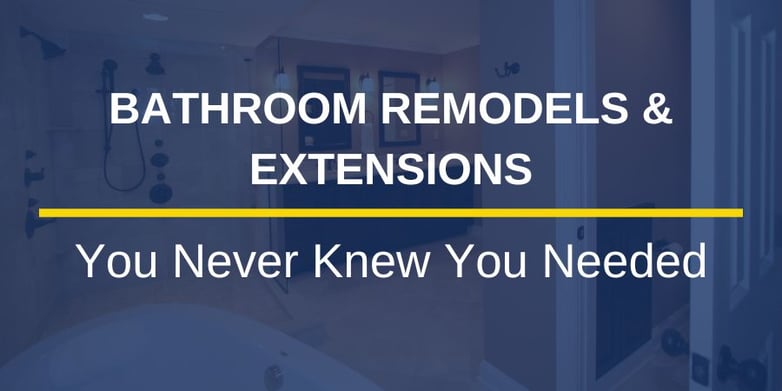 What Bathroom Features Should You Include in Your Remodel?
Some of the ideas on this list have been around for a while and others are somewhat new ideas. Imagine what your home life would be like with these remodeling ideas you didn't know you needed.
The Spa Bathroom
You don't know luxury until you create a spa right in your own home. To some, this may seem frivolous, but it's actually an attainable aesthetic that can fit comfortably within most budgets. A spa bathroom can range from the cosmetic choices in your bathroom to high-end smart features that completely change the way you begin and end your day.
The color palette and materials common in a spa bathroom are soft colors, natural wood and textures, simple tile design, plenty of natural light, and live plants. You could design the space with white walls, tile, and a vanity top. However, you can introduce a pop of color with light green tiles in the shower or a soft powder blue vanity. More luxury features in a spa bathroom include a steam shower system, a large freestanding tub with heating walls, in-floor radiant heating, smart lighting to set the mood, a natural wood vanity with flat front cabinet doors, and a skylight. Keep decor to a minimum, use white towels to keep a clean and neat environment, and use matching containers to wrangle your everyday items stylishly.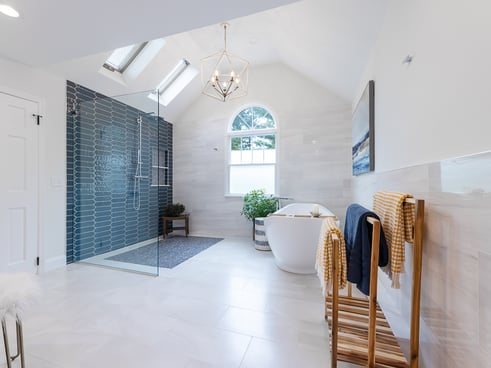 Smart Features
Smart features aren't only for the kitchen and entertainment area. A smart bathroom links your features to a voice-activated home assistant or can be controlled from your smart device, as well as fans with humidity sensors so you'll never need to switch it on. The bathroom offers plenty of opportunities to incorporate smart features that can add convenience to your day, from beginning to end. Aromatherapy and chromotherapy devices add to your bathroom's environment. A smart toilet and faucet offer more cleanliness with touch-free features. Smart vanity mirrors display the time, weather, reminders (no more post-its), and news updates, just to name a few.
Choose shower features that can be programmed to your perfect temperature and pressure every time, saving water and time. Consider in-floor radiant heating that you can fire up from your bed or program to turn on at the start of the day and before you get home. Take your bathroom experience to the next level with a smart tub that features sound bath technology, Bluetooth capabilities, and heated walls.
A Wet Room
A wet room is one of the latest bathroom remodeling trends. It's a semi-enclosed space that contains both your freestanding tub and your shower. Some designers consider a wet room to be completely enclosure free, with every surface waterproof. Others define a wet room as part of the bathroom having a glass partition to control splashing and create some distinction. It's the perfect solution for those who love to lounge in a warm relaxing bath then feel refreshed with a shower to finish off their evening routine. A wet room also keeps your floors from wearing faster due to drips and splashes from the tub sitting on your luxury vinyl tile flooring.
Go Big with a Dressing Room off of Your Bathroom
A dressing room is a big, but affordable, step up from the walk-in closet. If you're already interested in expanding your primary suite, add several more square feet and create the closet of your dreams. A dressing room can contain lots of custom storage, like shelves to display your shoe collection, drawers, closed cabinets, and even glass front full-length cabinets for formal attire. In a larger dressing room, you can include an island to neatly display and store jewelry, watches, ties, hats, and anything else. Don't forget to include seating for putting on your shoes, a large full-length mirror, and excellent lighting. You can even add a striking chandelier and feel like royalty getting ready for the day, a night out with friends, or a special occasion.
The Commode Closet
The commode closet isn't a new idea, but too few homeowners consider this feature when designing their bathroom remodel. It allows for more privacy and the option for more than one person to use the space at once. Larger primary bathrooms can contain two commode closets–one on each side of the space, for ultimate privacy.
The commode closet isn't only for the primary bathroom. Include one in the design of a Jack and Jill bathroom, even the full hallway bathroom. You'll be glad you did.
Interested in More Bathroom Remodeling Ideas?
A bathroom remodel opens you up to so many opportunities to create a space that feels more personalized and luxurious. If you're interested in even more ideas to update your bathrooms, call a professional remodeler who can take your remodel from idea to construction in one smooth, easy-going process.
JMC Home Improvement Specialists are indeed the premier specialists for New Jersey homeowners interested in an update, from cosmetic changes to a full gut remodel or addition. Start the conversation about your remodeling ideas and questions by contacting JMC to schedule a consultation.