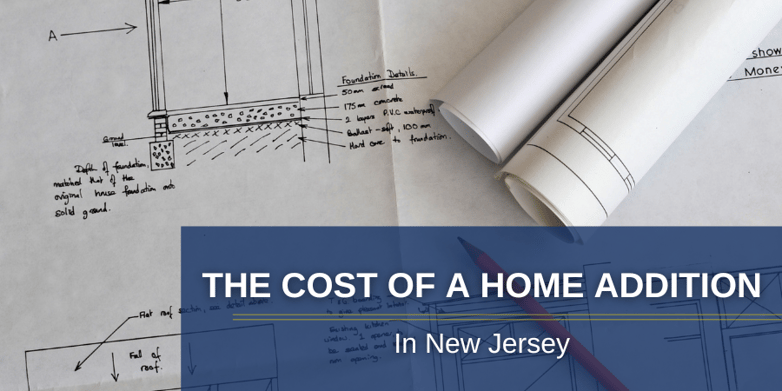 Whether you need an addition because your family has grown, working from home has you competing for space, you need to add a guest room, or all of the above, an addition is often the only way to make your current home work for you. There's plenty of information about remodeling bathrooms and kitchens, but how much does a house addition in New Jersey cost? Calculating the cost of a home addition depends on several factors and we're here to guide you through them so you can properly plan your budget.
Factors That Affect Home Addition Costs
An addition is typically calculated by determining the location, size, complexity, labor, and materials that will be purchased for construction. The difference in cost between adding a bathroom, a bedroom, a guest room, a garage, or an entire master suite is notable. Because of this, you will want to work with your New Jersey design-build team to figure out the solution that best works with your budget. Additions are a worthwhile investment in your home and will deliver a great return on investment, or ROI.
What Is a Bump Out Addition?
A bump out is a specialized home addition, offering extra space without the scale of a full addition. It's essentially a micro-addition, sometimes resembling a room's size, but often seen as an expansion of an existing space. Bump outs can extend as little as 2 feet if a cantilever method is used, but up to 15 feet if not. For example, if you're looking for a living room extension cost or dining room addition, a bump out is likely what you're after.
The cantilevered method means the addition isn't supported by posts. They typically don't require additional heating or cooling, utilizing the existing room's systems. With shed-style or flat roofs, bump outs subtly blend with the home's exterior, providing a seamless yet effective space expansion.
How Much Does It Cost to Build an Addition in New Jersey?
Rough estimates for each room are possible by taking the average of what an addition would cost and the standard sizes and functions for each type of room. For instance, bathrooms and kitchens require more mechanical systems and fixtures, while bedrooms and family rooms are more basic. Other factors that will increase the cost are custom features, like built-ins, custom-milled trim, and other additional architectural details.
How Much Does a Kitchen Expansion Cost in New Jersey?
A kitchen expansion can be considered a bump out or an addition based on the square footage you'd like to add. Kitchens require the works—plumbing, electrical, fixtures, finishes, appliances, and cabinetry. The average cost for a kitchen expansion starts at around $80K and can climb to around $170K and beyond. This cost would include added square footage, reimagining the layout, new cabinets, and replacing every finish and appliance.
How Much Does It Cost for a Bathroom Addition in New Jersey?
Adding a bathroom to your home can be the difference between daily frustrations with too many people sharing the same space and everyone having the space and privacy they need. Like with any addition, a bathroom addition can vary quite a bit depending on who the bathroom will primarily serve. For a full bathroom that will typically be for the children or guests, expect an addition to cost around $200K to $300K. This cost will climb as you choose higher-end finishes or if the bathroom you envision is larger than average.
To add a bathroom with the layout and features typical of a primary suite, expect the cost to be around $250K to $400K. This will include a walk-in shower, a separate commode closet, a double vanity, a freestanding tub, and all custom finishes.
In your primary suite bathroom, you will likely want to surround yourself with high-end finishes and features to give you that at-home spa experience. Choosing high-end finishes and all custom cabinets will push your cost beyond this average.
How Much Does It Cost for a 200 Square Foot Addition in New Jersey?
In this case, we're classifying a basic room addition as a 200-square-foot room addition. This will cover living rooms, bedrooms, offices, and any other room that requires the least amount of finishes and features. Of course, these rooms can still vary depending on how you'd like to detail the space, such as with custom built-ins, a fireplace, and custom-milled trim. To understand how these details will affect your estimate, be sure to discuss every detail with your design-build team. On average, however, a 200-square-foot addition in New Jersey could cost around $160K to $220.
How Much Does It Cost for a Master, or Primary, Suite Addition in New Jersey?
Many older homes weren't designed with a master, or primary, suite. To add a primary suite to your home, you might be creating a suite off of an existing bedroom or starting from scratch. For the cost average we're citing here, it includes adding an entire suite, comprised of a spacious bathroom with a freestanding tub and double vanity, a walk-in closet with space for two, and a sizable bedroom with a fireplace and sitting area. On average, adding a primary suite to your New Jersey home will cost, on average, $350K to $550K. Your cost will depend on all of the factors we've discussed, such as size, scope of work, and the grade of finishes you choose to make the space your own.
Take The Next Step In Adding To Your New Jersey Home
Adding to your home takes great skill, attention to detail, and plenty of problem-solving. The custom home design-build team you choose to both design and construct your addition should have the experience you would want to be certain your project exceeds expectations, is within your budget, and leaves you feeling at ease.
JMC Home Improvement Specialists is a design-build firm that believes your home is your most important asset. As a company that enjoys repeat clients and personal referrals, JMC takes pride in years of superb customer service. Contact JMC for a consultation and get you closer to a home that fits more comfortably.