As a homeowner, you ought to feel comfortable and at home in your own house. And since chances are, like millions of others in the United States, you're living in a house built before 1980, your home probably doesn't fully reflect your tastes and preferences.

This is why most homeowners are considering bathroom remodeling. However, before you start looking for bathroom contractors, you ought to look at this list of bathroom design trends that will never go out of style!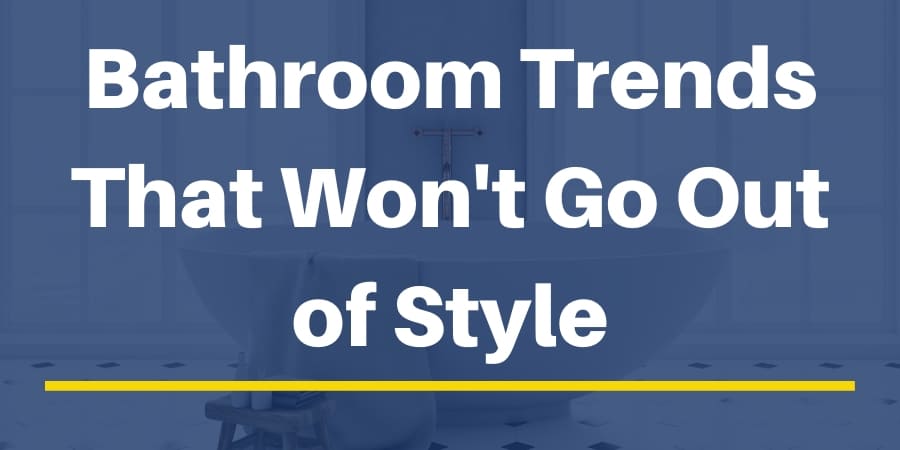 1. Using One Material All Over Your Bathroom
This is one of the most popular bathroom trends and has been in the interior design playbook since sometime in the eighties. It entails making use of one material throughout the entire room.
When well set up, this trend will give your bathroom a classic aura of continuity and transform it into the most magical room in your house. Although most people prefer using tiles, professional bathroom contractors can work with anything that lives up to your tastes, including concrete and plaster. You should consider using materials with graphic patterns to create incredible visual play and make your bathroom more colorful and lively.
2. Mirror on the Wall
Although mirrors are standard bathroom fixtures, who said they have to be plain, generic, and boring? You can experiment with bold, vintage, statement mirrors to help make your bathroom seem more classy and cozy.
Since bathrooms are generally designed using straight lines, incorporating a large mirror with a unique shape and style will create a playful and artistic aesthetic. Such mirrors are quite affordable and are a creative way of making the most out of your bathroom space without breaking the bank. A bathroom contractor may help you pick out the mirror that best compliments the design you've chosen for your bathroom.
3. Changing Your Tiles
If you've been cleaning up in the same bathroom for more than three years, you must have gotten tired of seeing the same old tiles. In fact, updating tiles is one of the most common trends in bathroom and general home remodeling.
Home remodeling companies have tiles in different shapes and designs, making it possible for you to go for options that make your bathroom look unique. You should consider using diamond-shaped tiles to create a geometric and harmonious look all over your bathroom wall or floor. However, make sure you get competent bathroom contractors to lay the tiles down for you- nothing is a bigger eyesore than a bad tile job.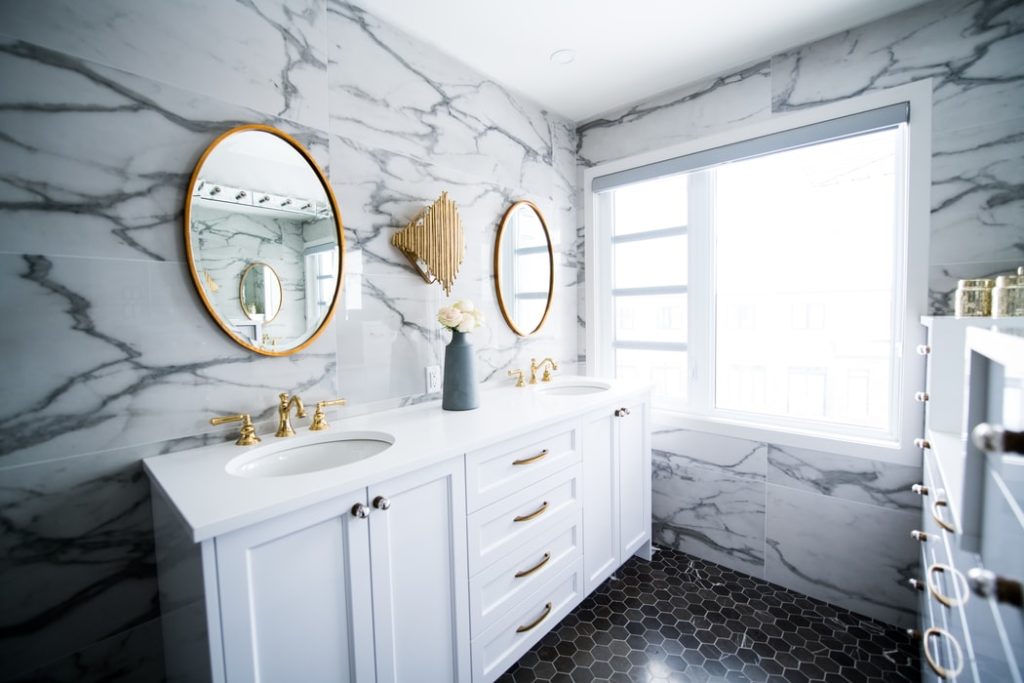 4. Manipulating the Lighting
No-one wants to shower in a dark, drab bathroom. When remodeling, it's crucial to consider the kind of lighting you wish your bathroom to have. Light is the cohesive force that glues all your additions together, and if you don't get it right, you might end up not getting the result you had in mind.
Many homeowners are now turning to installing LED lights in their bathrooms. These lights use less energy and are more sustainable than generic light bulbs. They also radiate a calming bright glow and tend to last much longer.
You can also take advantage of natural light by installing larger windows or using sheers and skylights. Hiring a bathroom remodeling contractor to change up the lighting will immediately affect the texture of your bathroom, and will make it more energy efficient.
5. Incorporating New Technology
More and more homeowners are warming up to the idea of having smart bathrooms. Underfloor heating systems and integrated intelligent controls are becoming quite popular, and although they require a larger budget, they will help make your bathroom more comfortable. They will also increase the value of your home should you ever decide to sell.
It would be a good idea to hire bathroom contractors to ensure all your appliances and fixtures are safely installed.
What cuts across all these design trends is the fact that they all allow you to experiment and break free from the norm. With competent bathroom contractors by your side, you should have no problem converting your bathroom from a dull room to a homey and comfortable sanctuary.