The New England area is known for its history and charm, but while older buildings are lovely to look at and explore, they can be a challenge to live in. If you're one of the numerous homeowners in New Jersey residing in a decades-old home, chances are the space doesn't fully reflect your tastes and preferences. It may also not function as best it could.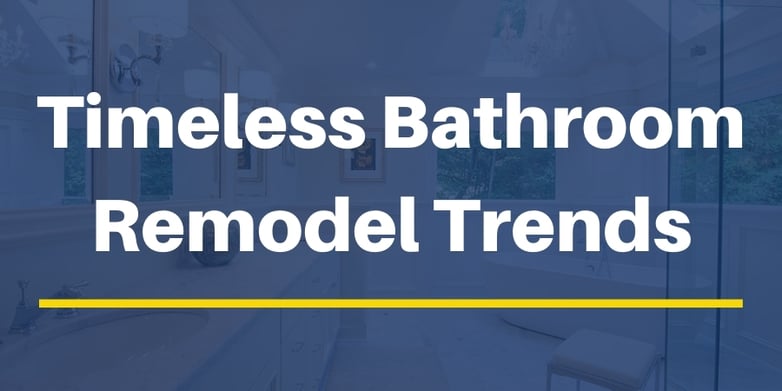 Bathroom remodeling gives you an opportunity to change that. Not only can you upgrade various features and components to make your bathroom in New Jersey more functional, but you also have a chance to upgrade the overall style so you feel more comfortable and at home in your own space (make sure you know how much it costs beforehand).
Bathroom Trends That Won't Go Out of Style
While you want your bathroom to capture your personality, it's also prudent to evaluate what changes and upgrades will have long-lasting value. Incorporating a few of those elements into your remodel enables you to create a trendy yet timeless bathroom that will provide you comfort while still appealing to future homebuyers. Here are a few classic bathroom remodel trends to consider:
1. Establish Monochromatic Cohesion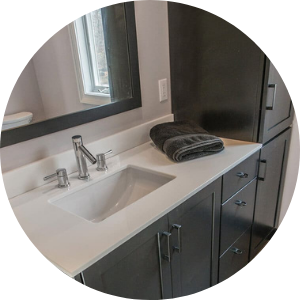 This is one of the most popular bathroom trends and has been in the interior design playbook since sometime in the 1980s. It entails making use of one material throughout the entire room. When well set up, this trend gives your bathroom a classic aura of continuity and transforms it into the most magical room in your house. Although most people prefer using tiles, professional bathroom contractors can work with anything that satisfies your tastes, including concrete and plaster.
Even if you don't want to use one style, consider a monochromatic palette to achieve that alluring cohesion. All-white bathrooms enjoy enduring popularity because they inherently feel clean and tranquil. If pure white seems too harsh or sterile, select a creamy white that's not as stark and more forgiving. Additionally, all-black and all-gray bathrooms are classic choices. In general, you want a simple, uncomplicated color palette to make the space calm and relaxing.
2. Go for Minimalist Appeal
Along the same line, your bathroom is not the right place for cultivating a busy, cluttered atmosphere with excessive décor. Minimalistic and simple bathroom designs are preferable, especially for a timeless appeal. Use neutral colors and natural materials, such as rustic timber vanities, stone bathroom basins and marble countertops. You can create texture in your bathroom without the clutter by incorporating glossy tiles, raw wood and intricate stone. A few plants can also serve as your modern bathroom decor without making the space feel too crowded. However, make sure you prioritize counter space when remodeling your bathroom, as function over form is a key component of the minimalist aesthetic.
3. Add a Statement Mirror
Although mirrors are standard bathroom fixtures, who said they have to be plain, generic and boring? You can experiment with bold or vintage statement mirrors to help make your bathroom seem classier and more stylish.
Since bathrooms are generally designed using straight lines, incorporating a large mirror with a unique shape and style will create a playful and artistic aesthetic. Such mirrors are typically affordable and a creative way of making the most out of your bathroom space without breaking the bank. They also enable you to add a flair of personality without commandeering functional space that could serve a more useful purpose. Your bathroom remodeler can help you pick out the mirror that best complements the design you've chosen for the room.
4. Make it Marble
When it comes to timeless bathroom designs, you can't go wrong with marble. Whether you incorporate it into your shower base, floor or a vanity countertop, this classic material is both durable and attractive. Additionally, it fits well into nearly any design aesthetic, whether traditional or contemporary. Marble adds a nice contrast to your other finishes while making the whole space look and feel distinctly luxurious.
Because marble gets fairly slippery when wet, make sure you use a non-slip finish or lay down comfy floor mats near your shower and sink. For a more cost-effective option, consider quartz countertops that are designed to mimic marble.
5. Stick to Subway Tiles
New tilework is a common part of a bathroom remodel because it's an effective way to refresh the space. While you should choose whichever tiles fit your creative vision for your bathroom, there's a reason subway tiles continue to be trendy after numerous decades. They are easy to install, durable and versatile. However, just because you go with a timeless option like subway tile doesn't mean you can't make it more interesting by choosing creative colors. Subway tile is available in various materials and with different glazes that add visual interest. Additionally, you don't have to lay them horizontally in a brick pattern. There are several ways to stack and position your subway tile for a unique look.
Penny tiles are another traditional choice for your bathroom. These vintage bathroom tiles come in varying shades and you can place them however you want to create different shapes and patterns. Whichever type of bathroom tile you decide to use, make sure you get a competent contractor to lay them down for you. Nothing is a bigger eyesore than a bad tile job.
6. Spring for the Standalone Tub
Standalone tubs are statement pieces—and that shows no sign of changing. As the original style of tub, they are an effective way to elevate the atmosphere in your bathroom and make it feel timeless and luxurious. The best part is that freestanding tubs come in all shapes and sizes, so you can find a model that works with your design style. You have options, from the traditional claw-foot style or a hammered copper French tub to a sleek, modern number. While standalone tubs are generally associated with larger master bathrooms, there are more compact versions to fit into smaller spaces that often substitute the width with depth.
7. Get Creative with Lighting Solutions
No one wants to shower or get ready for the day in a dark, drab bathroom. When remodeling, it's crucial to consider the kind of lighting you wish your bathroom to have, as it often serves as the cohesive force that glues all your additions together. Many homeowners are now installing LED lights in their bathrooms, as they use less energy and are more sustainable than generic light bulbs. They also radiate a calming bright glow and tend to last much longer. For example, a popular trend is to install a vanity mirror with LED lights built into the frame. Task lighting, in general, creates a very sophisticated bathroom environment.
You can also take advantage of natural light by installing larger windows or using sheers and skylights. Hiring a bathroom remodeling contractor to change up the lighting will immediately affect the character of your bathroom. With the right lighting solutions, you can also enhance your home's energy efficiency.
8. Incorporate New Technology
More and more homeowners are warming up to the idea of having smart bathrooms. Underfloor heating systems and integrated intelligent controls are especially popular because of the luxury and convenience they provide. High-tech toilets, motion-sensor faucets, warming drawers, voice-activated lighting, Bluetooth speakers and spa-inspired shower amenities are other appealing choices.
Although modern technological features require a larger bathroom remodeling budget, they will help make your bathroom more comfortable and also increase the value of your home, should you ever decide to sell.
Designing a Trendy and Timeless Bathroom in New Jersey
Even when incorporating timeless design trends into your bathroom remodel, you still have the latitude to experiment and create a space that is tailored to your particular tastes and daily routines. Our team at JMC Home Improvement Specialists can guide you through the process of exploring our showroom and selecting the features and materials that work for your bathroom renovation project, ultimately creating the comfortable, inviting sanctuary you envision.