Tile has been around for centuries, yet it remains one of the most versatile remodeling materials available, thanks to its abundant variety of patterns, materials, shapes and sizes. In recent years, unique tile patterns and materials are offering fresh new looks that work beautifully in modern, rustic, and traditional design aesthetics alike.
With a tile style out there for everyone's taste, you are sure to find the perfect tile for your next bathroom renovation, whether you're using it for flooring or walls, in or out of your shower.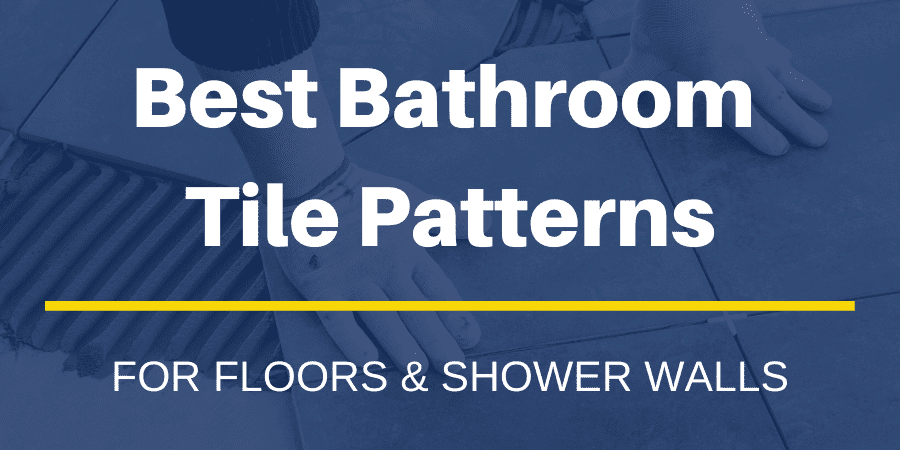 What Is the Best Tile for Bathrooms?
The best tile for your bathroom depends on several factors, from the size and style of the space to where you're installing the tile and its primary function. As you're preparing for a bathroom remodel in Morris County, here is what you should know about the various types of tile available on the market to select the ideal match for your space.
Related: Configuring Space to Create an Award-Winning Master Suite Remodel
Best Tile for Modern Bathrooms
Modern or contemporary bathroom designs are sleek, clean, and minimalistic. You don't want to use any materials or decorations that will make the space look cluttered or chaotic. For tiles to use with modern décor schemes, here are the best options:
1. Glass Tiles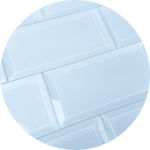 When it comes to creating hard, sleek surfaces for a contemporary bathroom, glass tiles are both visually appropriate and a practical choice. Glass can be easily customized and is available in numerous shades, both subtle and bold, and it is naturally stain- and water-resistant. Glass tiles also capture and reflect light, which enhances the spacious, open feel of a modern bathroom.
2. Marble Tiles

Marble tile is one of the more luxurious materials for flooring. Although it embodies a sense of opulence and gravity often associated with traditional bathrooms, the classic stone can also be used in a modern bathroom. Marble is relatively more expensive tile and has to be handled with care, but it's a good choice for an upscale master bathroom with a contemporary feel. It also pairs well with underfloor heating systems to make your bathroom even more comfortable.
3. Geometric Tiles


One trademark of a modern design is the incorporation of clean lines and geometric shapes. You can highlight those elements with the tile you choose. For example, cement tiles are available in a range of bold, eye-catching geometric patterns to enhance the fresh, modern feel of your bathroom without adding clutter.
Best Tile for Traditional Bathrooms
For a traditional or classic bathroom, you want to pull in design elements from specific historical eras and create a balanced feel. Here are a few tile choices if you are remodeling your traditional bathroom:
1. Porcelain Tiles

Porcelain is a versatile yet highly durable and water- and scratch-resistant material, which makes it ideal for shower walls and flooring in your traditional bathroom. It is available in a wide variety of colors and can also be made to mimic stone or wood, which allows you to further refine your porcelain tile selection to match your specific tastes. One issue with porcelain is that it can be fairly slippery when wet, making it less optimal for shower flooring. However, as with many materials, you can find porcelain tile options with a higher slip-resistance rating.
2. Penny Round Tile

Penny tile has been around for more than 100 years, but it's seen a surge in popularity over the past several years. Due to its size, it offers a no-slip surface and its shape is a refreshing change from the standard square and rectangular tile.
3. Checkerboard Pattern

A chic black-and-white checkered floor is the perfect way to capture timeless elegance and enhance other formal finishes in a traditional bathroom. A checkerboard pattern definitely makes a strong statement, so it must be carefully paired with high-quality furnishing.
Most Slip-Resistant Tile
When it comes to tiling a bathroom, choosing a slip-resistant material is important for a floor that frequently gets wet, while you have more latitude with how you tile a shower wall. No shower base or bathroom floor can be completely slip-proof, but you can select tiles for these surfaces that are textured to mitigate the chance of slipping when you're showering or moving around your bathroom. Here are a few to consider:
1. Slate Tiles

Slate tiles are both durable and have a slightly rough texture, which makes them especially suitable for shower floors and bathtub surrounds. Slate is soft and must be regularly sealed, but when properly maintained, it can last for a long time in your bathroom without having to be replaced or removed.
2. Pebbled Floor

Sealed stone tiles or pebbles have grip and are naturally slip-resistant, two of the top criteria when it comes to shower flooring. Although pebble tiles come in several colors and shades to match your bathroom, they are best suited for creating a natural, spa-style space. Because of how much grout is required to form a pebble tile floor, they can be more time-consuming to install and you have to keep up with regular maintenance.
3. Natural Stone

Natural stone tiles are an attractively luxurious option for your bathroom. When dressing your bathroom walls, natural stone adds rich texture and neutral color to enhance the sumptuous ambiance of your space. To use for a shower floor, however, it's best to apply a non-slip coating or sealing to your stone tiles.
Top Tile Choices for a Small Bathroom
With a small bathroom, you want to create the illusion of more space so the room feels comfortable and not claustrophobic. For small bathrooms, here are a few types of tile and layouts to consider:
1. White Subway Tiles

White creates a sense of openness, which is especially important when it comes to tiling your bathroom walls and floor. White subway tiles installed in a classic stretch-bond pattern on shower walls can make the area look and feel more spacious.
2. Mosaic Tiles

Mosaic tiles—which can be made from a variety of materials including marble, glass, or ceramic—are a popular choice for flooring in small bathrooms because of their size. You can choose a bold color or pattern for the bathroom floor or to highlight a particular wall and, thanks to the smaller surface area, it won't be overwhelming.
3. Chevron Tile Floor

For a truly striking floor, try a chevron tile pattern to complement a traditional design aesthetic in a small bathroom. Plus, chevron stripe tilework is known to help visually elongate the space, which adds a sense of depth to a tinier room.
Best Low-Maintenance Tiles
There are certain bathrooms that get extra wear and tear, which means it is important to select tile flooring that looks good but is easy to maintain. If you're looking for tile styles and layouts that require less maintenance, consider these options:
1. Large Format Tile Layout

Square or rectangular tile pieces that are 12'x12' or larger are considered large format. In your bathroom, you can use a large format design not only in the shower but also on the walls to mimic a seamless appearance almost like marble. With less grout points, this tile will be easy to maintain.
2. Ceramic Wood Tile

Wood accent walls are extremely popular in design and remodeling right now. Wood ceramic tile installed on an accent wall and the floor creates a warm and natural feel to a powder room. Plus, you can enjoy the look of wood without all the maintenance.
3. Vinyl Tiles

The appearance of vinyl tiles has improved dramatically over the years, which makes it a cost-effective and low-maintenance alternative for flooring in a bathroom frequented by children or pets. Vinyl tiling is available in numerous colors and designs and can endure ample wear and tear.
Other Tile Options for Added Flair
Check out these ideas to help match your unique style, and give your lavatory some extra personality.
1. Starburst Patterns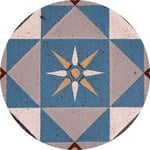 Clean looking, bold, and exciting, even in black and white, sunburst patterns look strong and clean – as any bathroom tile should. It's usually best for a shower wall as opposed to bathroom floors, but it will work nicely for both if you're looking for a striking decorative style. Try it on just one wall first, lest it overwhelm the senses.
2. Floor to Ceiling Tile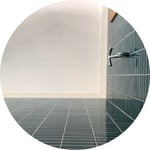 Oftentimes, tile that would usually only go up to about waist height, can give extra pop when taken all the way to the ceiling. Simple patterns that might fail to grab the eye may be improved with liberal use. Combined with a free-standing tub, this is a good way to get a professional spa feel into your bathroom décor.
3. Seamless Chevron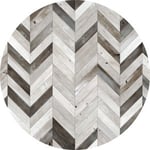 Chevron tile is always a great pick. But seamless chevron tile is a whole other game entirely. Bold, clean, and eye-catching, seamless chevron tile has the added advantage of being easier to scrub since there are no deep, heavy grout lines to scour.
4. Dark for Depth Shower Tile Ideas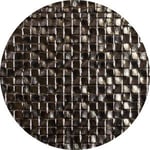 If you've got a far wall that seems hard to make stand out- maybe make it stand back with a splash of dark tile. This can make the room seem larger and create an appealing, yet subtle sense of vertigo – especially if it follows after long perspective lines.
5. A New Take on Subway Tile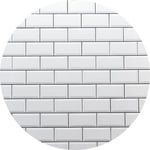 Subway tile is one of the best tiles for shower walls and a classic tile design that adds a kind of institutional certainty with spa-like professionalism that somehow contributes to a sense of security. But, if you're looking for something slightly different, try staggering the angles on your subway tile for a more energetic twist on the theme.
6. Graphic Tile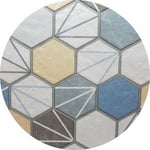 While sharp lines are not quite in style in the current season, eye-catching designs could come back as quickly as they went. Many people love these staggered, yet regular zig-zags, and if that includes you, this could be a great choice.
7. Wallpaper Highlights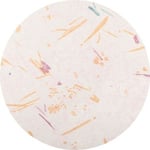 Wallpaper comes in any color, pattern, and style. What's great about it is the casual feeling it creates. Best of all, wallpaper is inexpensive and easy to replace should another design catch your fancy.
8. Sometimes Big Tiles Are the Best Tiles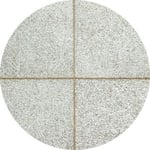 Want to create that feeling of weight, depth, and security that works so well in a luxury bathroom? Try over-sized tile. It's bold, it's eye-catching, and when done just right- it can be gorgeous!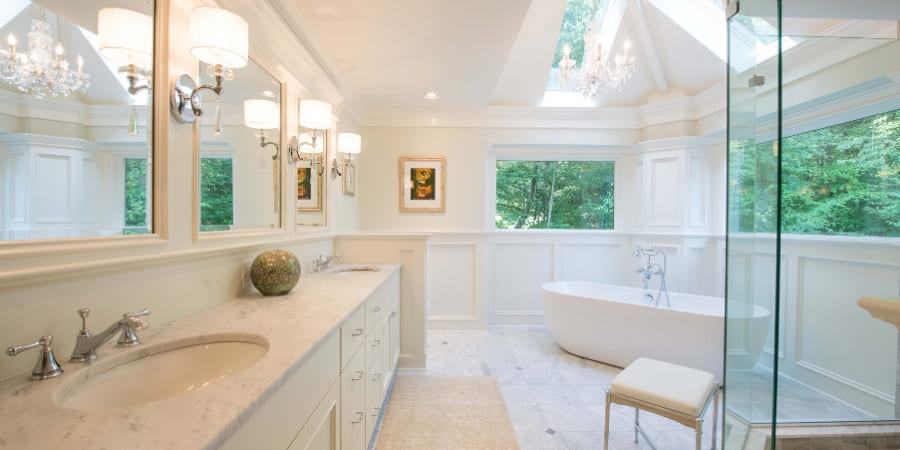 Selecting the Perfect Tile for Your Bathroom
New flooring is a common component in a bathroom remodel in Morris, Essex, and Union counties. One of the best resources for choosing the right tile for your bathroom floors and walls is your remodeling company. JMC Home Improvement Specialists provides an in-home consultation to figure out what you envision for your bathroom and help guide you to the materials that will best capture your goals in terms of function, appearance, and budget.