Tile is an essential part of your bathroom's design; but which is the right choice? With an abundant variety of patterns, materials, shapes, and sizes, you're going to find the perfect ones for your bathroom remodel–and your New Jersey design-build team can help. No matter if your style is transitional, contemporary, or luxury spa, we have the best tile options for your floors and walls.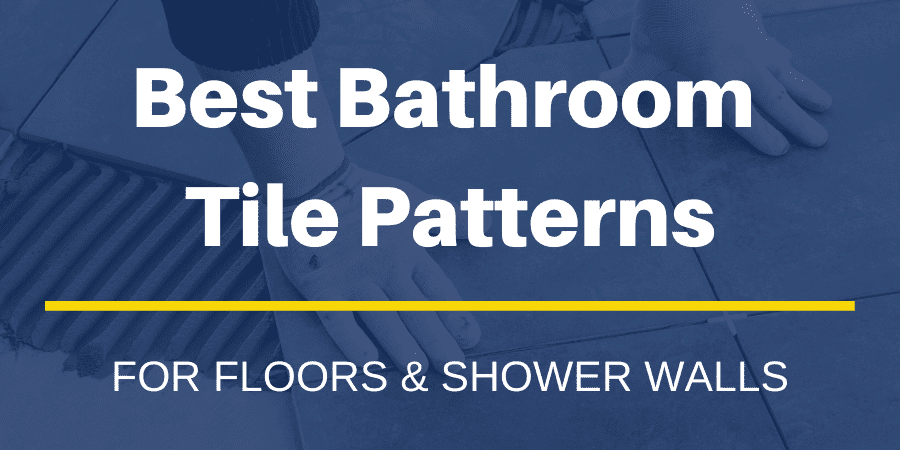 What Is the Best Tile Pattern for Bathrooms?
When you're preparing for your bathroom remodel, keep these top tile patterns in mind for your research, planning, and design consultation with your design builder.
Floor to Ceiling Tile
Bringing your tile from floor to ceiling on one or more walls is both stylish and practical. Tile is easy to clean and often resists humidity better than paint. Tile the wall behind your freestanding tub or vanity. Or, carry your shower surround tile across the adjacent wall to create a statement.
Vertical Stacked Subway Tile
The vertical stacked tile pattern isn't new but it is very popular in 2023. It's a refreshing alternative to the standard running pattern typical of subway tile. Use this pattern with the common 3x6 tile or lean into this year's trend of vertically stacking 3x12 subway tile in a stylish color, like blush or emerald green.
Large Format Tile
Large format tiles that are larger than 12x12 create a smooth and clean surface given the infrequent grout lines. They're great for spa-like and transitional bathroom designs. Use them on walls or floors, but beware that using them on floors could cause a slippery surface.
Penny Tile
Penny tile has been around for more than 100 years, but it's seen a surge in popularity over the past several years. Due to its size, it offers a no-slip surface and its shape is a refreshing change from the standard square and rectangular tile. Penny tile also offers variability in design, using different colors to create custom patterns.
Chevron Tile Floor
For a truly striking floor, try a chevron tile pattern to complement a transitional, traditional, or contemporary design aesthetic. Plus, chevron stripe tilework is known to help visually elongate the space, which adds a sense of depth to a smaller bathroom.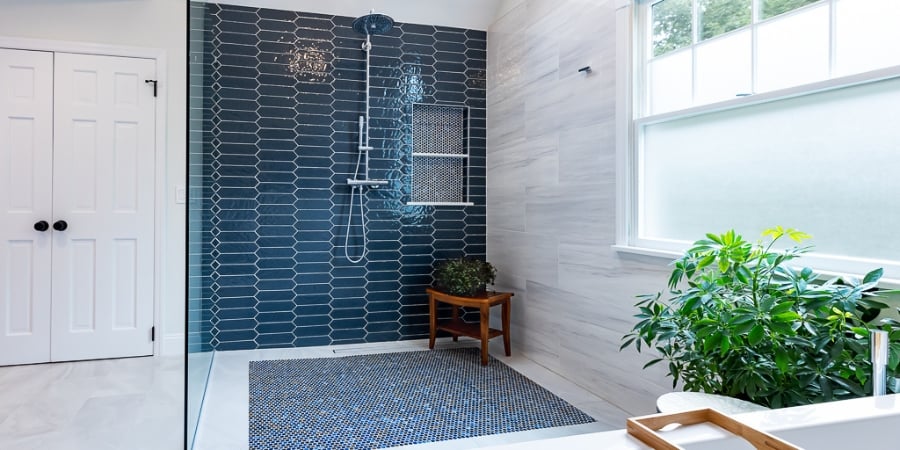 Best Trending Tile in 2023 for Bathroom Walls
Investing in a trending tile for your bathroom can help your space feel current, sleek, and stylish. Some trends do have staying power, like a few on this list. A great designer will help you find the right trend for your home that reflects your personal style.
12x3 Subway Tile
Dramatic features are trending, and these elongated subway tiles deliver just enough. Choose subway tile in a deep emerald green and install them in a vertically stacked pattern. A full wall of vertically stacked subway tile in a bold color will create a fantastic accent wall in your bathroom.
Often times, larger format tile, 12 x 24 or larger is used in a vertical pattern.
Geometric Tiles
Contemporary and transitional bathrooms are a perfect fit for the geometric tile trend. These tiles can range from subtle to bold and in any color that works with your palette. The starburst design is especially popular in 2023. If you're using geometric tile on the shower wall, choose a large format tile for the floor to balance the look.
Textured Tile
This year, texture is finding its place in every room of the home, including the bathroom. Tile offers a unique opportunity to use texture on your walls with wavy subway tile or hand-stamped 4x4 ceramic tile. Grooves, waves, and patterns create interest and add personality.
Art Deco Tile Patterns
Both vertically stacked tile and geometric tile suit an art deco aesthetic. Art Deco gives any room a feeling of drama, sophistication, and opulence. Black, emerald green, gold, and white fit perfectly within this design trend. Other shapes that fit well within this trend are scallop-shaped and hexagon tiles. For an art deco bathroom, choose large format black marble on the floor, and emerald green vertical stacked subway tile or scalloped tile on the shower wall. Finish the look with gold plumbing fixtures.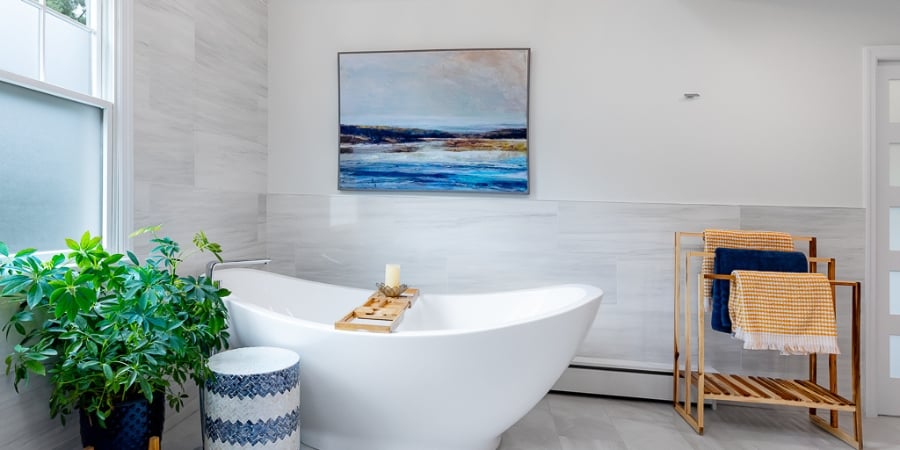 Best Timeless Tile for Bathroom Walls
What size tile looks and performs best in the shower or on your bathroom walls? These timeless options won't go out of style, require little maintenance, and come in any color.
Mosaic Tiles
Mosaic tiles—which can be made from a variety of materials including marble, glass, or ceramic—are a popular choice for flooring because of their size and slip-resistant qualities. You can choose a bold color or pattern to create an accent wall or use it in a shower niche surrounded by larger tile.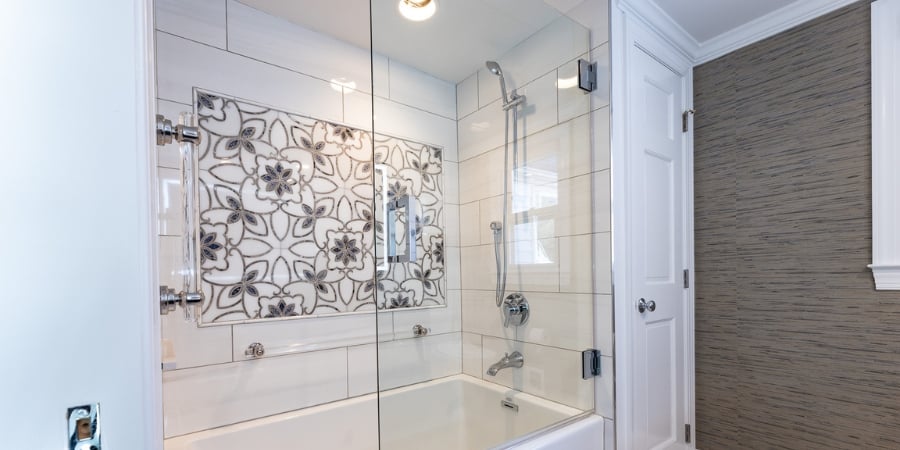 Best Trending Tile in 2023 for Bathroom Floors
A lot of your bathroom's style can come from the tile you choose for your floors. Consider these 2023 trending tile options for your bathroom remodel.
Porcelain Tiles
Porcelain is a versatile yet highly durable and water- and scratch-resistant material, which makes it ideal for flooring in your bathroom. It is available in a wide variety of colors and can also be made to mimic stone or wood for either your shower or the main bathroom floor. As with many materials, you can find porcelain tile options with a higher slip-resistance rating.
Geometric Tiles
Geometric tiles are listed multiple times for a reason: they work absolutely everywhere. With so many colors, materials, and striking shapes, there is sure to be a perfect geometric design for you. As for flooring, the stamped patterns are great for slip resistance. Cement geometric tiles can increase slip resistance depending on the finish, are highly economical, and can be molded, stamped, and dyed in any style you can imagine.
Best Timeless Tile for Bathroom Floors
If you want to keep your bathroom remodel design classic, these tile designs are your best bet.
Ceramic Wood Tile
Wood floors are at the top of every homeowner's list of beautiful and desirable flooring. However, ceramic tile on the bathroom floor offers water resistance that natural wood cannot.
Wood accent walls are extremely popular in design and remodeling right now. Wood look ceramic tile creates a warm and natural feel. You can enjoy the look of wood in any tone without all the maintenance.
Large Format Natural Stone Tiles
Marble, slate, travertine, onyx, and sunstone offer color variability that other materials can mimic, but never match. In large format tiles, these materials create quite the statement. They do need to be refinished every few years, but the beauty of these natural stones could be well worth it.
Pebbled Floor
Bring the outdoors in with a pebble floor in your shower. Pebble flooring offers a non-slip surface and introduces a dose of nature–perfect for the spa and biophilic designs that have been going strong for years.
Selecting the Perfect Tile for Your Bathroom
What's the best tile for your bathroom remodel? Which will be the perfect match for your vanity, shower design, or layout? Let the experience and knowledge of a luxury design-build firm in New Jersey help guide your decision process and rest assured.
JMC Home Improvement Specialists provide an in-home consultation to talk about your vision for your bathroom. We'll also help guide the entire process to capture your design goals–all within your budget. Contact us today to schedule a consultation and begin your remodeling journey.