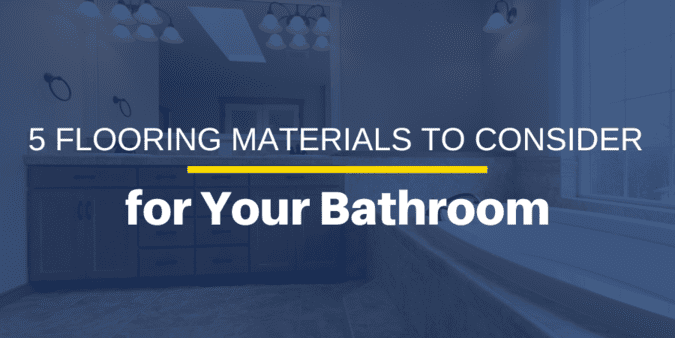 Flooring comes in so many shapes, colors, sizes, and materials that it can feel like an endless amount of choices. But what type of flooring is the best material to use in the bathroom? You'll want to choose a flooring that looks great but will also last. What are the popular flooring choices today and which are durable enough for your New Jersey bathroom remodel?
Bamboo
Bamboo flooring has grown in popularity for many reasons in the past few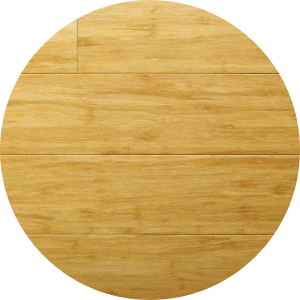 years. Homeowners are driven by their environmental friendliness and manufacturers have responded to this demand by creating more variety to suit more styles. Bamboo planks can more closely resemble wood or are made to retain their unique nodal structure.
The planks are made similarly to engineered wood in that multiple layers are used to create durability and rigidity. Bamboo differs in that there are three ways the strips are assembled that create three different aesthetics. The nodes are more visible with both the strand woven and horizontal orientations but resemble wood grain in the vertical orientation. The strongest of the three is the strand-woven approach.
Before the bamboo strips are assembled, they are treated to make the material more water-resistant. They can also be bleached and dyed to most wood tones. The natural golden-hued warmth of bamboo might not suit your style, so it's available in everything from its original color to gray and everything in between.
Porcelain Tile
Porcelain tile is the flooring choice that checks all the boxes. It's waterproof,
durable, stylish, and economical. Porcelain is also available in an endless amount of colors, patterns, shapes, sizes, and finishes. Due to the variation available, porcelain can be made to suit absolutely any style.
Use a solid color of penny tile on the shower floor and larger Moroccan-patterned tile in the main area for a bathroom full of character. For a more modern look, use small hexagonal tile across the floor paired with subway tile up the shower walls.
Porcelain tile can also be made to mimic wood and is a far more suitable flooring option for the bathroom than the real thing. Having the warmth of wood tones and grain in a room where materials can often look cold or sterile is a great alternative. Also, the grain inherent to wood-like tile serves to create a more non-slip surface.
Vinyl Plank Flooring
Luxury vinyl plank (LVP) is a refined version of its square-shaped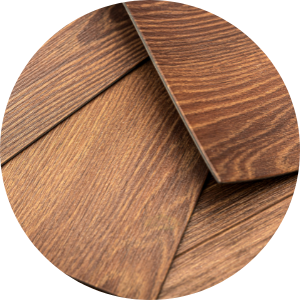 predecessor we all know. It consists of multiple layers that make it more rigid and durable against scratching. Because it's so much thicker and rigid, it can't be rolled out but instead installed in planks that snap together. Another benefit to using these thicker planks rather than another material is the amount of give they provide, which makes the floor more comfortable for walking or standing.
LVP offers another opportunity to have a wood-looking floor in a room where water resistance is a top priority. Manufacturers use embossing for texture and graphics for color to mimic the look of the real wood grain. This same technology is used to mimic stone.
Using LVP instead of real wood or stone offers a less expensive option for changing out your floors in a few years to refresh the space. The popular tones right now are ash grays and blondes, which offer a light and airy feel, which is perfect for a room that may not have as much natural light as other parts of the home.
Engineered Wood
If you're set on having wood floors in the bathroom, installing engineered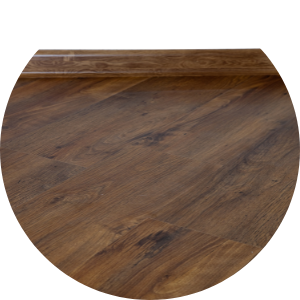 wood is your best bet. Engineered wood planks have the character of real wood because they are topped with a natural wood veneer and sealed. However, they're less expensive than solid wood and less prone to water damage.
The composite core of engineered wood planks is what makes it so durable and a great option for bathroom floors. Of course, the planks aren't completely waterproof, so layering the floor with an absorbent bath mat and a small rug in front of the vanity is a necessity as well as a way to impart style.
Engineered wood manufacturers have developed more realistic-looking planks with methods that make the veneer layer appear naturally worn. By employing hand-scraping, wire brushing, and even denting, makers have created a flooring product that looks like it's been well-loved for years.
Natural Stone
A stone floor in the bathroom reads as luxurious and sophisticated. Even
with its higher price point per square foot, it's been a popular choice for bathroom floors for many reasons. Natural stone is available in so many colors and can be cut into large tiles to very small hexagonal tiles, with so many options in between.
Stone can become very cold in the winter months, but this can be mitigated by installing radiant floor heating. Stone is an excellent conductor of heat, so this will also save you on energy costs.
Natural stone varies in durability depending on the type, however. Softer stones, like travertine and slate, will need to be resealed more frequently than harder stones, like marble and granite. Another consideration when choosing natural stone is its reaction to water in terms of safety. Large marble tiles can become very slippery when wet, for example, so using smaller tiles with more frequent grout lines is a safer way to use this beautiful stone.
Talk To a Professional About Which Option Is Best For You
Enjoy the process of choosing your home's finishes by choosing the right custom home design-build team to guide you through your options. JMC Home Improvement Specialists work with you from start to finish, using our expertise every step of the way. We keep your design goals, budget, and timeline in focus to make sure your expectations aren't only met but exceeded. Reach out to JMC Home Improvement Specialists to discuss your dream bathroom remodel.