If you're planning a kitchen remodel in New Jersey, you've come to the right place. We're going to explain the complete kitchen remodeling timeline so you'll feel comfortable and confident moving forward with your project.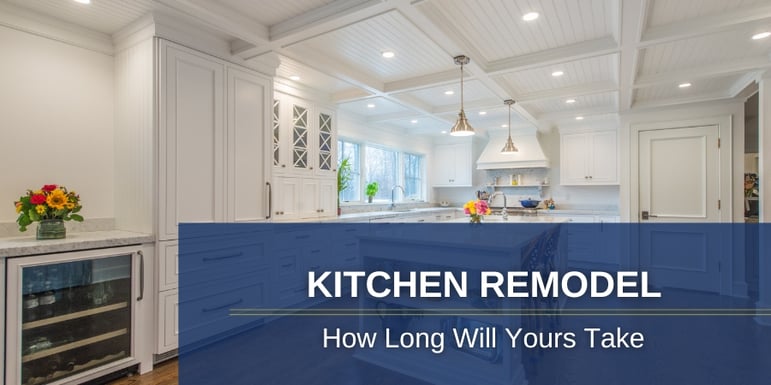 A Quick Note About This Kitchen Remodel Timeline Guide
The scope of work, the size of your kitchen, and the finishes you choose will affect how long each of these steps will take. The average time of each step in this kitchen remodel timeline is provided by experts you can trust.
We developed this timeline based on working with a design-build firm, rather than an architect and builder separately. This will save you time, frustration, and delays. How long will your unique kitchen remodel will take?
How Long Does It Take to Remodel an Entire Kitchen?
On average, a kitchen remodel in New Jersey could take from 8 months to 1 year, including planning and execution. Keep in mind that a good design-build company will not only condense the preparation and planning, but decrease the amount of time a home will be under construction due to excellent planning and organization. Let's take a look at each step of a kitchen remodel and how long it could take.
Research & Interviews (2-3 months)
This stage of a kitchen remodel is driven solely by you, the homeowner. It's important to not rush this stage to find the best design-build firm for your project. This step includes reading reviews, viewing portfolios, scheduling interviews and consultations, and researching qualifications and credentials.
A great design-build firm will have an excellent track record with sticking to a remodeling timeline schedule. They will also be transparent about their credentials and clearly communicate their process during your consultation.
Our best advice is to trust your instincts, especially how you feel after your initial consultation. Did they ask a lot of questions? Were they truly listening to your design goals?
Initial Consultation, In-Home Assessment, & Design (1 to 2 months)
During your initial consultation, the design-build firm will learn about your design goals and the frustrations you have with your current kitchen. During your in-home assessment, your design-build team will take measurements and photographs, begin to brainstorm solutions and collect more details about the changes you'd like to see.
Using this information and your design ideas, your design-build team will create a preliminary design. Your design will be revised based on your feedback, adding further details and specifications until your design achieves your vision within your budget.
Your design-build team will guide you through the product selection process, from flooring and paint colors to cabinet styles and layout changes. The benefit of working with a design-build company is that you will have access to current material costs to ensure your design is within your budget and reduce revision time.
When you work with only a designer or architect during the design phase, you will lack these current costs. This can lead to more revisions in order to get your project within your budget. On the other hand, your design-build team includes both your designer and your builder, working together to condense the planning stage and keep your project within your budget.
Ordering and Inspecting Products (up to 2 months)
Once your design is final, your design-build team will obtain any necessary permits and order your product selections. Some materials take longer to come in, depending on your choices. For example, custom cabinets will take longer to fabricate than pre-fabricated cabinets. Once your materials arrive, your design-build team will inspect them to ensure they are in perfect condition and exactly as ordered. With every material that arrives, you're getting closer to your dream kitchen. So, if a certain material is on your must-have list, you'll be glad you waited for the perfect piece in the end.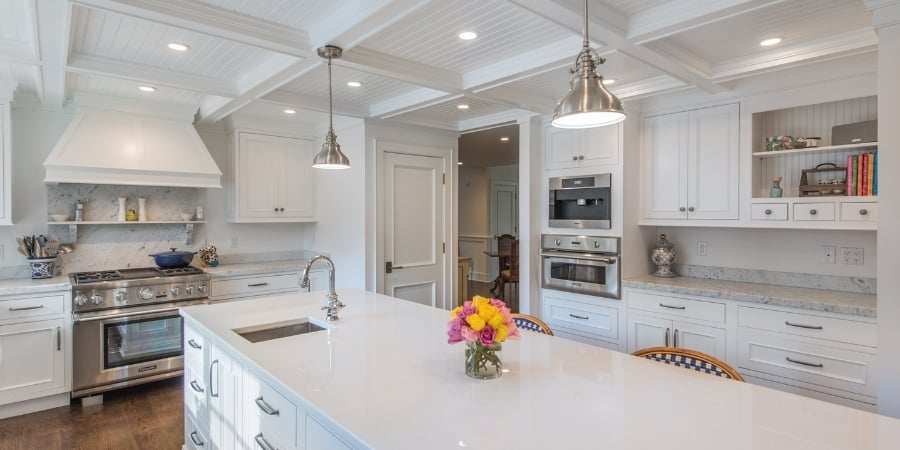 Kitchen Demolition (1 to 2 weeks)
Of course, the extent of your remodel will determine how long demolition could take.
Structural Updates (2 to 4 weeks)
Changing the layout, adding square footage, or creating an open floor plan could take from two to four weeks, depending on the complexity of the changes. This also includes adding windows and exterior or interior doors.
Electrical & Plumbing Installation (3 to 5 days)
Electrical and plumbing rough-ins will need to be completed before the drywall and then flooring can be installed.
Drywall & Paint (1 to 2 weeks)
Insulation, drywall, prime, and painting are next. If your design requires more intricate painting, you could exceed this time frame. For example, detailed trim and molding may need extra precision to paint, but will be well worth the extra time to create a perfectly-coated surface.
Flooring Installation (3 to 5 days)
Your flooring could be installed prior to or after your cabinets, depending on the product you selected. Hardwood flooring will take longer to install than luxury vinyl tile because they require staining and sealing; whereas tile flooring would only require time for the adhesives to cure.
Cabinets, Finishes, Fixtures, & Appliances (2 months or more)
At this time, your design details are really coming together. Cabinets will require a few days to install. The countertops can only be fabricated once the cabinets are in place so your design-build team can take exact measurements to ensure a perfect fit. Expect countertops to take from one to two weeks to arrive and be installed. The backsplash and tile work are next, followed by the plumbing fixtures, appliances, hardware, light fixtures, and any other details in your kitchen remodel design.
Finishing Touches & Clean Up (1 to 2 weeks)
Finally, any minor touch-ups will be addressed followed by a thorough cleaning of the space. You and your project manager will do a final walk-through, adding anything that may need to be polished up on the punch list.
Your brand-new kitchen is ready for you to move back into and enjoy!
Find the Right New Jersey Design-Build Team for Your Kitchen Remodel
When searching online for a design-build team in New Jersey, or asking friends for recommendations, the number of choices can be overwhelming. Well, we have great news: you already have a premier New Jersey Remodeler to add to your shortlist of design-build teams.
At JMC Home Improvement Specialists, we value transparency, outstanding communication, impeccable design, and an unmatched client experience. We understand that you want a comfortable and seamless experience with your dream kitchen as the outcome–and that's exactly what we deliver. Contact JMC Home Improvement Specialists to schedule a consultation. We can't wait to learn about your dream kitchen remodel.