We've all learned at one point that if you're interested in remodeling your home, there's a burdensome process for how to get your project completed. Hire an architect, get drawings made, look for builders, get bids, accept a bid, sign contracts, then leap through hoop after hoop to overcome miscommunication, bad professional relationships, going over budget, and not being satisfied with the job in the end.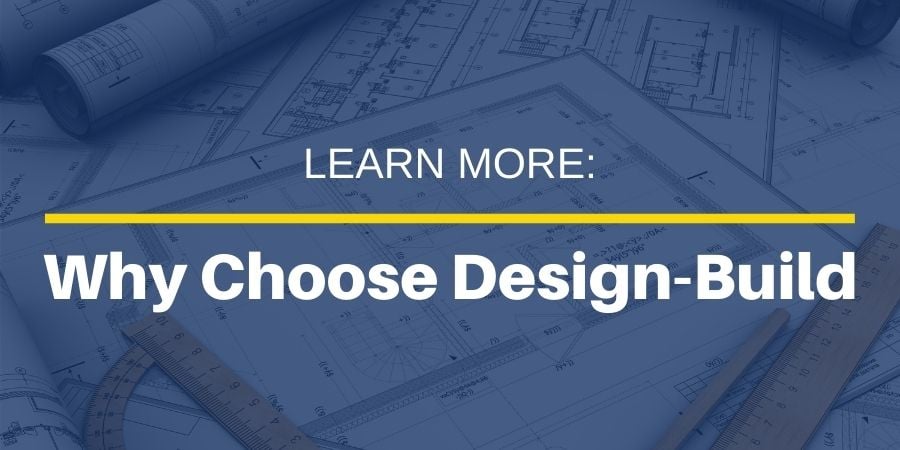 That process is the old way of thinking and it doesn't have to be this way. Your remodel can be smooth, stress-free, within your budget, reach your design goals, and finish on time. How? By hiring a design-build firm to take your project from concept to construction.
How Is Design-Build Different From Traditional Ways?
The traditional method that many of us are familiar with often creates the nightmare scenarios of remodeling horror stories we've all heard.
Design-build, on the other hand, is a smooth process with a single professional team with established communication, shared knowledge, and design know-how. Let's learn more about the advantages of the design-build model and the method more homeowners are choosing for a successful and stress-free remodeling project.
What Are the Advantages of Design-Build?
The design-build delivery method provides all the services you need—including project design, architectural drawings, product selection, and construction—through one company, one contract, and one point of contact. You're not sacrificing excellent design by working with a design-build firm because a designer or architect is part of the in-house team. What are all of the advantages of working with a design-build firm?
1. Streamlined Process
There's an elegant simplicity to working with a design-build firm. It eliminates the need for you to independently hire and manage several different professionals, including the designer or architect, a general contractor, and other subcontractors for specific installations like plumbing, electrical, flooring, and tile. With the design-build method, your remodeler has in-house personnel for your project and will handle all necessary pre-construction responsibilities; such as assessment, design, acquiring permits, ordering materials, scheduling, and problem-solving through any unexpected obstacles.
2. Better Communication
The design-build remodeler understands that the key to a successful project is to maintain regular communication with you and help to guide you through informed decision-making. You won't have to worry about being left out of the loop and miscommunication between separate entities. With all your key players working for the same company, there is less risk of miscommunication or delays. You will have one primary point of contact, such as your project manager.
Most design-build remodelers also give you access to a construction management program. This offers direct communication, file-sharing for quicker design revision turnaround, real-time job schedules, photo documentation to track progress, and a daily job site log. Information is shared more seamlessly and questions can get answered more quickly throughout the design-build process.
3. Cohesion and Collaboration
The same team who develops the architectural drawings will be responsible for bringing them to life. When you use the traditional design-bid-build method, there is a chance your drawings will have vague or missing information. Then, receiving bids with different pricing for the same project alone should give you pause.
The lowest bidder will likely have under-skilled labor or lack experience. Often, the project ends up being significantly more than what you originally planned, or it cannot be executed properly because your budget won't cover everything needed.
In the design-build model, the designer and builder are working together to make sure the design meets your vision, is feasible, and materials and labor are priced accurately. This way, everything in your budget is accounted for and the price you're given is the price you'll pay, it is not an estimate that can change every other week!
The only way your cost will change is if you decide to change material after the contracts have been signed, which would spur a change order. No changes would be made without your approval, even if an issue comes up that requires knowledgeable problem-solving. After all, the homeowner is an important collaborator in the process, from start to finish.
4. Effective Value-Engineering

to Stay Within Budget
Along the same line, design-build remodeling gives you more control over your budget because you're aware of how much certain selections and products cost upfront. The design-build method is built on honesty and transparency. Realistic and accurate pricing as well as cost-saving alternatives will all be presented to you so there are no surprises down the road.
The design phase is where pricing is made available, so you'll be able to keep your budget intact. Your design-build team can offer alternative materials that still achieve the same design within your budget. With the design-build model, you can feel confident going into the construction phase knowing your price will be held in place.
5. One-source Accountability
With your remodeling team working under one roof, there's no 'passing the buck.' Full accountability means that if a rare miscommunication does occur, full responsibility is built right in. This way, problem-solving occurs much quicker than in the design-bid-build model. In the event of unforeseen challenges, surprises, or even mistakes, there is no finger-pointing or the need to track down the responsible party. Instead, everyone works together to identify a cost-effective and smart solution to keep your New Jersey home renovation moving forward without delay.
Finding a Design-Build Remodeling Group in New Jersey
Remodeling a home is no small task, but that doesn't mean it has to be frustrating. Your design-build remodeler wants to create a positive experience in addition to accomplishing your project priorities.

At JMC Remodeling, we have a complete team of professionals with the skills and expertise to handle any type of home remodel in the Morris County area. We cultivate a streamlined and rewarding design-build process while working to ensure you feel engaged and empowered throughout the project, with your design vision as the end result. Contact JMC to schedule a consultation and let's work together to design and build your new space.