Kitchen spaces are among the busiest areas in a home and are used at virtually any time of day. These rooms also come with potential dangers, such as injuries or property damage stemming from necessary equipment. While utilizing these items properly is a must, your kitchen also needs proper and sufficient lighting. Having the right lighting helps in reducing the risk of working in the dark or making avoidable (and costly) mistakes.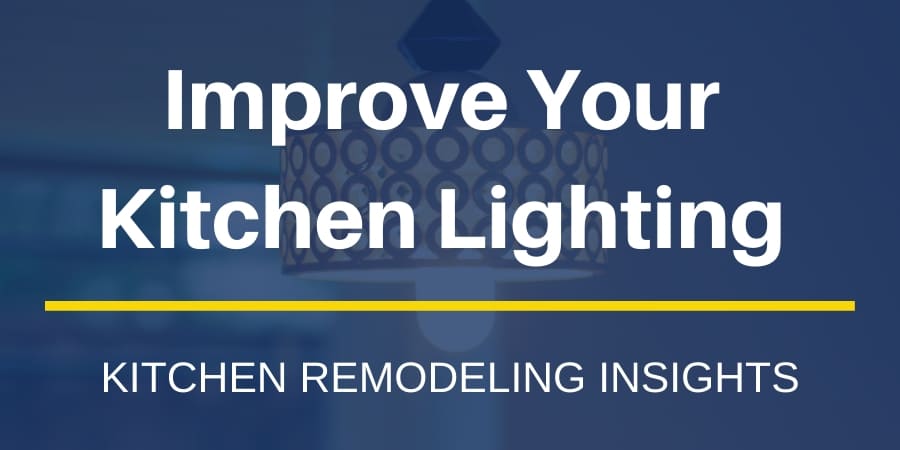 Even without a complex kitchen or home remodel, a simple swap of your lighting system can upgrade your kitchen lighting in a manner that will bring a fresh dose of style to your kitchen spaces. Like repainting, changing your kitchen lighting system is an affordable remodeling idea that's also value-adding and impressive to the eye. With help from professional kitchen remodeling contractors, you'll be able to come up with some innovative solutions for your existing kitchen lighting system. This post highlights several kitchen remodeling ideas that a kitchen remodel contractor can use to help you improve the lighting in your kitchen.
Related Reading: Check out our award-winning Cape Cod-inspired kitchen remodel.
1. Think About Functionality For Task Lighting
You should light up the kitchen's work surfaces with enough task lighting. For instance, you'll want plenty of light on prep spaces, around the stove, and in other spots you frequent. Such spaces need sufficient lighting for reading your recipes and preparing your food.
The best area to position the task lighting system is between your head and the work surface. Light positioned underneath mounted cabinets, such as strip lights, are perfect for task lighting.
2. Use Light Dimmers When Not Cooking
Bright lighting systems are ideal when performing cooking tasks. But once you're done with cooking and you want to use the kitchen as a dining room or a reading space for the kitchen office, then you'll need the ability to dim your lighting. Ask your kitchen remodel contractors to add light dimmers to change ambiance as you switch your kitchen space use.
3. Ask Your Kitchen Remodel Contractor To Do Some Layering
All the light you need for your kitchen area can't be provided by just one fixture. You should try adding layers of lighting to light all areas. You can try using one centrally-placed overhead light and layers of small lights positioned in different areas of significance in your kitchen. Such light layering also helps in reducing glare and creating mood.
4. Install Some Lights in the Dark Corners
If you're storing items in dark spaces such as your pantry or the back of your cabinets, then you should install some lighting in these areas. You can ask your kitchen remodel contractor to add some motion sensor lighting systems that can activate LED when doors are opened. Such lighting is ideal for dark areas and can ultimately help you to save money through improved energy conservation.
5. Mind the Design Colors
When choosing lighting system fixtures, then you should mind the color of your kitchen walls. White-walled kitchens reflect lots of light. The same applies for other light colors, so you should choose such colors for your walls and light fixtures. This will lower the wattage of your bulbs because less light will be required due to reflection. Keep in mind that darker kitchen colors will require more light, as will spaces with less natural light coming from windows.
6. Add a Decorative Centerpiece
Ask your kitchen remodel contractor to add a big and bold centerpiece at the center of your kitchen to give the kitchen space some accent and make a bold statement. You should go big on this one to create style and glamour. Chandeliers are ideal options for such purposes. This can also allow you to define the space, particularly if you're also using your kitchen for eating and entertaining.
7. Think In Twos or Threes
If your kitchen is rather expansive and it has more length than width, then having a single centerpiece may not be ideal. Instead, think about group lighting. You can use three or two identical pendant fixtures instead of one kitchen light. You should place such light fixtures over even distances to achieve even illumination.
Statistics from a 2018 survey revealed that 28% of homeowners planned to make general home repairs, with 26% planning to have their kitchens remodeled. These figures show that there is a significant remodeling movement in flux, which means remodeling businesses are thriving. If you're a kitchen remodel contractor, then pick up these kitchen lighting remodeling ideas and use them in your next kitchen remodel project to fulfill the needs of your clientele. And if you're a homeowner, make sure to talk to your contractor about incorporating some of these ideas into the final design.