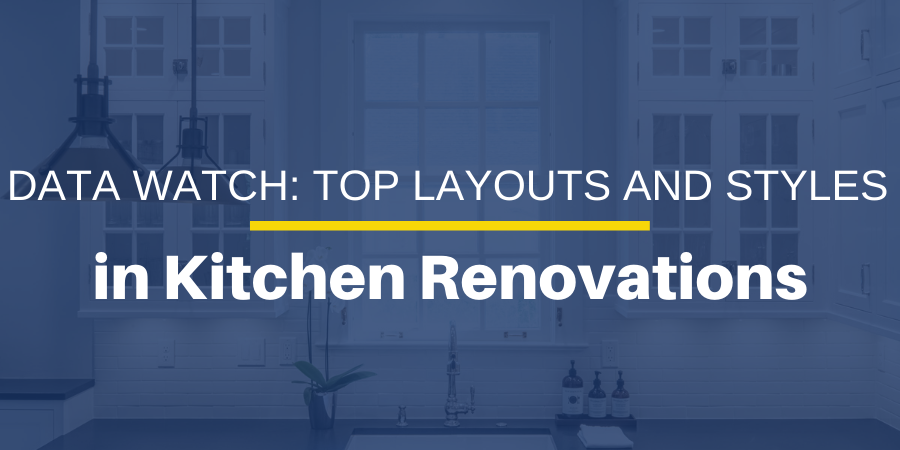 The layout of your kitchen will affect how you move through the space, how many people will be able to work comfortably in the kitchen at once, and what type of storage options you'll have. Of course, the best kitchen layout for you will depend on how much space you'll have. Luckily, many of the most common and efficient layouts can be worked into kitchens of many shapes and sizes.
5 Types of Kitchen Layouts
There are many ways to configure everything you'll need in your kitchen, especially when you're working around windows, doors, stairwells, et cetera. We'll discuss the most popular ones here and why you should experiment with a few during the design phase of your remodel or custom home build.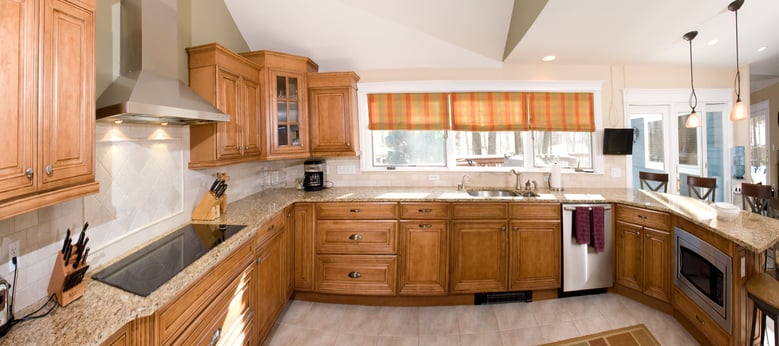 U-Shaped
A U-shaped kitchen is composed of three walls that house all the cabinetry and appliances. Usually, a U-shaped kitchen will also incorporate an island, with or without seats. This layout offers ample counter space and room for storage and is great if you have a generous amount of space. You can centralize the cooking area to one side of the kitchen and leave the other side for prep and even a second sink. Setting up your kitchen in this way offers the family chef plenty of room to work while others can come, go, and linger without getting in the way.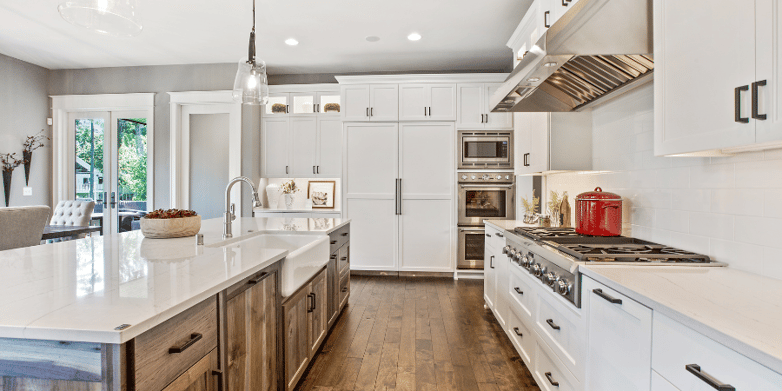 Galley
A galley kitchen is like a corridor with cabinetry and appliances on both sides. Galley kitchens don't typically have an island because the square footage doesn't allow for it. This layout design is usually not a go-to style unless the space simply can't accommodate a more open plan. At the other end of the galley, you'll likely find a dining space, french doors leading out to a back deck or both.
The galley layout isn't ideal for larger families given the pass-through design. If you're interested in building out your basement, pool house, or in-law suite to include a full kitchen with a smaller footprint, this is a design to consider.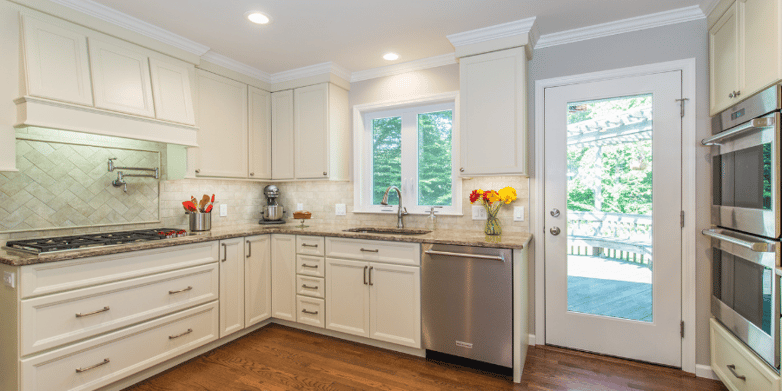 L-Shaped
The L-shaped kitchen also utilizes two walls for cabinets and appliances but is adjacent rather than parallel. The 90-degree angle created by the L-shape layout leaves plenty of room for an island and works really well for those who crave an open floor plan. This layout offers considerably less storage than the U-shape, but your L-shaped kitchen can be more than sufficient with creativity and a solutions-driven designer or architect.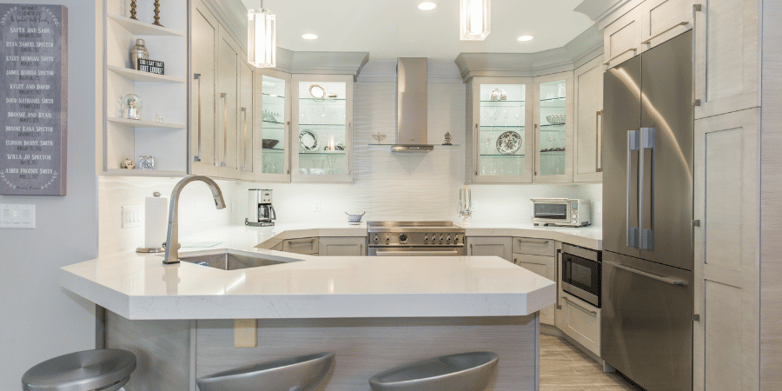 Peninsula
The peninsula kitchen layout is similar to the U-shape but without the wall space behind one stretch of counter space. The peninsula is like an island but connected so that you are only able to pass around one side, creating more of an enclosed space while still getting an open feel. The peninsula layout is great for when you'd like to enjoy the benefits of an island but don't quite have enough space. You can use the peninsula just as you would an island, like for food prep on one side and seating on the other.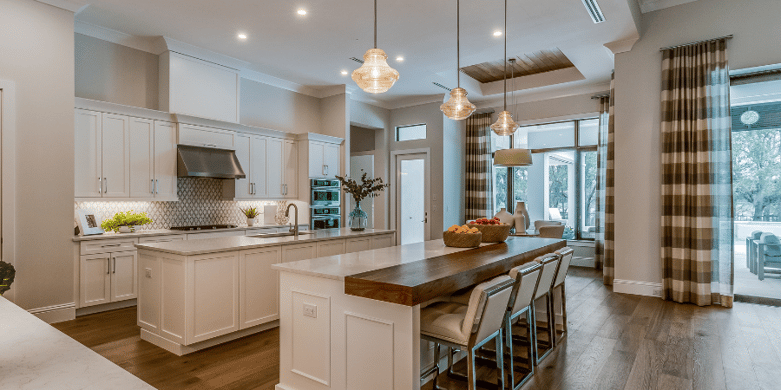 Two Island
The two-island layout is growing in popularity, especially with newly built custom homes or major kitchen additions. However, having two islands in a kitchen will require quite a bit of space. This is a great option for larger families or when there is more than one cooking or baking enthusiast in the home.
If you like to entertain, this is also ideal. Two islands will afford you the space for more appliances than the standard single island. A warming drawer, additional sink, wine refrigerator, large ice-maker, and more can be housed easily with the additional space. Use one island for food service and the other can remain available for food prep or a make-shift bar.
What Kitchen Layouts Go Best With What Design Style?
Some layouts lend better to one style than another and vice versa. For example, a galley kitchen layout tends to look best with contemporary or minimalist styles. Slab cabinets, or cabinets without visible hardware, further streamline this look. Why does a galley kitchen look best in a minimalist style? Because the layout behaves like a large hallway with lots of passthrough traffic, the less there is protruding out from the face of the cabinets and drawers, the better. It's both physically and visually more appealing.
If your style leans more traditional, an L-shaped or peninsula layout would probably be best. Why? There is less surface area than the U-shaped or two-island, which are layouts that may end up looking cluttered with a higher level of detail that is typical of traditional styles. Molding, raised panel cabinets, detailed tile work, and other details create a layered look that could become visually overwhelming with more surface area.
Finally, U-shaped and two-island kitchen layouts are excellent candidates for transitional, modern farmhouse, and contemporary design styles. Shaker style cabinets, large islands topped with monotone countertops, subtle tile or slab backsplash, sleek hardware, and limited use of color offer style without becoming overwhelming in these larger, more complex layouts.
Meet With A Designer To Discuss Your Kitchen Layout Options
Executing the finer details of a remodel or custom home build is the pinnacle to having an outcome you are proud to call home. During the design phase, you and the designer you choose should explore multiple possibilities to ensure you are left with a kitchen that looks and functions in a way that brings you joy. Your designer should take the time to ensure everything is in its place, from the storage to the lighting. JMC Home Improvement Specialists have been doing just that for decades. With designers and builders under one roof, JMC is an industry expert in taking you from conceptual designs to move-in day. Contact JMC to discover what's possible with your remodel or custom home.
Whether it's a kitchen, bath, addition, or smaller remodel, get your remodeling project done before the school year begins! Summer is the best time for your smaller remodels so let us help you meet your goals! We can knock out any of your smaller remodeling projects!
Contact us to do your smaller remodeling project now!