Kitchen remodels are one of the bigger and more important investments you can make in your home. As styles change and new innovations arise, our kitchens can feel outdated. With a hefty list of outdated kitchen trends like this one, and a trusted New Jersey home remodel specialist, you are sure to be on the right track for a fresh, functional, and modern kitchen to enjoy for years to come.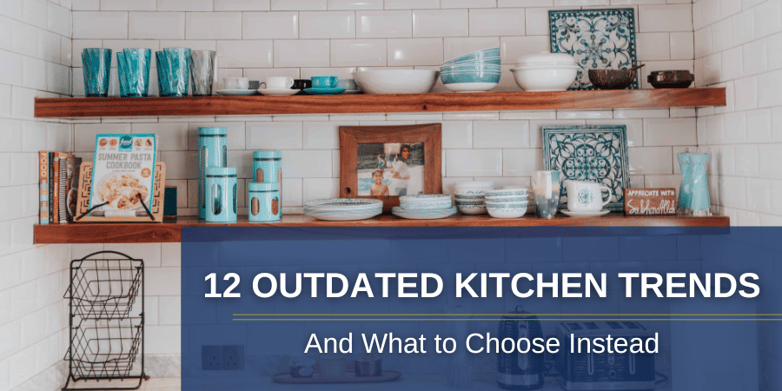 What Kitchen Trends Are Going out of Style in 2024?
1. Boring Backsplashes
Trends for the kitchen backsplash are evolving away from the classic subway tiles. Bold, attention-grabbing splashbacks are stealing the show. These vibrant, unconventional options, showcasing intricate patterns, vibrant colors, and unique materials, serve as captivating focal points. They're not just functional; they're a canvas for personal expression, injecting personality and character into your kitchen. Say goodbye to the predictable and embrace an unexpected pop of style on your backsplash.
2. Drab Pantries
Just because your storage spaces are usually tucked away doesn't mean they don't deserve a little special treatment. These small spaces are perfect for experimenting with bold pops of color or even the latest wallpaper designs. Coordinate your pantry color palette with your kitchen's or go for a total contrast. A light blue kitchen with a deep teal pantry is a gorgeous transition. A moody charcoal walk-in pantry is a striking and sophisticated contrast to a classic white kitchen.
3. All Work and No Play
The kitchen is the workhorse of the home, but having a completely utilitarian kitchen is out. In 2024, inject pure bliss into your kitchen with zones and features that cater to your interests and hobbies. Create an area that's dedicated to your love of baking. Have a custom bar area to show off your mixology skills and display your prized bourbon collection. Get creative in the kitchen and leave timing, temperature, and even tunes to integrated smart technology. Invest in your dream espresso machine and work with your design-build team to build it into the cabinets.
4. Marble or Stone Countertops
We know, we know: marble is a kitchen classic, but homeowners and designers are looking to shake things up in 2024. Porcelain countertops are getting a lot of attention right now for their durability, customization, heat endurance, environmental friendliness, and easy maintenance. Still want that striking veining marble offers? Like quartz, porcelain countertops can be custom-made to give the same patterns and colors that marble offers.

5. Environmental-Unfriendliness
Amid heightened environmental awareness, sustainable kitchen design has become increasingly popular. It emphasizes eco-conscious materials, energy-efficient appliances, and water-saving fixtures, and seamlessly incorporates recycling and composting systems into kitchen layouts. Because it's more popular than ever, more materials and features are available in plenty of styles, making it easy to choose finishes that are both stylish and sustainable.
6. Underwhelming Light Fixtures
Light fixtures are the jewelry of the kitchen. They finish the look and carry quite a bit of style. Designers are noting a move away from understated light fixtures in 2024 and toward more sculptural designs and interesting materials that make a statement. Think of it as the difference between a simple gold-band ring and a showstopping studded cocktail ring that elicits an enthusiastic "Wow!"
7. Navy Blue
Only a few years ago, homeowners and designers were flocking to high-gloss navy blue cabinets in the kitchen. While navy blue is a timeless color on its own, designers are increasingly drawn to softer, more tranquil variations for modern kitchens. In the realm of interior design, ocean blue emerges as the kitchen paint color of choice for 2024. Aquamarine, cerulean, cobalt, and various shades in the cyan family dominate the palette for this year's kitchen transformations.
8. White Countertops
The message has been heard loud and clear: homeowners want color. Think outside white marble and quartz countertops and lean into options with more pizzazz and personality. Countertops take up quite a lot of visual space in the kitchen, so take advantage of this blank canvas and inject color, visual texture, and unexpected materials. Butcher block, granite that boasts greens and blues, soft pink quartz, and black marble are all fantastic options for your kitchen remodel.
9.

Cabinets That Don't Reach the Ceiling

If your cabinets don't reach all the way to the ceiling, you're leaving a lot of storage potential on the table. When you're planning your remodel with your design-build team, be sure to let them know your storage goals. By having your cabinets expand all the way to the ceiling, you'll gain dozens of cubic feet and a sense of peace knowing you won't struggle with storage after your kitchen remodel.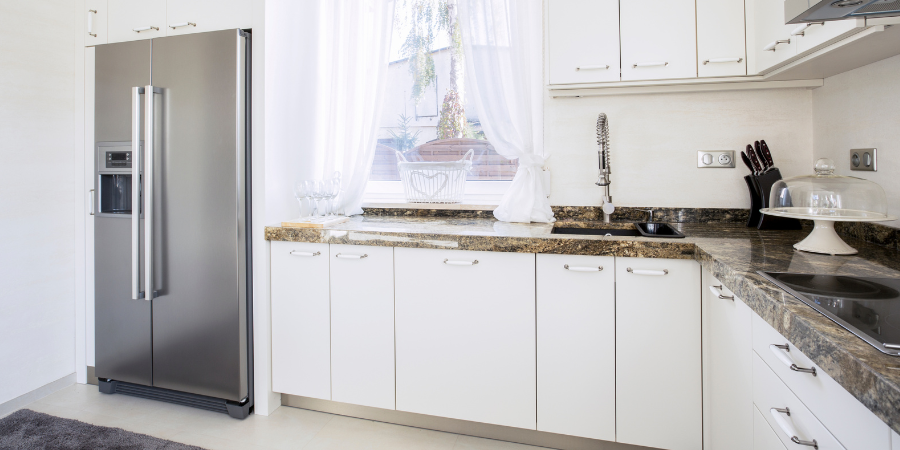 10. Single-Note Texture
Flat walls. Flat countertops. Flat cabinets. Flat backsplashes. A common theme across many of the trends on this list is a sense of boredom. There are plenty of opportunities in the kitchen to add visual or tactile texture to shake things up in 2024. For one, wallpaper is a great way to punch up visual texture. Create a statement wall or use wallpaper on every available surface, depending on your sense of adventure. Texture could also come by way of an exposed or painted brick wall. Beyond visual interest, a brick statement wall also offers warmth and personality to your kitchen.
11. Running Bond Pattern Flooring
To be fair, it's not so much that the running bond pattern is out of style, it's that homeowners and designers are looking to shake things up when it comes to the kitchen floor. The running bond pattern is timeless, but if you're looking to add some interest to your kitchen, explore different patterns. Herringbone is another timeless option that has been getting a lot of play recently, and we'll see more of it in 2024. It's sophisticated, it's classic, and it has a European flair you're sure to love for years.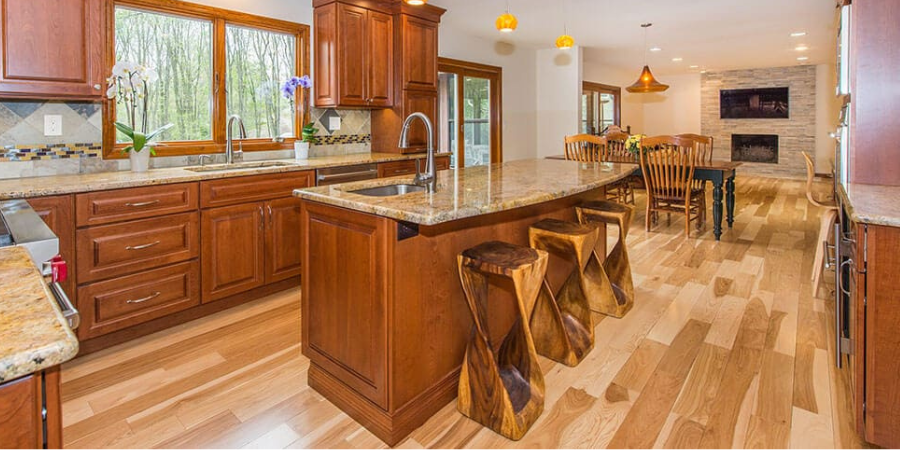 12. Low-Tech Appliances
Homeowners demand innovation from appliances for convenience and energy efficiency. Traditional models no longer suffice. Newer appliances offer eco-friendliness, reduced noise, and Wi-Fi connectivity to control through your smart device and voice assistant. Picture a smart fridge that allows you to check the contents when you're already at the grocery store, a smart dishwasher with sensors that will save water and energy, and a stove you can monitor through your smartphone. Smart kitchens have gained traction over the past few years and are now the expectation in 2024.
Designing Your New Kitchen with 2024 Trends
JMC Home Improvement Specialists work with you through the entire process to ensure a result that exceeds your expectations. Your Essex, Morris, or Union County kitchen remodel will be in the trusted hands of an experienced design-build remodeling team. JMC offers a streamlined process to suit your design and build needs, all under one roof. Contact JMC to schedule a consultation today.