Kitchen remodels are one of the bigger and more important investments you can make in your home. As styles change and new innovations arise, our kitchens can feel outdated. With a hefty list of outdated kitchen trends like this one, and a trusted New Jersey home remodel specialist, you are sure to be on the right track for a fresh, functional, and modern kitchen to enjoy for years to come.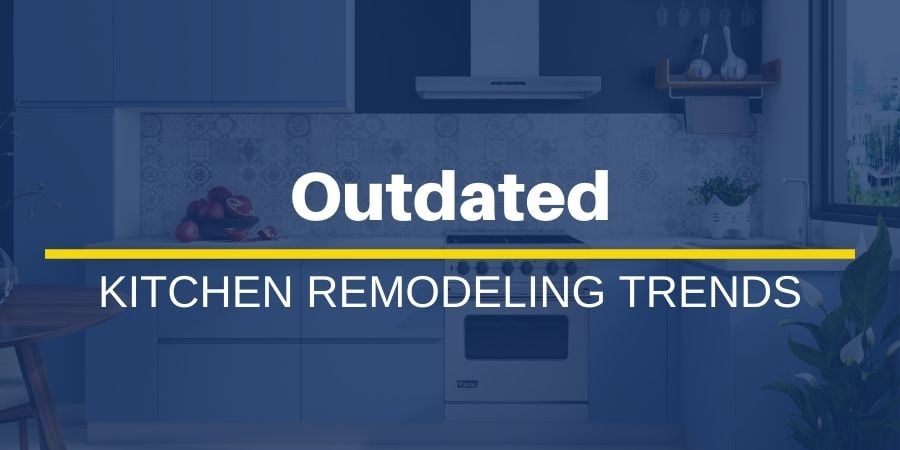 1. All Gray Palette
Although gray is still a popular modern color choice for walls and cabinets, the hyper minimalist trend to cover your kitchen in gray tones is on its way out. The cold and sterile feel of a grayed-out kitchen is being replaced with warmer, more comforting tones like earthy greens and calming blues. Imagine a light gray upper cabinet with cornflower blue lower cabinets and white quartz countertops. The palette is fresh, cool, and modern without feeling cold or too busy.
2. All White Palette
Just as the all-gray kitchen is becoming outdated, so is the all-white kitchen. Sure, an all-white kitchen has a very clean and bright feel, but it also feels cold and impersonal. Kitchen designs are trending to more personal looks that include color and a variation of materials, rather than the all-over use of very few materials, as we've seen for the past decade or more. All-white kitchens can give a minimalist feel, but so can using trending colors on the right materials.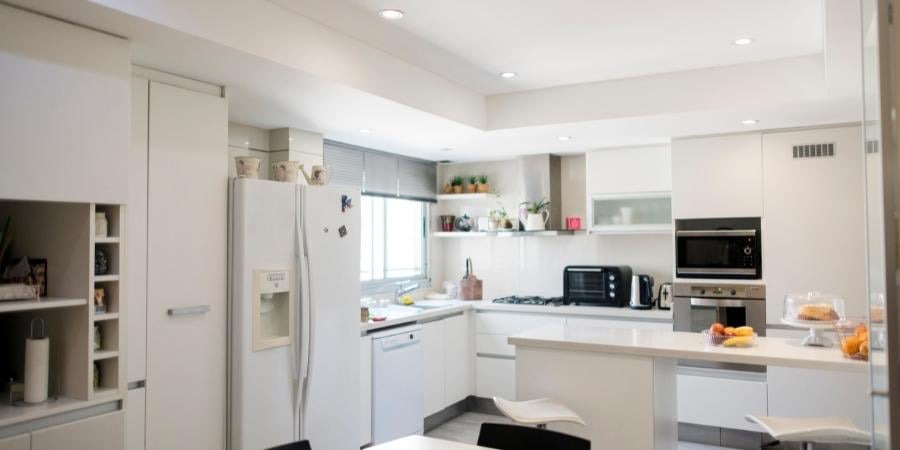 3. Natural Stone Countertops
Natural stone countertops aren't becoming outdated for their looks, but for their performance in the kitchen. We have all spent a lot more time in the kitchen over the past couple of years and our kitchens are showing wear and tear. Marble and granite remain a go-to for many but manufactured quartz countertops are on the rise for several reasons. Quartz is not porous like natural stones, so it's more sanitary and holds up better over time. Marble and granite tend to need more maintenance and are more expensive. Also, because quartz is manufactured, it's easier to get the pattern and color you want, rather than what's available.
4. Decorative Appliances
As cooking at home is on the rise, so is purchasing new specialized appliances. Air fryers, pasta makers, stand-up mixers, and so on are popping up in kitchens everywhere. Many of these items are being designed to live on the counter when not in use, coming in lots of fun colors. One or two small appliances on the counter are fine, but most designers are seeing a rise in
custom storage in the kitchen to hide this clutter away
.
5. Pot Racks
Displaying your pots and pans overhead on pot racks used to be a kitchen staple for the country chic and industrial trends. However, the past few years have shifted away from those styles and towards those that lean more minimal and de-cluttered. Just as small appliances are finding their way off of counters and into storage, so are pots and pans.
6. Desks in the Kitchen
Having a desk at home has never been more of a necessity than over the past two years. Having a desk in the kitchen, however, has proven to be a hassle. Whether your desk is used for homework, school, work, or all of the above, the kitchen desk is no longer cutting it. This is usually a place that never seems to be tidy and is becoming less of a kitchen staple in current designs. Forgo the kitchen desk and relocate this workspace to a private room.
7. Raised Panel Cabinets
Kitchen cabinetry with raised panel doors has been the widely-available standard for decades. It's associated with traditional, more old-fashioned styles, as well as the country chic farmhouse style. These are no longer sought-after styles in homes and exactly why we're seeing them used less and less by owners and designers. Homeowners and designers agree that this look is a long-outdated kitchen trend. Instead, choose shaker cabinets with no raised paneling, or slab cabinet doors for a sleek modern look.
8. Dark Wood Cabinets
Just like the raised panel cabinet doors, darker wood tones on cabinetry are on the way out. Darker wood stains have been an outdated kitchen trend for several years. Even though dark wood tones are outdated, some dark colors have grown in style and will continue to in 2022. Matte black or deep navy blue are both modern choices, particularly for lower cabinets. However, too much of a dark color will absorb light and still have a heavy feel, so try using these darker hues on small areas, such as the kitchen island.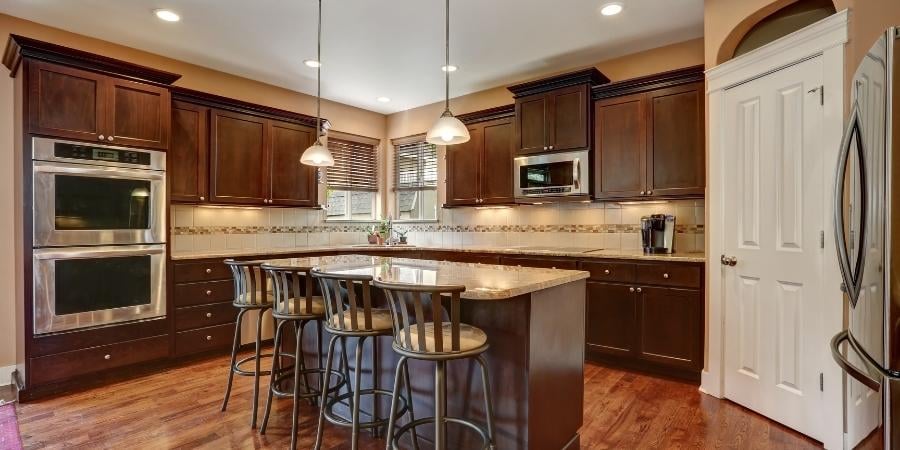 9. Distressed Cabinets
Distressed cabinet treatments have been on the way out for quite some time. Like raised panel cabinet doors, this and other outdated cabinet trends fit into the country chic style that current trends have replaced. Cabinetry in clean, solid finishes is much more modern and sophisticated.
10. Open Shelving
Open shelving is a trend that has come and gone over and over for years. As some designers and homeowners still work open shelving into kitchen designs, those who have lived with open shelving know that the intentions to have styled and neat shelves rarely work out. This leaves the homeowner wishing they opted for standard upper cabinets instead. Keep the desire for styled shelves in the living room and bedroom and your kitchen storage as more functional spaces.
11. Islands Without Seating
The trend to include seating at the kitchen island has been on the rise for several years. More and more families want options for seating not only for meals but for other activities, like homework and entertaining friends and family during meal prep. Swap out your kitchen island for one that has ample overhang to seat at least four to make the most of this desired kitchen feature.
12. Low-Tech Appliances
More time in the kitchen over the past two years has homeowners expecting more from their appliances. Kitchen appliances that operate in the same way they have for decades are no longer making the cut. Decrease your environmental impact, cut down on noise pollution in your home, and control your appliances remotely via wifi with newer models. Silent dishwashers, energy-efficient refrigerators with better food preservation technology, and induction stovetops are just a few of the tech advancements homeowners are investing in for their kitchens.
Designing Your New Kitchen
JMC Home Improvement Specialists work with you through the entire process to ensure a result that exceeds your expectations. Your Essex, Morris, or Union County kitchen remodel will be in the trusted hands of an experienced design-build remodeling team. Whether you'd like to work with an architect or directly with our designers, JMC offers a streamlined process to suit your design and budget needs.