You know that your bathroom is well overdue for a remodel, but where do you start? The first step is deciding on a contractor, but you'll want to feel confident that the design will suit your needs and style through a process that is seamless and professional. How? Have a list of questions for your New Jersey contractor ready during the consultation process.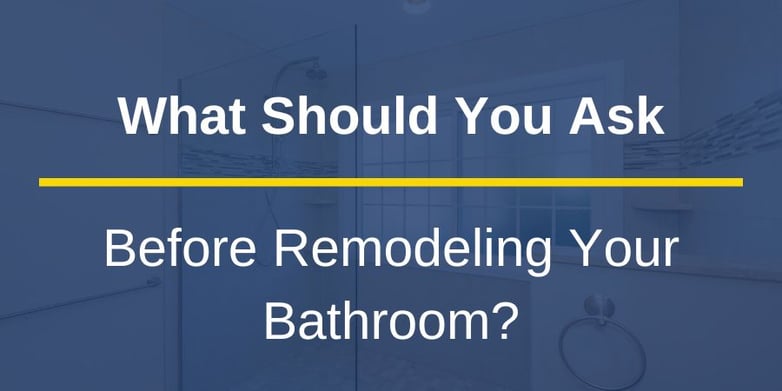 What Questions Should I Ask a Contractor Before Remodeling My Bathroom?
1. What is Your Typical Bathroom Remodeling Timeline?
Some remodeling companies handle several projects at once, which means your project's start date will be queued. This is usually a good sign that the company is in high demand for the skills they bring to a project. If the start date is too far into the future and may run into an event or scheduled visiting guests, perhaps push back your start date. Regardless, ask your contractor about how long your bathroom remodel may take and when the start date would be.
2. Will You Be Hiring Subcontractors?
It's common for a contractor to hire subcontractors for a home improvement project if they don't have the in-house staff to achieve your design intentions. Electricians, plumbers, and specialty tradespeople, like tile workers, are all common subcontractors that are involved in custom home remodeling projects. Often, contractors will have a network of trusted and vetted subcontractors that they tend to hire.
Ask your contractor about how many subcontractors they hire, for how long they've worked with the professional, and if they will be covered by the contractor's insurance. This will tell you how many people will be in and out of your home, whether they will be supervised, and when they will be in your home.

3. Will My Design Fit Within the Footprint Or Should I Expand?
A bathroom remodel may be in the center of the home, limiting the amount of expansion that can take place. However, your particular design vision may fit within the square footage already available. If expansion is necessary, you will have to work with your designer to figure out from where space will be taken or if a bump-out addition is possible within your budget. Explore different options to reveal how much each will cost.
4. What Finishes are Both Durable and Stylish?
The bathroom is no place to skimp on quality. This is a hardworking room that will experience drastic humidity and temperature fluctuations. Your flooring, tile, vanity, and countertops will need to be made of resilient materials made to withstand these changes. You will also look to your designer to help you choose materials that are easy to clean, require little maintenance, and look fantastic. Ask them about the latest trends in different price points as well as timeless design choices to avoid a remodel sooner than you'd like.
5. Is There Anything Not Included in Your Services I Should Know About?
No two remodelers are exactly alike. One may include the installation of smart features while another may not. While you're in the consultation phase, ask your contractor about services that aren't included so you'll know what you may have to budget for separately.
6. What Is Your Expected Work Schedule?
The work schedule should tell you the times a crew will be in your home, as well as which crew members will be there and for how long during the course of construction. Also be sure to ask your contractor about how they will handle delays. It's not an ideal situation, but delays can happen for a number of reasons. An experienced contractor will build these typical delays into the timeline so as to not catch you off guard or put themselves in a situation where it can affect another project.

7. What Is the Payment Schedule and Down Payment?
An important aspect of any project is not only the cost but when the payments will be expected. No trustworthy contractor will ask for the full payment upfront, however, they will ask for a significant chunk to be put down in order to cover the starting elements of your remodel. Expect a down payment with a payment schedule throughout construction to cover the rest. The payment schedule will vary depending on the timeline and the scope of work. Also be sure to ask when the final payment will be due, which may change due to construction delays, but this will vary depending on the contractor.
8. How Will We Communicate Throughout the Project?
Communication is the

key to a successful project

.

Clear, honest, and frequent communication will help to avoid miscommunication, higher costs to fix issues in the design, and possible delays due to correcting mistakes. Many contractors use construction management software that gives you a direct line to your project manager, the construction schedule, daily work logs, and even pictures to document progress. Ask your contractor if a client portal to construction management software will be made available to you.
Finding a Contractor You Can Trust for Your New Jersey Bathroom Remodel
When you search online for a contractor near you, you'll likely come up with quite a lot of candidates. But which contractor is right for your project? Asking the right questions to give you a sense of confidence in their professionalism and skill is important. When you schedule a consultation, be sure to arrive with these questions to make sure they're a good fit.
JMC Home Improvement Specialists is a New Jersey design-build firm that has spent years earning the trust of many clients. With transparency, thorough communication, and excellent skill as the core pillars of our team, we've created a full portfolio of projects for clients that have been more than thrilled with the spaces we deliver. Contact us to schedule a consultation, get your questions answered honestly, and start planning for a new and beautiful bathroom.