On average, bathroom additions come with an 86.4% return on investment (ROI). With such a high ROI, it is easy to understand why bathroom remodeling can be so costly and why it is such a big deal. Even so, what not to do is equally important as what to do when it comes to a bathroom remodel. There are pitfalls that need to be avoided lest you end up making costly mistakes. Read on to learn more.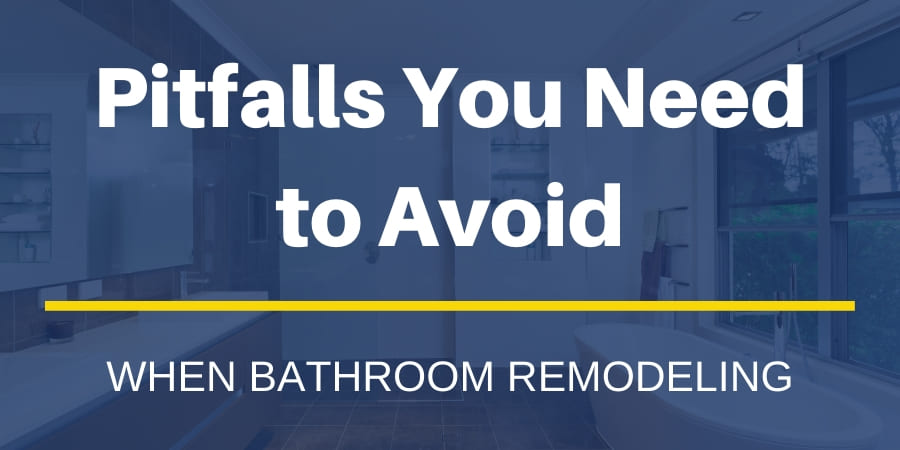 1. Lacking a Plan
They say that failing to plan is planning to fail and this is especially true if bathroom remodeling is what you have in mind. Sure, bathrooms can at times seem like a small project, but remodeling without a plan is a surefire way of spending more than necessary. Therefore, working with a bathroom remodeling contractor and having a solid bathroom design in mind is wise.
Related: 9 Tips for Making a Bathroom Safer for Seniors
2. Only Opting for Pricey Options
It's true what they say that you get what you pay for. However, a seasoned bathroom contractor can enlighten you about options that meet your expectations at a lower cost. For example, attractive and solid frameless glass showers may take your home value a notch higher. If the framed shower option seems a good fit, ask yourself if paying extra for a frameless version is worth it. The same goes for higher-end paints, stone floors, quartz counters, and any other premium product.
3. Replacing Instead of Repairing
If you asked seasoned bathroom contractors, they will tell you that replacing elements is typically more extensive than repairing them. The bathroom may be deeply embedded in the home, thus removing demolished material becomes hard. Likewise, bringing construction material into the house is equally an uphill task. Remember that as material is carried to the bathroom, it will likely pass through areas you would prefer to remain clean.
All these tell you that using refurbished items may be an option. Some of the items to consider include:
Refinishing your shower or bathtub
Painting or re-facing cabinets
Sink re-glazing
Countertop refinishing
Tile re-grouting
Related: Configuring Space to Create an Award-Winning Master Suite Remodel
4. Overlooking Bathroom Ventilation
Bathroom fans are the last thing in most people's minds during bathroom remodeling. But bathroom ventilation shouldn't be ignored. Excess moisture content in the bathroom can result in perilous mildew or mold capable of ruining other remodeling work. One of the best ways to keep bathroom moisture under control is using heat lamps. Bathroom ventilation fans can also help scale down moisture content in your bathroom. Talk to your preferred bathroom remodeling contractor about the options available.
5. Installing the Wrong Flooring
As any bathroom remodeling contractor will tell you, not all flooring is good for your bathroom. The best type of bathroom floor is one that sheds water such as porcelain tile, ceramic tile, and vinyl plank. On the flip side, laminate flooring, solid hardwood, and engineered wood are not the best. This is because wood-based floors are prone to decay despite their enviable beauty.
Professional bathroom remodeling contractors will often use sealed stone. This is for good reason because the sealing locks out moisture. Note that natural stone also needs sealing to prevent any moisture infiltrating to the surface. Always ask your bathroom remodeling contractor about the best floor type to avoid problems in the future.
6. Remodeling The Bathroom Yourself
If you're a handy person, undertaking some tasks might seem like they're easy to tackle. However, there are tasks that should only be done by a professional bathroom remodeling contractor. Some of these include entire bathroom wiring, building a shower stall from scratch, and many others. A professional will help make the remodeling less frustrating and less costly.
Bottom Line
Bathroom remodeling can be a rewarding experience if you know the dangers to avoid. With the above tips, you can rest assured that your bathroom remodeling will be a great success.