Remodeling your kitchen is an exciting opportunity to refresh the space or completely transform it with a new layout and design style. You can ensure the room is modified to fit the next stage of your life and your family's evolving dynamic.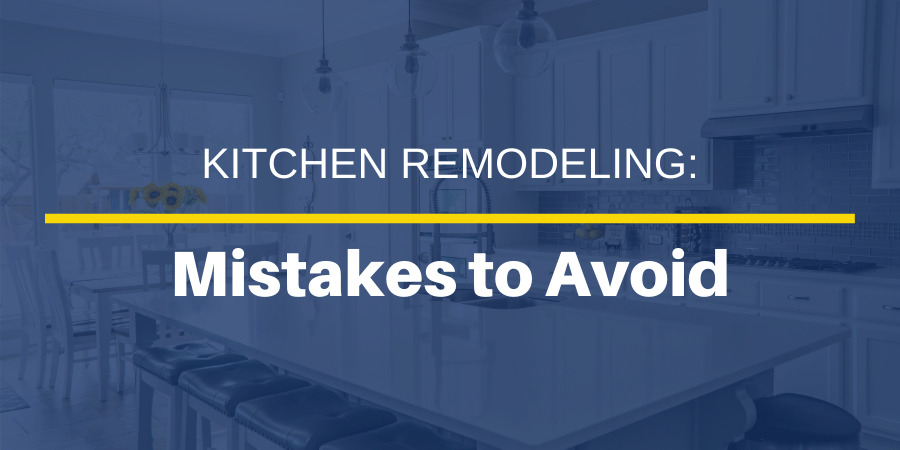 As with any home improvement project, however, kitchen remodeling is also a major investment of both time and money. You will spend the next several months designing and constructing the upgrade, and you want to make sure you get the most out of this project.
Common Pitfalls of Kitchen Remodeling
There is no way to prepare for every potential scenario when you're renovating or upgrading your home in Northern New Jersey. You can save yourself stress and heartache by expecting there to be a couple of hiccups along the way that call for flexibility and adaptation. On the other hand, kitchen remodeling is a measured process. You can know ahead of time what steps you will take to design and build your project. You also can identify potential problems that result in a huge cost and time sink for homeowners and then implement measures to bypass or mitigate these issues.
To help you get ready to remodel your kitchen and establish realistic expectations, here is a look at some of the most common pitfalls people fall into and how to avoid them:
1. Not Knowing What You Want
Before you can determine the "how" of kitchen remodeling, you need to identify the "why." What is the purpose of your project and what are you trying to fix or modify? You may be inconvenienced on a daily basis by the current layout, or maybe your family has outgrown the size of the space. Maybe your tastes have changed and you want a new design style. Knowing what you want to accomplish will help you correctly prioritize your remodeling goals, which is essential for a smooth, efficient process.
2. Setting an Unrealistic Budget
You know that remodeling your kitchen is an investment, but how much should you budget for your project? One common mistake you can make is starting the design before establishing a preliminary budget. Another is setting an unrealistic budget that will leave you disappointed or unhappy with your final result. While your design-build contractor in New Jersey will be the best source for getting an accurate estimate for your project, you should do some research ahead of time about the average cost for similar kitchen remodels completed in Morris, Essex and Union counties.
3. Prioritizing Beauty Over Function
Yes, you want your newly remodeled kitchen to be a beautiful and inviting space. However, function comes first. Even the most attractive kitchen will start to lose its appeal if it's riddled with inconveniences that make it difficult for you to cook, clean, eat, store food or fulfill other critical functions of a kitchen. Along the same line, you want to avoid excessive trendiness when making color, style and material choices. While personalization is a key component of getting the most from your kitchen, dated styles can decrease the value of your home over the long term and make it harder to sell. Prioritize timeless design choices and then add a few personal touches.
4. Neglecting Your Garbage Situation
You create a lot of different garbage in your kitchen, from organic food waste and plastic containers to bottles, cans, wrappers and bags. As early as the remodeling design phase, you should start thinking about your garbage setup and how to allocate adequate space to dispose of the different types of waste your kitchen will create. If you have a large family, consider adding a trash compactor to your design so you can avoid running bags of trash out to your garbage bins multiple times per day.
5. Incorrect Island Placement
Kitchen islands have established themselves as a must-have for a spacious, open-concept floor plan. However, putting your kitchen island in the wrong spot can undermine an efficient workflow between the different zones in your kitchen, which are often centered on your sink, oven and stovetop, refrigerator and storage space. Make sure you select a kitchen island that's the right size for the specific layout and square footage. As a rule of thumb, you want at least 3.5 feet of open space on all sides of your kitchen island. If you're dealing with an irregular-sized kitchen, it could be best to have a custom kitchen island built specifically for your project.
6. Poor Lighting
Most families spend hours each day in the kitchen, whether it be to cook and eat or do homework and activities. You want there to be proper illumination throughout your kitchen to make the space useful and comfortable. If an area of your kitchen is poorly lit, it becomes significantly less functional. Plus, it makes your kitchen look dull, dark and uninviting. Try to achieve a balance of natural light, general overhead lighting and task lighting. Consider installing under-cabinet lights to better illuminate your countertops.
7. Inadequate Storage
When you don't have enough storage space in your kitchen, it can quickly become cluttered and dysfunctional. Take some time to think through your storage needs based on the size of your family, your daily habits and your personal preferences. For example, if you like to shop for a few weeks at time, you'll need enough space to adequately store dry food products. Talk with your contractor about adding creative storage solutions to your kitchen remodel and you'll thank yourself for years to come.
8. Choosing an Inexperienced Contractor
Unless your kitchen upgrade consists primarily of repainting or switching out your cabinetry hardware, you're going to need a professional remodeler to help. While finding a contractor for your project may seem straightforward enough, keep in mind that the company you select will influence every part of the process, as well as the final result. Make sure to do your research and select an experienced kitchen remodeler that has skills and tools to see your project through, from start to finish. Choosing a design-build remodeler is also an effective way to create a seamless and more rewarding home improvement process.
Finding the Right Contractor for Your New Jersey Remodel
With an experienced remodeling team by your side, you can feel more confident that your kitchen remodel in Morristown will go smoothly and you will be able to avoid the slew of potential mistakes that cost homeowners time, money and energy. At JMC Home Improvement Specialists, we have a full team of design and construction professionals to help you refine your vision, explore your options and make smart decisions that will positively impact the cost, function and aesthetic appeal of your newly remodeled kitchen.