If you're looking to accommodate an in-law or an elder, or if you just want to expand your home to provide a wider range of rooms and options with an in-law suite, you have many viable choices. Don't just overhaul your over-ground tool shed. That won't fly. Instead, go for one of these classic ideas that will keep your family member comfortable while raising the value of your property at the same time.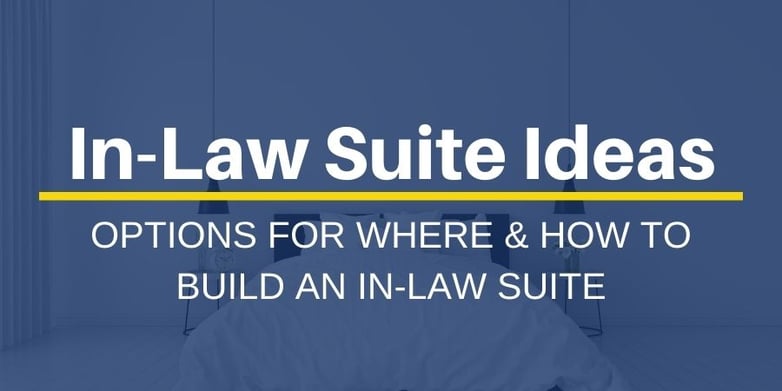 What Exactly Is an In Law Suite?
Depending on which term you use, an in-law suite NJ renovation is also referred to as a mother-in-law suite. Some might even call it a granny apartment. This is because traditionally the additions were created for an older relative to move into the larger house, all while having their own, individual unit. Essentially it is an apartment that has its own bathroom and kitchen. It is also closed off from the rest of the house. While it may be able to be accessed via a door, the in-law suite has its own doorway to the outside, so it's possible to come and go without entering the main area of the house.
Sometimes, depending on space, the suite might have a full kitchen, or there will be an in-law kitchenette, which is basically what you might find in a smaller studio apartment (or what you might find in a hotel room with a "kitchen").
How Much Does It Cost to Build A House With an In-Law Suite Addition?
Adding an in-law suite to an existing home will vary in price tag. It really depends on what you currently have to work with and what you need to add to your property. Depending on the current configuration of your property you might already have space in the basement or inside rooms for adding a mother-in-law suite. To complete the project it might just need a door to the outside and a few hallways with a new door or wall. Other times though it may need to be a completely new addition. The addition can be attached to the property, or if you have a large enough yard it can be installed as a free-standing addition. Each property and mother in law suite additions are different.
The best way to determine a starting price for your in law suite ideas is to give us a call, and we'll go over what your current property is looking like and what sort of options you have. Usually though, the cost of such a build or renovation will cost anywhere from $60,000 to upwards of $140,000.
If, however, you're able to use an existing basement for your renovation the cost of such a project will likely fall under the $40,000 to $80,000 mark significantly (depending on building materials you decide to utilize in the project).
Cost Savings and Benefits
For some, dropping $140,000 for an apartment might seem like an unnecessary expense. They might rather invest it in a new kitchen or other upgrade to the property. However, there are a number of ways to look at this as a major financial benefit. According to Senior Living, the average cost for a private nursing home room in New Jersey is $11,863 per month. This means if you're looking at a nursing home cost versus moving a loved one into your home, you'll make your money back in just one year. Then, every other month they stay with you is money back in the bank. That doesn't even include the improved quality of life for the person living in the suite.
Maybe you're not looking at mother-in-law suite additions for a relative. Maybe you're looking at it as a financial property investment. According to Rent Data, the average cost of a one-bedroom apartment in New Jersey can range from around $1,000 to around $1,500. And this is just for an entry level apartment. Should you decide to rent the space out you can bring in a minimum of $12,000 annually. This makes the mother in-law addition one upgrade that will instantly bring money back into your pocket without you even selling the house.
But how much does such a renovation bring to the overall value of your home? It will depend on the kind of construction you decide to undertake, as each one is a bit different. However, as it gives a potential buyer the instant ability to begin making money off of the home purchase, it not only boosts the value of your property, but it also makes it more attractive to buyers as well.
According to Home Light, the average suite addition increased overall property values by between 7.2 and 9.8 percent. If you have a $600,000 house you could see property values increase by almost $60,000, which is on top of any money you brought in through rent (or were able to save by not paying for a senior living home).
An Important Investment for Your Property
An in-law suite is a truly valuable investment for your property. Not only does it have the potential to drive up the overall value of your property, but it's one of the few investments that allows you to make money almost instantly off of the renovation. Whether you rent it out or you move a loved on in, few renovation projects are able to compete with the instant return on investment. In fact, in just a few years you'll make all your money back and then some off the project, without even selling the house. To find out more about in-law suites and how these projects might be right for you, give our team a call. We can't wait to work with you on all your home renovation needs.
Add Your In-Law Suite to the Basement
If you have a basement already, you can provide your family member with discrete accommodations. This is a great idea when caring for aging loved ones since it is so much easier to guarantee their privacy. The best thing about it is that the hardest part of building an In-Law Suite in the basement is finishing the space if it isn't finished already. Below ground spaces are a traditional spot for In-Law Suites, and they are easier to heat in the winter and cool in the summer.
Build Your In-Law Suite Over the Garage
If your garage is freestanding with nothing built above it, that's as good as free real estate! It's an area that many, if not most, people overlook when looking for new space in which to build a new addition. In addition to the free building space, giving your family member a spot over the garage usually places them in a great spot where they can oversee activities in the neighborhood and in the front yard and not feel left out.
Convert Your Garage to an In-Law Suite
Another relatively easy solution, like building an In-Law Suite in an existing basement is to simply convert the garage. Of course, when we think of converting a garage, we tend to think of temporary accommodations for teens and young adults. But with some extra effort, the garage can be converted into a quality living space. It's also a good way to give your family member another way in and out of the house to help protect their privacy and yours.
Convert Your Attic to an In-Law Suite
The attic is yet another great and relatively easy option for building an In-Law Suite. Attics are known for their ability to be converted into unique and appealing living spaces. With a small window in an a-frame nook, your family member can easily enjoy a comfortable sitting area to engage in their hobbies and enjoy the view of the garden. An existing attic should be easy to finish, if it isn't already, and it can have certain HVAC advantages in some types of homes and locations.
Create an In-Law Suite as an Addition
If you have the space on your property, of course, building an In-Law Suite as an addition is another great option. Building an In-Law Suite is a good way to shelter aging family members from the noise and bustle of the neighborhood. Also building an exterior addition makes it easy for you to give them an extra entrance to protect their privacy and yours. Your addition can be attached to your home, which might be easier for electrical connections. You can also build it as a freestanding structure if you so choose.
Add Your In-Law Suite With Existing Square Footage
We have discussed four different ways to create your In-Law Suite using the existing square footage, but there is yet another way. You can simply renovate an existing space within your home for use as an In-Law Suite. This is a great way to keep your family member close, with minimal cost, and should be considered if you are working with a tight budget.