Multi-generational living is on the rise, as more adult children are moving back home after graduation and families are choosing to create space for their aging parents.
According to the Pew Research Center's analysis of census data, a record 64 million individuals, or about 20% of the U.S. population, were living with multiple generations under the same roof as of 2016.
Various scenarios that involve multiple generations of family members sharing the same New Jersey property require more than simply clearing out the guest bedroom. In order to accommodate multi-generational lifestyles, the best solution may be a home addition—sometimes referred to as an "in-law addition" or "in-law suite," or even "mother-in-law suite" or "granny flat"—which allows for a balance of togetherness and privacy.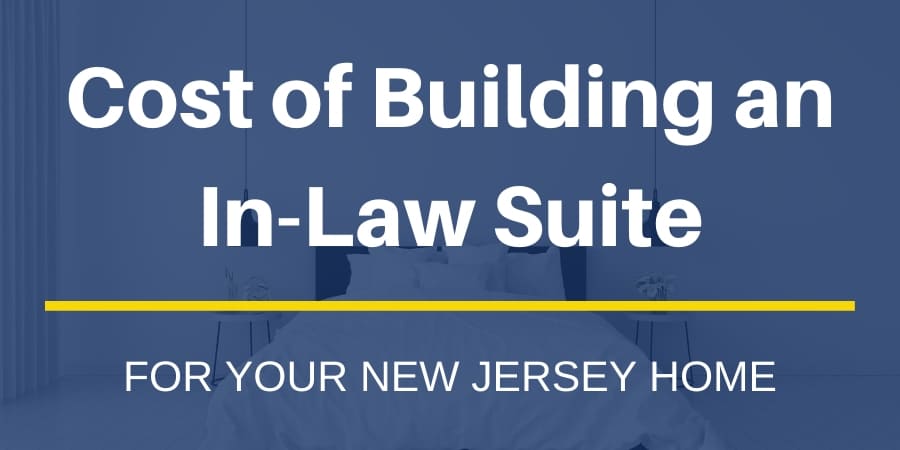 What Is an In-Law Suite or ADU?
An in-law suite can range from a standalone accessary dwelling unit (ADU) on your single-family property to an adjoined apartment or in-house suite that grants the resident their own sense of privacy and comfort, while being close to the main family dwelling. You also can convert a garage or basement space into an in-law apartment.
There are several reasons to consider investing in an in-law addition to your home in New Jersey, some of which include:
Creating accessible space for an aging parent or other relative so they can avoid institutional care

Housing adult children while they work toward affordable independence

Making a private space for guests who come to visit

Adding residential space for a nanny, housekeeper, home health aide, caretaker, or other professional who serves your family
Before building an ADU or in-law suite addition on your property, there are several factors to consider, including the municipal zoning ordinances that govern ADUs and home additions; the cost; the estimated return on investment (ROI) based on your area's real estate market; and your long-term plans for your home.
How Much Does it Cost to Add an In-Law Suite?
The cost for making an in-law suite addition varies based on the scope of the project and whether you're adding on to your existing home, converting a space to an apartment, or building an entirely separate unit. Additionally, as with any home building project, the cost also depends on the quality of finishes and materials and types of features you choose for the dwelling.
On average,here are the costs for common types of home additions and ADUs:
A freestanding in-law suite ranging from 300- to 600-square-feet with its own bathroom, kitchen, bedroom, and living area costs between $90,000 and $175,000.

An in-law suite addition to your home costs about $90,000 to $150,000.

Converting a garage space to an in-law suite costs about $50,000 to $80,000, or more if you're installing a bathroom.

Converting an attic conversion typically costs between $41,000 and $90,000.

Converting a basement costs between $10,000 to $80,000.
Those ballpark ranges generally encompass the expense of architectural designs, labor, and materials. Other costs to factor into your project include permitting fees, as well as an increase to your property taxes and homeowners insurance.
Options to Pay for an In-Law Suite Addition
There are several ways to help pay for your in-law suite addition, including out of pocket, a home equity loan, a cash-out refinance, a home equity line of credit (HELOC), or a personal loan for home improvement.
In terms of your long-term investment, ADUs and in-law suites are a highly desirable amenity given the current trend toward multi-generational housing and housing shortages faced in numerous regions across the country. About 60 to 70 percent of the cost for a mid-range two-story addition can be recovered when it's time to sell your home, and building an addition is almost always cheaper than building a new home with the same amount of space if you intend to stay on the property for the foreseeable future.
How Do I Add an In-Law Suite?
Once you have determined a budget for your project and how you will cover costs, you can start on the design and construction phase. Make sure you comply with local code requirements regarding the allowable size of the unit, height, setbacks, and on-site parking.
One advantage of working with a certified home remodeler is they are familiar with local rules and guidelines and will pull all the necessary permits for your addition or renovation project. Additionally, contracting with a design-build remodeling firm lets you work with the same team from start to finish for a cohesive, streamlined process. The company's in-house architects design the in-law suite addition, with input from the project manager, before passing on the plans to the construction team.
Choosing a Remodeler for Your New Jersey Home Addition
When the time comes for making a home addition or building an in-law suite in New Jersey, it's important to have the right team by your side. For years, JMC Home Improvement Specialists have implemented a design-build process to create quality additions across the Morris, Union, and Essex county areas. We will work with you to take your ideas and vision for your in-law suite addition and then build a standalone or adjoined unit that adds value to your home and provides a comfortable, fully functional living space for any future resident.