As a homeowner, you want to feel confident in your choices, beginning with the company you hire for your remodeling project. What kind of firm should you hire to ensure your project is a success and why is hiring a design-build firm your best bet? Let's find out!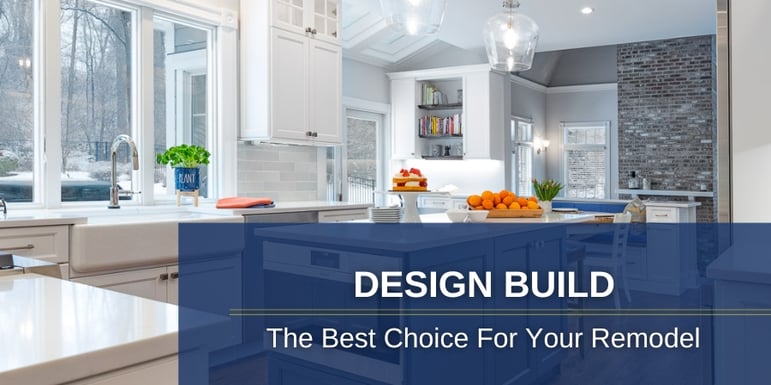 What Are the Top Benefits of Working with a Design-Build Firm?
Going into a remodeling project, you want to know which delivery method is best for an easy and seamless process for a successful project. Here are the top reasons hiring a design-build firm is the best decision you could make for your New Jersey remodeling project.
1. Two Experts in One
When you hire a design-build firm, you are hiring an expert in design and an expert in construction within one entity. Each expert approaches your project with their own set of earned industry knowledge. Your designer and builder use their complementary knowledge to create a design that is feasible, sophisticated, and within your budget.
Your designer will learn about your vision and design goals, creating a design that reflects your personal style and offers solutions to your home's challenges. Your builder has another set of unique problem-solving skills that will ensure your design is workable and cost-conscious. Having your builder and designer work on the project from the beginning means your team can work together to resolve construction or budget issues well before the design is complete, saving you both time and money. Not only do you save money, but it is also far better to have the entire team under one roof, working on the same project.
2. Established Professional Relationships
When your designer and builder have been working together consistently and are always working on the same projects, they're already familiar with each other's working style and communication style. Hiring two separate professionals that aren't familiar with one another can result in miscommunication, errors, or even conflict. With a great design-build firm, you will reap the benefits of a cohesive team from day one.
3. Your Vision Is Kept Front and Center
Your design goals should be the central focus during your remodeling process. However, working with two separate professionals can create competition about whose perspective concerning feasibility is right, which design decisions are cost-effective, or how to solve tricky remodeling issues. The design-build delivery method has built-in assurances that your vision is at the center of every decision. A design-build team under one roof is more capable of collaborating without conflict or ego on every issue to work toward one goal: your remodeling vision.
4. Reduce Risk
The design-build model reduces your risk during a remodeling project. What risks are reduced? Delays, going over budget, and being left with a remodel that doesn't actually meet your needs can all be avoided when you work with a great design-build team. Working with a design-build company also reduces or eliminates the stress and frustration you may have experienced working with separate companies in the past.
Design-build companies are able to offer a risk-free experience through transparency, collaboration, established professional relationships, and a single point of accountability.
5. Seamless Process from Start to Finish
Your in-home assessment, design, product selection, pricing, agreements, and construction all take place with one company. A design-build team enables you to avoid bouncing back and forth between professionals. It keeps you from having to project manage your own remodel. With every phase of the process happening within the same team, the movement from one phase to the next isn't only seamless, it's painless, and even more so, it's enjoyable. Rather than having to manage communication and coordination, you're able to enjoy the benefits of a process that's designed to flow, without the frustrating starts and stops of the traditional method.
6. Cost Savings
The design-build method is designed to save time and reduce your investment in your project. By working with a great design-build firm, your costs are kept under control. With the traditional delivery method, your designer and builder are not working together from the start, which means your project is planned without the most accurate industry cost information that your builder can provide.
Your design-build team can alleviate any design issues that would increase your budget, employ value engineering, and establish your budget much earlier in the process. By avoiding the bidding process, your budget will include the utmost amount of detail. This effectively leaves no room for guesswork or the possibility of being left with a design that's cost-prohibitive.
7. Save Time
The design-build method skips the cumbersome bid process, ensures smooth and efficient communication channels, reduces the number of design edits, and reduces delays during the construction phase.
How? With your designer and builder working together from the beginning, there's no need to seek out bids from other builders. Your team is already a cohesive unit that has well-established communication methods, including construction management software that enables even more efficient daily communication. Also, your design won't need endless rounds of edits to fit your budget or delay construction due to last-minute changes. Working with a design-build team saves you time at every stage of the remodeling process and usually takes half the time of the two-company method, our efficient process will most likely save you money during the remodeling process.
8. Open & Honest Communication
Communication between two separate companies–the architect and the builder–is wrought with miscommunication and finger-pointing. Even when two professionals have a good working relationship, it's easier for there to be gaps and stalls in communication.
With a good design-build team, you have one company that handles every task throughout the remodeling process. Teams report to a single project manager, who reports daily job logs, problem-solving opportunities, and scheduling to you through your construction management software client portal and other methods of communication. You're kept in the loop through every stage as well with weekly meetings with your on-site foreman. While the company's production manager creates a collaborative method of efficiency with accountability.
9. Owner Involvement
A major benefit of working with a good design-build team will be increased inclusion at every stage. You are an important part of the collaborative effort innate to the design-build delivery method. An experienced design-build team knows that your involvement is key to a successful project, which is why you can count on open communication and inclusion in every decision.
Working with a Great Design-Build Firm in Bergen County
We've mentioned several times that the benefits of working with a great design-build firm are plenty, but what makes a design-build firm great? We can tell you that it's a firm's experience, knowledge, efficiency, and history of staying within a client's budget and timeline.
At JMC Home Improvement Specialists, we're proud to confidently claim every one of these qualities. Through our decades of experience, we've delivered remodeling projects that leave our clients relieved, excited, and compelled to recommend our services to friends and family. If you'd like to experience a seamless and enjoyable process, contact us to schedule a consultation. We're here for your questions about the process, our experience, and any other concerns you may have.