New Jersey is known for its several attractions, including its spectacular beaches. But what else does the Garden State have to offer during the Spring months, when the flowers are in bloom, the wind is blowing, and the forests are sprouting new growth? Check out our top 5 list to discover a new side of New Jersey.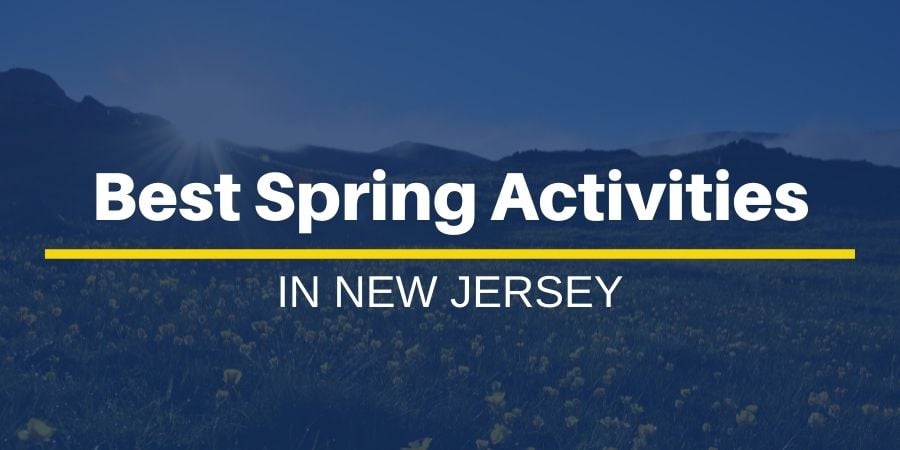 1. Wildwoods International Kite Festival
During an entire weekend in late May is the largest kite festival in North America: Wildwoods International Kite Festival, in Wilwood, NJ. This multi-day free event includes both night and day events. There's a Friday night social, a nighttime illuminated kite event, large inflatable kites, team flying, and family games. Catch a glimpse of this fun family-friendly 2022 Spring event from May 27 - May 30.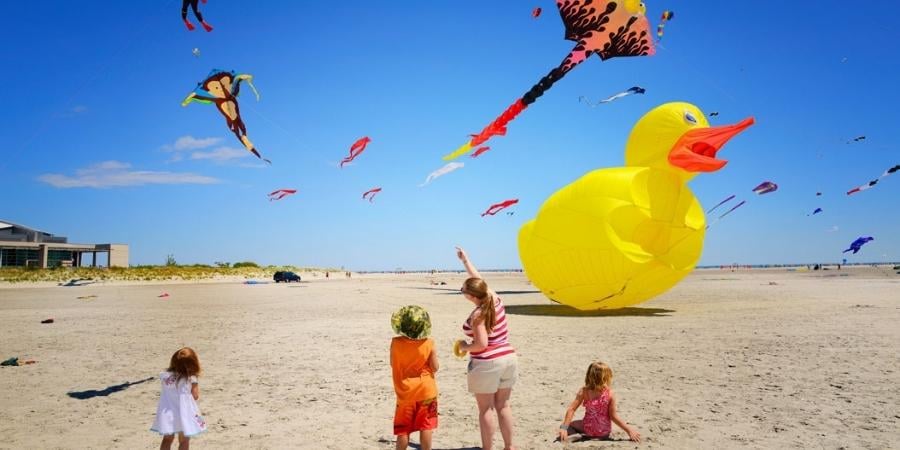 2. Light Hiking and Spectacular Views
There's no need to put in hours of hiking to see beautiful sights in New Jersey in the springtime. Walk over the footbridge to see picturesque views of Great Falls in Paterson, NJ. There's such minimal walking to see the sights, you can even enjoy a bit of the view from the parking lot! With such a rich history of the surrounding town, you'll want to stick around for a museum visit and a bite to eat.
The tallest waterfalls in New Jersey are only a stair climb away in Buttermilk Falls, in Layton, NJ. The beautiful falls are surrounded by foliage and a few hiking trails for anyone interested in spending some time among nature and enjoying a picnic.
Experience a mile-long stretch of the famed Appalachian Trail along the Pochuck Boardwalk. If you're up for it, go the extra few miles to see many more gorgeous views until you reach Pinwheel Vista, with spectacular 360 views for miles and miles.
3. Essex County Cherry Blossom Festival
Take in the beauty of thousands of blooming cherry blossom trees at Branch Brook Park, Newark, NJ. Although there are several planned events, like the 10K run, bike race, and family day, simply walking through the park is enough to be amazed at the awesome spectacle of so many cherry blossom blooms at once! After working up an appetite walking the grounds, check out some of Essex's best restaurants to refuel. The 2022 festival runs from April 2 - April 10.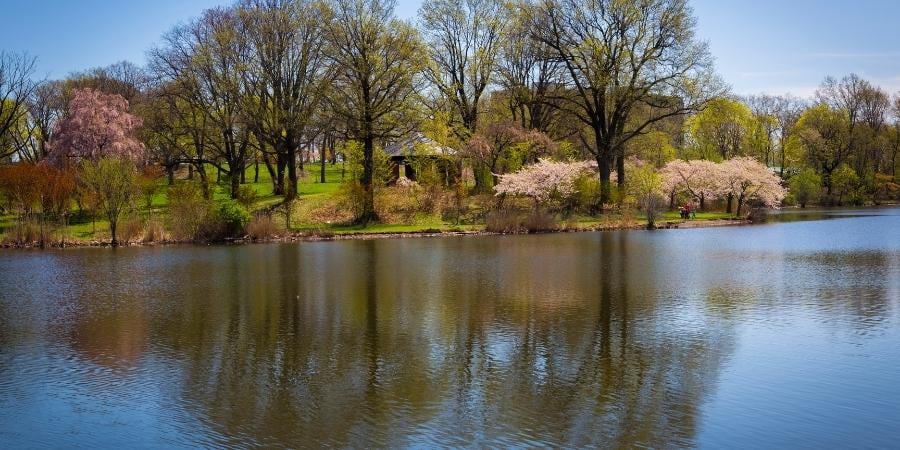 4. Spend a Day on the Water
Enjoy the beautiful Spring weather kayaking or canoeing in Lake Hopatcong in Hopatcong State Park. Lake Hopatcong is New Jersey's largest lake at nine miles long! You can even stop at one of the lakeside restaurants for a bite.
You could also take a paddle between two urban centers, with Jersey City on one side and the New York skyline on the other by spending an afternoon on the Hudson River. Kayaking among urban views might not be the typical choice, but it's a unique way to see these city views.
The Wawayanda Lake, in the center of Wawayanda State Park is a relaxing paddle suitable for all skill levels. Bring a picnic and spend some time on one of the islands in the center of the lake.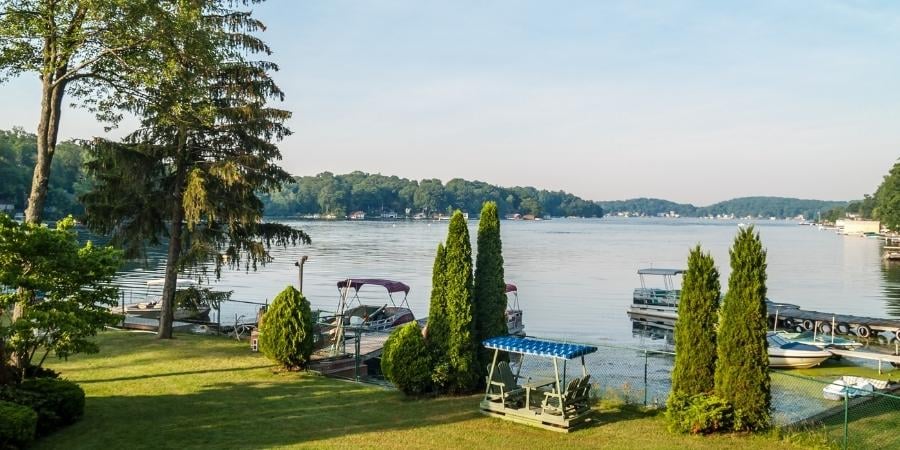 5. The Best of Art and Nature in One
Grounds for Sculpture, in Hamilton, NJ, covers 42 acres and is filled with hundreds of sculptures, six galleries, scheduled performances, and hands-on opportunities. Book a ticket in advance to enjoy access to this spectacular space. There's an acclaimed on-site restaurant, as well as a quaint cafe. You could enjoy a refined picnic ordered from the restaurant that includes lunch and a bottle of wine, packed with everything you'll need. Although the picnic is adult-minded, the grounds are also an adventure suitable for the whole family.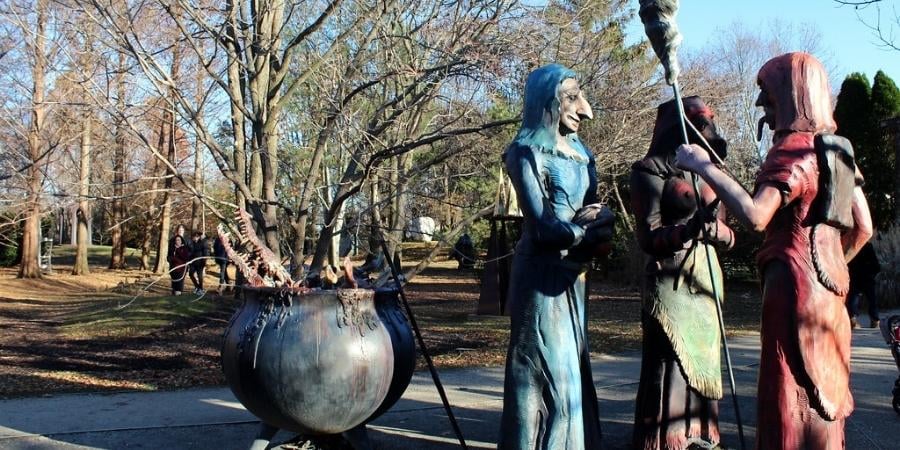 Can't Get Enough of What The Garden State Has to Offer?
Whether you live in New Jersey or are visiting from out of state, check out what our beautiful state has to offer in the summertime! If you do have a home in New Jersey and look forward to enjoying activities like these for years to come by updating your home, consider a virtual consultation with the experts at JMC Home Improvement Specialists. From the comfort of your own home, discuss your remodel dreams with our professionals who take pride in incredible customer satisfaction and spectacular outcomes.