In an effort to keep everyone safe, more companies than ever are utilizing creative ways via the Internet to hold meetings and conduct business. Choosing to conduct a virtual consultation for your design-build home remodel in New Jersey is a safe and productive way to get your project started.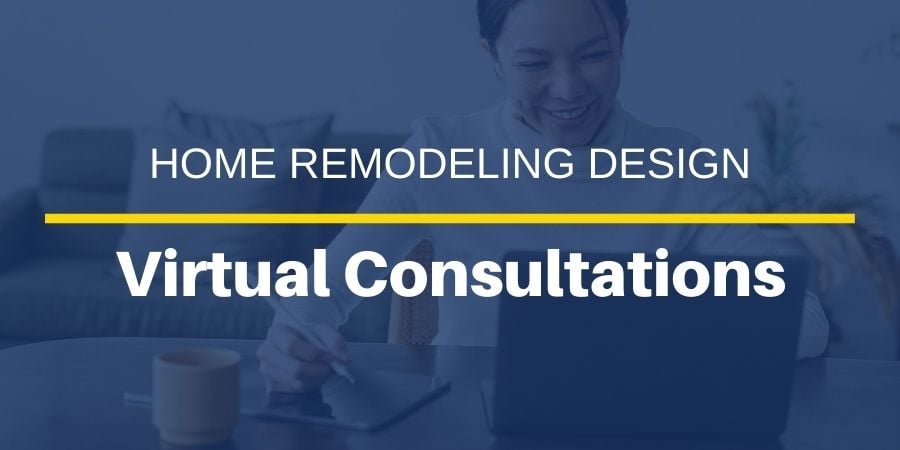 What Is a Virtual Home Remodeling Consultation & What to Expect
A virtual home remodeling consultation includes everything you would discuss with a potential contractor during an in-home consultation, but with a time-saving and the additional value of alleviating any health & safety concerns.
Once your scheduled call time arrives, you hop onto your computer, laptop, tablet, or phone, to meet with John! He will ask what area(s) of your home you are looking to remodel or expand upon, what your needs are within the space, and any specific details or goals you have for the design or layout of the room(s).
For example, if you have a half-wall in your bathroom that you'd like removed, show that on the call so the team can start thinking of a new layout. Or, if you would like an eat-in island incorporated into your kitchen remodel, pan your camera around the entire kitchen so the team can get a better idea of the space.
Virtual consultations are especially useful when it comes to projects that require a "full-scale" idea of the area to be worked on, such as basement finishes and remodels or home additions. Having the ability to walk through your home and point out specific details in real-time is ideal in comparison to scheduling coordination and wait times that can come from contractor home visits of the past.
Once your goals and expectations have been set, you can discuss your budget and timeline with a potential contractor.
The Benefits of Meeting Virtually
Opting for an initial virtual consultation with a design-build contractor poses many benefits, including less wait time to walk-through and begin your project, transferring documents digitally, and above all, staying safe.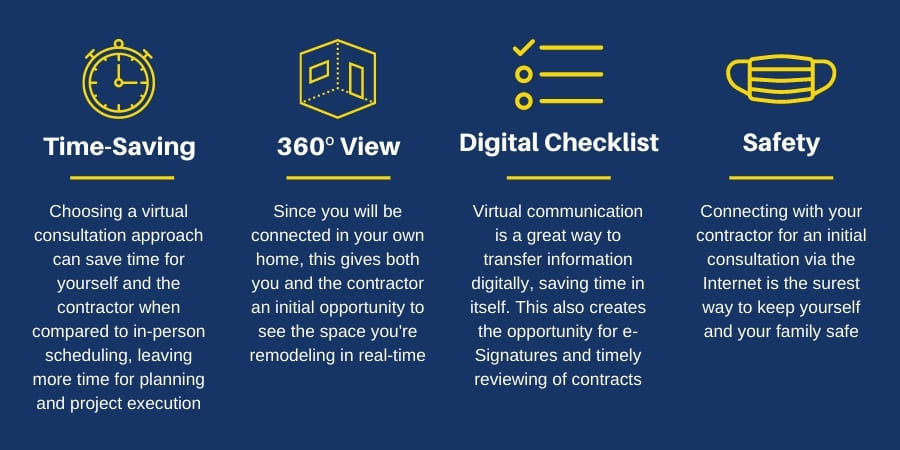 When meeting to discuss your remodeling project goals whether in-person or virtually, having visual references is ideal to be sure you and a potential contracting team are on the same page for the scope of your project.
If you are using video communication apps like Zoom or Skype, you have the ability to share your screen and show the design-build team examples of layouts, paint or trim colors, light fixtures, or any other design inspiration you have found throughout your process in deciding to remodel.
What Questions Should You Ask?
As with any consultation meeting, it's important you get to know a potential contractor, the type of work they do, and a little about the company to determine if they are the right fit for your project.
Some questions you may want to ask include:
How long have you been in business?
Do you have a certificate of insurance?
Could you show me examples of similar projects you've completed in the past?
Will documents such as contracts be signed virtually?
How will potential cost overages be handled?
Will your team be storing materials and tools in my home?
What is your team's protocol for construction clean-up?
Find an expanded list of Questions to Ask During Your Home Design Meeting here!
There is a myriad of questions you may also find important for you to have answers to, so never hesitate to ask a potential contractor what is on your mind.
Schedule Your Virtual New Jersey Home Remodeling and Design Consultation
In short, virtual consultations are a great way for you to communicate your remodeling ideas to a potential contractor, and to continue communication in an easy, convenient, and time-saving way. This gives you more time to dream about transforming the space you're in, and more time for the contractor to get started on turning your dream into a reality. If you're ready to start your New Jersey remodeling project, contact our team to get started. We'll walk you through it!