Summer is almost here, and with it the urge to get outdoors as often as possible to enjoy the sunshine and long daytime hours.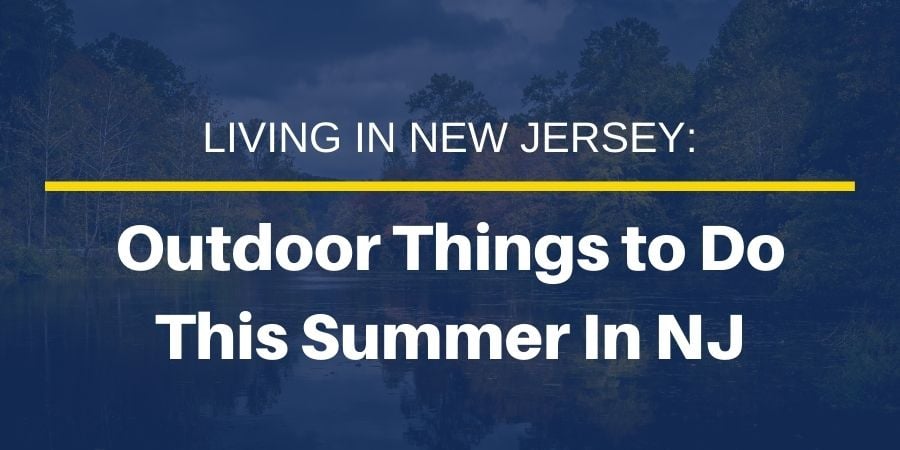 For homeowners in New Jersey, that can mean a myriad of things: tubing on the Delaware River, visiting local beaches or taking in a bit of culture along with nature. The state offers a diverse range of enriching and entertaining outdoor activities and attractions to keep you and your family busy this summer.
Best Outdoor Activities in New Jersey
Despite its relatively small size, New Jersey has something to offer everyone, whether you crave adventure or relaxation, a solo activity or a group outing, educational stimulation or entertainment. If you are looking for fun destinations to visit and things to do outside this summer, here are a few ideas to get you started:
1. Visit The Wetlands Institute in Stone Harbor
The Wetlands Institute, in Stone Harbor, New Jersey, conducts important research and contributes to conservation, but it also provides educational tours and courses to engage families and educate about wetlands ecology. Come June, the institute is open every day of the week. During your visit, you can participate in a salt marsh safari, aquarium feedings, and other interesting activities. The institute is also resuming its annual Summer Celebration this year. The live, in-person event will be held from 6 to 9 p.m. Saturday, July 31.
2. Fly High at the Tree to Tree Adventure Park
Touted as South Jersey's premier aerial adventure course, the Cape May Tree to Tree Adventure Park is a don't-miss summer activity for visitors of all ages and abilities. The course features an array of zip lines, nets, tight ropes, ladders, balance beams, Tarzan swings and other obstacles that grow progressively more challenging, so you can choose your desired level of difficulty. For an extra special memory, experience the aerial obstacle course in a whole new way by booking a Tree to Tree Night Climb. Currently, reservations are required to visit the park, so make sure you call ahead.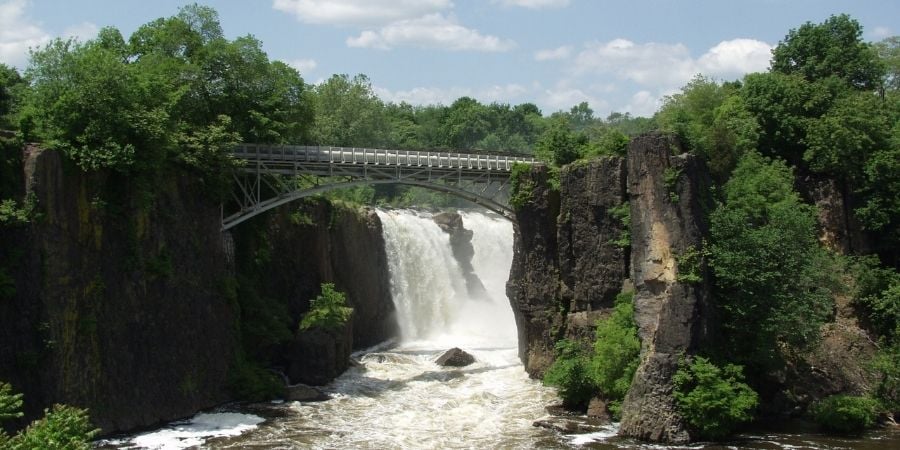 3. Go to Paterson Great Falls National Historical Park
Paterson Great Falls is a National Historical Park in New Jersey, and it is open every day of the summer. Go with your friends or family on a self-guided tour and enjoy stunning views of the Great Falls of the Passaic River, a National Natural Landmark and the highlight of the park. Another interesting feature at Paterson Greats Falls is the raceway system that was built in the late 18th and early 19th centuries. Plus, there are numerous historical sites near to the falls, including the Paterson Museum.
4. Tour New Jersey's Lighthouses
New Jersey has a rich maritime heritage as evidenced by the historic lighthouses that grace the Atlantic Ocean coastline. Sandy Hook Lighthouse, in Highlands, New Jersey, is the oldest operating lighthouse in the country. It was built in June 1764 and gives you a little insight into the history of the area. However, your lighthouse tour doesn't have to stop there. New Jersey contains 18 lighthouses, 11 of which are open to the public. Not only are the lighthouses themselves a worthwhile sight to see, but they are typically located in picturesque regions ideal for experiencing on foot or on bike.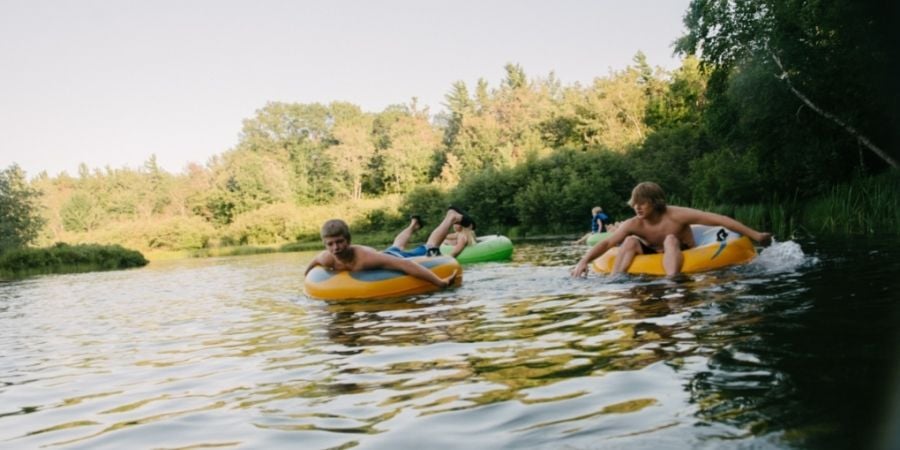 5. Play on the Delaware River
Beat the heat by heading out on the Delaware River in a canoe, kayak or tube and enjoying this scenic stretch of New Jersey by water. Delaware River Tubing, which is open from May 29 to Sept. 19 this year, can get you set up with water equipment of some sort, whether you prefer kayaking, canoeing, rafting or river tubing. On top of that, you get a free BBQ meal at the famous River Hot Dog Man when you rent from the company. However, there are several other opportunities for river tubing, rafting and pursuing outdoor water sports on one of New Jersey's lakes and rivers.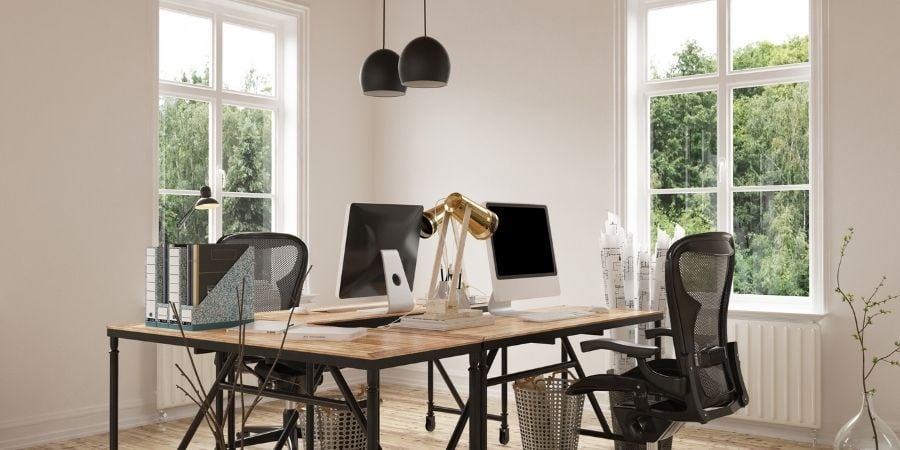 6. Take a Beach Day
New Jersey encompasses more than 130 miles of coastline that spans from Cape May to Sandy Hook, which means you can find nearly any type of beach you could want, from family friendly and busy beaches suitable for socializing to quiet and serene destinations that give you a more intimate connection to nature. During your summer vacation, take a break from your home in New Jersey and hit up the historical and world-famous boardwalk in Atlantic City, go surfing in Brick or take a swim at Brigantine Beach from mid-June to Labor Day.
7. Go Wine Tasting
For a more adult-centric outing, travel to the New Jersey countryside where you can experience the Garden State's rolling hillsides, stunning vineyards, and some top-notch wine tasting. Some wineries offer vineyard tours so you can get some fresh air and sunshine before sampling different flights. A few wineries to consider on your tour include Cava Winery & Vineyard in Hamburg; Cream Ridge Winery in Allentown; Hopewell Valley Vineyards in Pennington; and Spuntino Wine Bar & Italian Tapas in Clifton. There is a great selection of wineries and restaurants for you to experience in your area!
Sprucing Up Your New Jersey Home with a Summer Remodel
While summer is the perfect season for exploring, adventuring and, in general, experiencing the great outdoors, it also presents a good opportunity to tackle various projects around your home in Morris County. With the help of JMC Home Improvement Specialists, you can do both. Our team will work with you on a kitchen makeover, bathroom renovation or other project, giving you more time to spend with your loved ones while also investing in your home and improving your quality of life.