A kitchen remodel is a great (and often not very expensive) way to freshen up a home, add value, and make it more convenient for everyday living. It also frees you up to add features that you have always wanted or may only have dreamed about. From custom cabinetry and islands to a full pantry, the possibilities are endless with the right designers and builders. Whether you are going for a contemporary, traditional, or country look, there are a few must-have features that should be considered for any kitchen design.
Need help designing your perfect kitchen? Contact JMC Home Improvement Specialists for a free in-home consultation today. We serve Morris, Essex, and Union County, New Jersey!
1. Kitchen Island
Kitchens often serve multiple purposes, from cooking and cleaning to entertaining, doing homework, or having an informal meal. A well-equipped kitchen island can help with all these activities, providing extra workspace, storage, and room for fixtures or appliances.
A large island can provide bar-height seating, plus a sink or cooktop for meal preparation, undercounter space for a wine fridge or dishwasher, and shelving or drawers for utensil storage. Be sure to add plenty of overhead lighting to make working easier, and consider adding a pot rack for additional storage.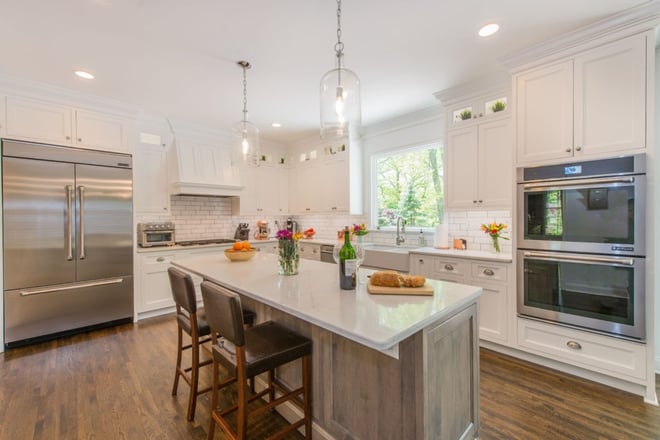 2. High-Tech Outlets & Switches
Countertops, appliances, and storage are typical considerations when remodeling a kitchen, but have you thought about your outlets and light switches? Having enough outlets in your kitchen is crucial, and you can even choose outlets with USB ports for added convenience. Smart lighting and switches are also a popular feature now, as they can be controlled by the wave of a hand, voice assistants, and more to make your kitchen activities even easier.
3. A Clear Focal Point
Create beauty and an eye-catching design with a clear focal point in your kitchen. This could be a bold backsplash, an accent countertop for your kitchen island, or colorful furniture. During the initial plans with your designer, you can discuss your tastes, style, and other must-have features of your kitchen to determine what type of focal points will work best for your lifestyle.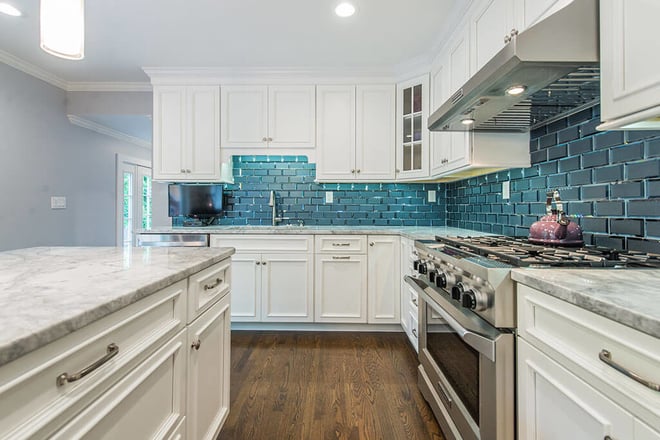 4. Workstation
Whether you are following a recipe, ordering supplies online, or paying bills, having a small desk area with a computer can be a great addition to any kitchen. It provides instant access to a wealth of online resources and can help to keep your family organized with centralized scheduling. Add a few drawers and custom built-in cabinets for storing paperwork and supplies, as well as a comfortable chair for more in-depth work. Round off the design with a television and sound system to provide entertainment while cooking or visiting with guests.
Kitchen Remodeling in North Jersey
Are you interested in adding these elements to your kitchen remodel? Talk to our team at JMC Home Improvement Specialists. We can incorporate any of these features and more, providing you with a high-quality, custom kitchen than you can enjoy for years to come. With more than 40 years of remodeling experience, you can count on us for reliable, professional results, as well as industry-leading craftsmanship. We can handle the entire process in-house, from the initial design to the finished product.
To get started with your kitchen remodel, call JMC today at (973) 386-0707 or contact us online. View our portfolio for more design ideas!