Every household in New Jersey has items that need to be stored efficiently, yet be easily accessible on a daily basis. Sometimes using a closet won't work and the basement or attic doesn't make sense logistically.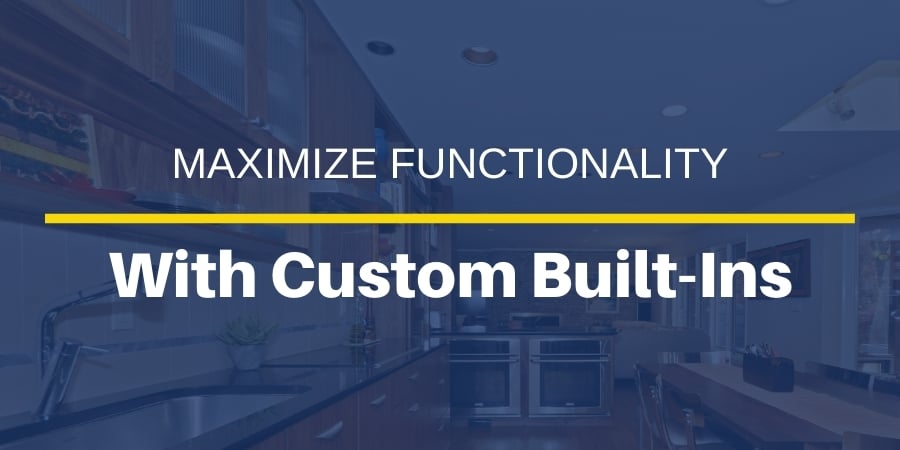 Fortunately, there is another storage solution that increases space and value in your home: custom built-ins. As part of your remodeling project in northern New Jersey, you can incorporate built-ins to maximize the overall function of any room in your house.
What are the Benefits of Custom Built-ins?
Built-in cabinets and other storage solutions are preferable for several reasons. First, they give you the space you need, where you need it. Most of the time, built-ins are designed for augmenting storage, but you can also utilize the extra surface area for decorating or displaying art.
Additionally, these structures blend seamlessly into your home décor, rather than standing out, which creates a cohesive look and smooth transition between living spaces. Because they're integrated into the infrastructure of a room, they also help the space feel more open and airy.
Depending on the style of your custom built-ins, they can serve as attractive focal points around fireplaces, entryways and window seats, or they can completely merge into the surrounding architecture for a minimalist appearance.
Incorporating Built-ins Throughout Your Home
Custom built-in storage is often associated with the main living room area. However, every room in your house can benefit from enhanced function and extra storage. Here are a few ideas on how to add space and value to your home in New Jersey:
Using Custom Built-ins in Your Living Room Remodels
The whole idea behind a built-in wall unit is that it can be customized for whatever purpose you desire. That includes special features, like a fish tank, memorabilia or your extensive art collection. The built-in enclosure enables you to display these items in a space-conscious way that doesn't detract from the overall aesthetic of the room. You should think ahead to what you plan to store or showcase via your built-in unit, which helps you decide how to configure the structure. You'll know how many shelves, cubbies and other components you'll need and how deep and wide to make the built-in.
When a room is on the smaller side, sometimes seating and storage can be a challenge. For a sunroom or family room without a lot of square footage, think about building cabinets that also serve as window seats to offer additional seating when you're hanging out as a family or entertaining out-of-town guests.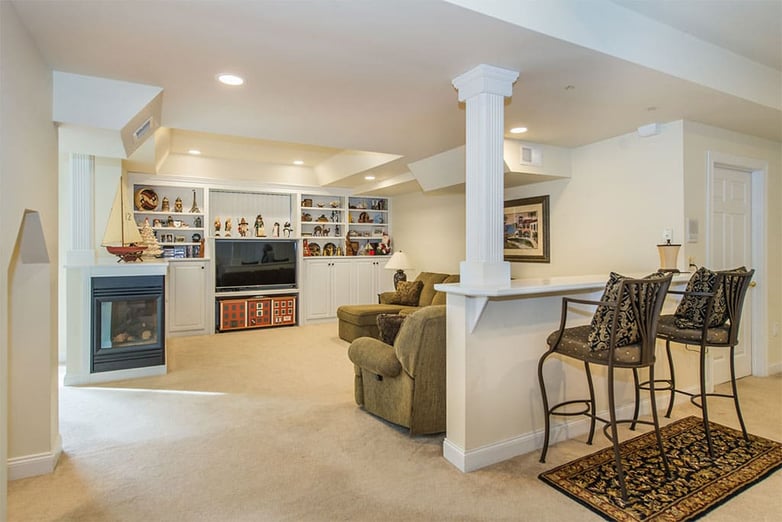 Using Custom Built-ins in Your Kitchen Remodels
Custom built-ins are made to complement your kitchen's specific design, as well as suit the way you and other household members generally use the space. When you're remodeling your New Jersey kitchen, think about planning your new layout to incorporate a bar-style counter or built-in bench seating to maximize functional space for your family. An otherwise empty wall can be transformed into an area for storing cookbooks, dishes or family heirlooms by adding built-in shelving. For the wall space by your stove, consider a useful built-in spice rack.
Your kitchen island is also a versatile structure that can provide built-in storage space, along with extra surface area for cooking, cleaning or eating. You can even design the island to hold small kitchen amenities and appliances, such as a beverage cooler or warming drawer.
Using Custom Built-ins in Your Bathroom Remodels
Open shelving has become highly popular as of late, particularly in kitchen and bathroom remodels. One idea for a bathroom remodel is to integrate a furniture-style built-in with open shelving on the top to display toiletries, along with a large lower cabinet for housing linens and towels. To make the structure blend in with the rest of your bathroom, paint it to match your main color palette or add detailing with the same tile or materials used elsewhere in the space.
In a small area like a bathroom, where storage space is at a premium, try to incorporate built-in bathroom shelves wherever you can, like above your toilet or vanity. A built-in corner medicine cabinet is also an effective solution for adding to your bathroom's function in a seamless, sophisticated way.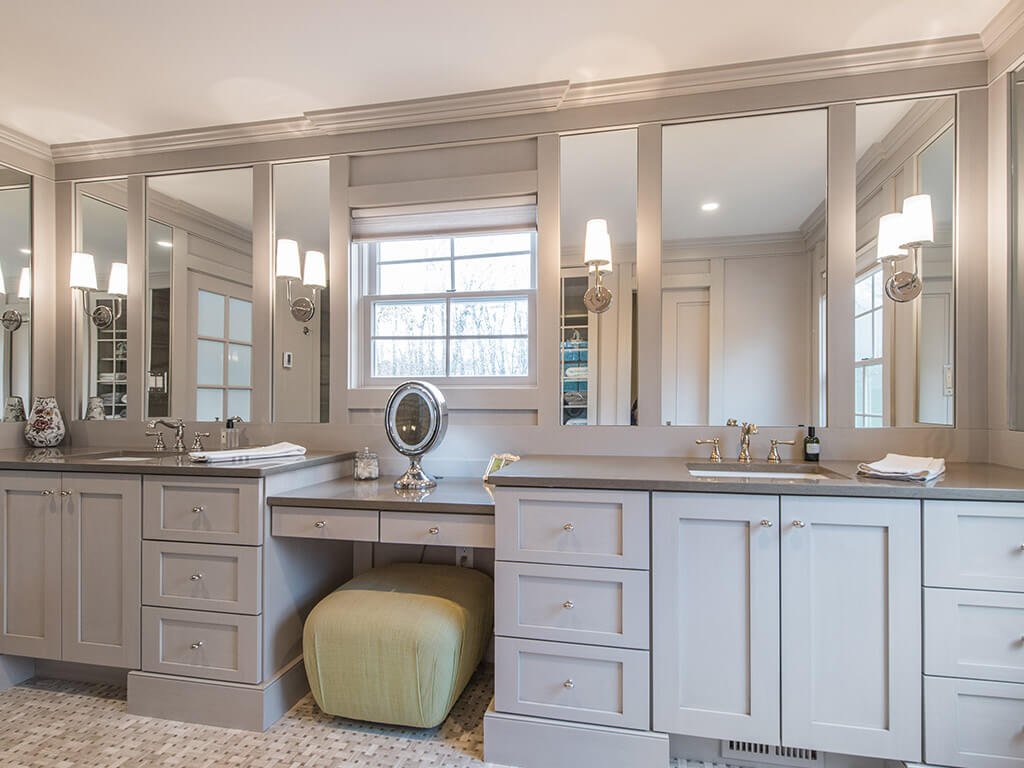 Using Custom Built-ins in Your Bedroom Remodels
A custom built-in cabinet is also suitable for your bedroom. Instead of having to set up a bulky dresser, use your new floor-to-ceiling built-in to store all your clothing, accessories, extra linens and other personal items. If you use your bedroom as a home office, a built-in desk may be another optimal solution by creating a vital workspace for you along the wall or by a window that provides nice natural light. Make sure the built-in desk includes adequate shelving and storage for your professional equipment, office supplies and files.
Using Custom Built-ins in Your Basement Remodels
If you're converting or remodeling a basement, think about what new purpose you'd like to instill for the space and how built-in storage could help you achieve that goal. Maybe you are designating your basement as a home office, gym or media room. You may also want it to be multifunctional, so it can double as a guest room or play area for your children.
As you're planning your basement conversion, consider designing a custom built-in that includes a fireplace, television niche and cabinets with pullouts to house your family's videos, CDs and books. It creates a beautiful focal point in the room and provides much needed, yet hidden storage.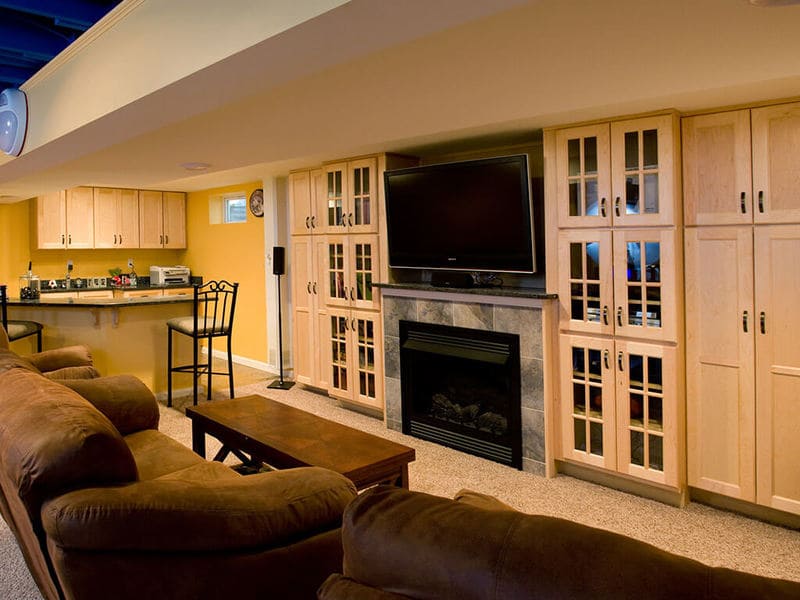 Additional Ideas for Using Custom Built-ins
The beauty of custom built-ins is that they can be added wherever you want, such as under your stairs, tucked into an alcove or within otherwise dead space. For example, your hallway is the ideal space for incorporating a display case or extra storage. You may also want to add custom cabinetry, a clothing rack and open shelving to enhance the versatility and function of your laundry room.
Customizing Your Remodel with Built-in Storage
Have you been dreaming of improving the beauty and functionality of your home in Parsippany? Perhaps your house could benefit from a kitchen, bathroom or family room remodel with custom built-ins. At JMC Home Specialists, we have worked with numerous homeowners in New Jersey to design and build cabinets and storage solutions that are integrated directly into the architecture. Through our design-build process, we can help you figure out how to best maximize the function and value of your home with custom built-ins.