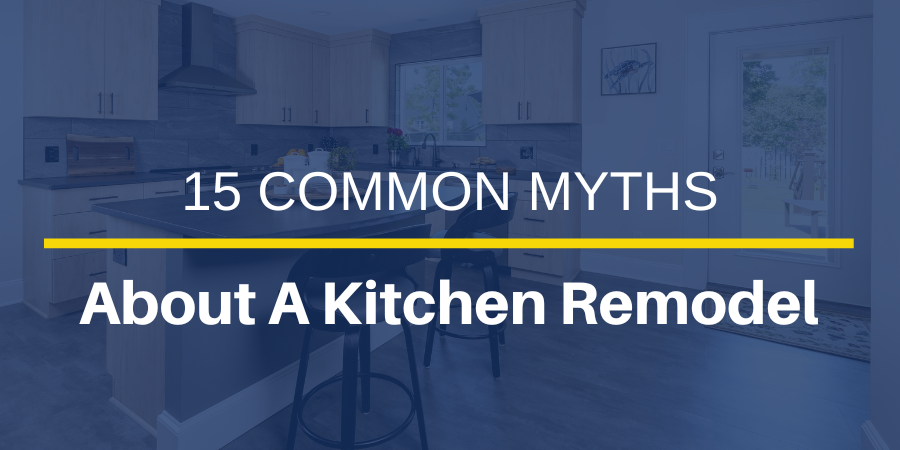 Online searches about what to do, and not do, during a kitchen remodel can turn up some interesting, if not creative, answers. However, there are a lot of myths swirling around that hold little to no truth. We're here to clear the air and reveal the truth about the most common myths about kitchen remodeling. What are the biggest myths about remodeling a kitchen?
1. A Kitchen Remodel Is a DIY Job
Some homeowners are capable of large DIY jobs, like people with carpentry experience, who have plenty of time on their hands, and are retired construction workers. Everyone else should hire a professional that has industry knowledge, access to reliable vendors can do the variety of jobs required in a kitchen remodel without troubleshooting, and can dedicate hours a day for weeks at a time.
The kitchen is a complex room to remodel and it's certainly not a room you want to experiment in with novice-level skill. Attempting a DIY kitchen remodel could mean your project will go on for several weeks or months longer than you plan, leaving you without a kitchen for your daily necessities. You could even end up spending more than if you were to hire a professional remodeler. A professional can do the job in less time, the right way the first time, and stay within your budget, all while providing a beautiful and functional outcome.
2. You Have to Stick to the 10% to 15% Rule
It's estimated that you should spend from 10% to 15% of your home's current value on a kitchen remodel. As this can be true in many cases and is a good starting point, your specific kitchen remodel could stray from this 'rule' for a number of valid reasons.
Your kitchen may simply require less work. If replacing your flooring and countertops is necessary but your cabinets are in excellent shape and in a pleasing style, your kitchen remodel will cost less. On the other hand, if your home is older and will require more work, like rewiring, new plumbing lines, and new subflooring, your kitchen cost may exceed 15%.
3. Your Kitchen Remodel Doesn't Require a Designer
A kitchen remodel is way more than choosing new finishes, especially if you're looking to change the layout. Rerouting plumbing lines, designing a lighting scheme, properly calculating the layout, and having an understanding of kitchen flow is something a designer can bring to the table to make sure your end result is something that works and you can live with for years. Attempting these things on your own can result in some big consequences and spending more than you anticipated to have them fixed.
4. Staying on Budget Means Cutting Corners
It's common to experience a little shock when you're inspecting every line item in a budget. It's okay to reel in costs here and there to balance your budget, but cutting corner after corner will likely result in a remodel that you're just okay with and not excited about. Not to mention, looking for a bargain on every expenditure will also likely result in unintentionally choosing materials that aren't durable, leaving you needing to replace them sooner than you'd like. Trust your designer to explore quality options that will also keep your project under budget.
5. Remodeling Your Kitchen Is a Gut Job
Sometimes, yes. Plenty of times, no. Whether your kitchen remodel is a gut and-replace job depends on your design goals. A minor kitchen remodel is removing all of the finishes and appliances and replacing them, while retaining your walls and even your cabinet boxes. Your layout won't change, so there's no need to remove drywall or remove any walls.
If your kitchen is a major remodel, where you're opening a floor plan, shifting the entire layout, adding windows or a door, or creating a bump out to add space, this could result in a full gut job.
6. Kitchen Remodel Timelines are Incredibly Long
The main reason a kitchen remodel may exceed your desired timeline is poor planning. You can solve this issue by working with an experienced design and build team and sticking to the plan. Changing materials or concepts will create major delays, not to mention increase your project cost.
7. Bigger is Always Better
The perfect-sized kitchen is different for every family. How many people might use the kitchen at once? Do you frequently entertain? Look to your designer to help you decide the most appropriately sized kitchen for your needs. If your current kitchen feels cramped, it might be the layout and where the appliances are placed rather than the square footage.
8. Refinishing Your Cabinets Rather Than Replacing Them Will Save You Money
Refinishing kitchen cabinets is a more complex job than many think, especially if you're a home-improvement-show enthusiast, where everything is made to look quick and simple. The labor involved to skillfully resurface your cabinets will likely cost just as much as new cabinets. If waste is your concern, ask your builder or designer about opportunities to remove them carefully and donate them to an organization like Habitat for Humanity.
9. Today's Kitchens Must Have an Island
Kitchen islands are a great asset, but only if your kitchen has the space to spare. Installing a kitchen island in a space that really doesn't have the room to spare could create a bottleneck and feel cramped in your brand-new kitchen. Your designer may be able to work a peninsula into your kitchen remodel rather than an island but be open to the possibility that you'll have to go without if you aren't also expanding your kitchen's footprint.
10. You Can Add Amenities Later On
Planning to add features and amenities later to save money now may cost you more than if you were to just work them into your remodeling plans. Built-in appliances are a great example. Adding a built-in espresso machine later rather than at least exploring how it can be worked into your budget now will result in either never getting around to it or paying more to have the work done after the fact.
11. Contractors Can Start Immediately
Experienced contractors are typically booked out months in advance. Scheduling a consultation, getting an in-home visit, meeting to discuss design goals, waiting to receive an estimate, and finally creating a schedule to plan your construction phase takes time. Also, contractors will typically have multiple projects underway at one time. It's worth the wait if the design-build team is credible, talented, and experienced in the type and style of project you're looking to achieve.
12. White Cabinets Are the Best Option
It's a common belief that white cabinets are a go-to must for a kitchen remodel unless you want to regret your decision sooner than later. The truth is, it depends on your style. White isn't necessarily foolproof. You can just as easily get sick of white cabinets as any other color. If color brings you joy, use it. Kitchen trends change but what's most important is that your kitchen remodel reflects your personal style, rather than what magazine articles say you should do.
13. Removing a Load-Bearing Wall Is Too Expensive
Removing a load-bearing wall can actually cost less than some material choices in your kitchen. It's also important to consider how removing a wall will affect your quality of life. Is your home older with a closed concept, shutting you off from family and friends when you're preparing a meal? The value will very likely come from your experience in your home after the remodel is complete. Ask your designer to explore the cost difference between removing a wall and leaving it in to make your decision before counting it out.
14. Better Products Cost More
Some finishes and features cost more simply because of how they're made, how they're sourced, or how far they're traveling to reach your construction site. Oftentimes, it has little to nothing to do with their performance, durability, or even aesthetic quality. Certain wood for cabinets, countertop materials, flooring, appliances, and many other materials definitely fit this description.
15. You Can Reuse Your Countertops
It might be tempting to want to reuse your countertops, especially if they're in good condition. Countertops can account for around 10% to 15% of your remodel budget, making it all the more tempting. The problem is that removing a countertop to replace the cabinets underneath can very easily damage the material, even with the most careful crew. The labor to execute a clean removal alone is enough to make buying a new countertop worth it monetarily.
The Most Important Tip for Remodeling Your Kitchen
Most, if not all, of these myths can easily be debunked when you talk to a professional design-build team that you can trust. When you're searching for a remodeling team, you'll want to look at their credentials, experience, portfolio, and reviews. Get to know them before the interview and have questions prepared. A professional, trustworthy remodeler will have no problem thoughtfully answering all of your questions so you can better sort out myths from the truth.
At JMC Home Improvement Specialists, we value open and honest discussions to help you feel confident in moving forward with a kitchen remodel. We understand that it's an investment and your home is more than just a house. Contact us to schedule a consultation when you're ready to talk about your kitchen remodel goals.