Your New Jersey kitchen remodel has the potential to be the kitchen you've always wanted and the kitchen that will bring you the best return on investment (ROI) for your budget. Before you begin choosing finishes and planning for your big investment, get a better understanding of what type of kitchen remodel you should plan and budget for before spending a dime.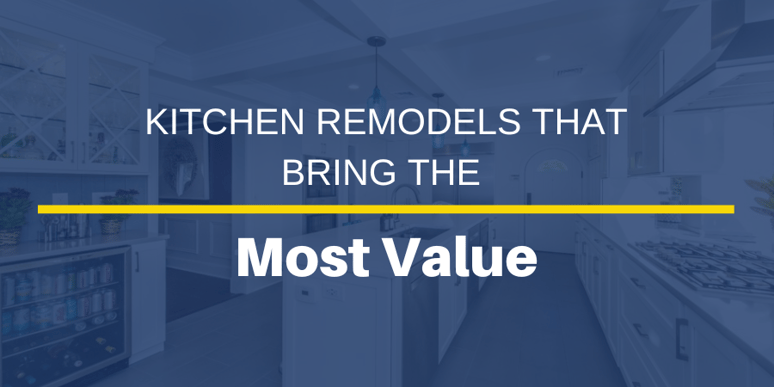 What Percentage of Home Value Should Be Spent on a Kitchen Remodel?
Knowing how much to reasonably budget for your kitchen remodel is an important first step. The question you should ask yourself is not how much you can spend, but how much you should spend. The National Kitchen and Bath Association (NKBA), who regularly tracks remodeling trends and values, recommends spending 15% to 20% of your home's value on your kitchen remodel.
Main Types of Kitchen Remodels and the Cost vs Value Report
At JMC Home Improvement Specialists, our kitchen remodeling costs usually range from $80K to $140K and up. The starting price is so varied because it depends on the type of remodeling you're after and the materials you choose. This is also why the ROI for a kitchen remodel varies from a 53% ROI to an 80% ROI, but you'll learn more about why that is exactly later in the article. We'll start with the kitchen at the lowest cost, but with the highest ROI.
Minor Kitchen Remodel
With an 80% ROI and a $40K investment, the Cost vs Value Report calls this minor, but you're actually going to get a full kitchen makeover that includes new floors, countertops, hardware, and fixtures. Your layout and where the cabinets are already set will remain the same, but you'll also get new fronts on your cabinets and a fresh paint job from top to bottom.
Major Kitchen Remodel
Our major kitchen remodel cost will range from $80K to $140K, depending on materials, square footage, and whether we're removing a wall. Your ROI should come to about 63%. Your kitchen will be fully gutted with a new layout, installing all new wood kitchen cabinets, quartz countertops, custom tile, hardwood floors, new plumbing and electric wiring, and fresh paint. At the higher price point, you will also have a new kitchen island and the potential to open the space with the removal of a wall.
Create a Larger Kitchen With an Open Floor Plan
What the Cost vs Value Report refers to as a Major Kitchen Remodel is our Open Floor Concept Kitchen. This level kitchen remodel cost starts at $100K with a ROI of about 53%. Your new kitchen will open up to the living and dining area, and includes a large kitchen island with a sink and seating, beautiful flooring and tile, and everything else included in the Major Kitchen Remodel. Your new kitchen at this level will have built-in appliances and high-end finishes for a more luxurious feel.
Why Do Smaller Projects Have a Higher ROI?
Cosmetic remodels and small upgrades require a smaller investment but still make a significant enough impact on prospective buyers. Over the past few years, some materials simply cost more but the values of homes haven't reflected this, also affecting the ROI. This is why replacing a garage door, your front door, or vinyl siding tends to rank high on the Cost vs Value Report year after year.
You might be asking yourself, Is it worth remodeling right before selling? Any kitchen remodel will offer some ROI, but also consider how the rest of your home will look to a buyer. Will they be greeted by a run-down exterior before they have a chance to see your brand-new kitchen? This will affect how much your investment will be valued. If you're going to invest in a new kitchen, also consider your home's curb appeal.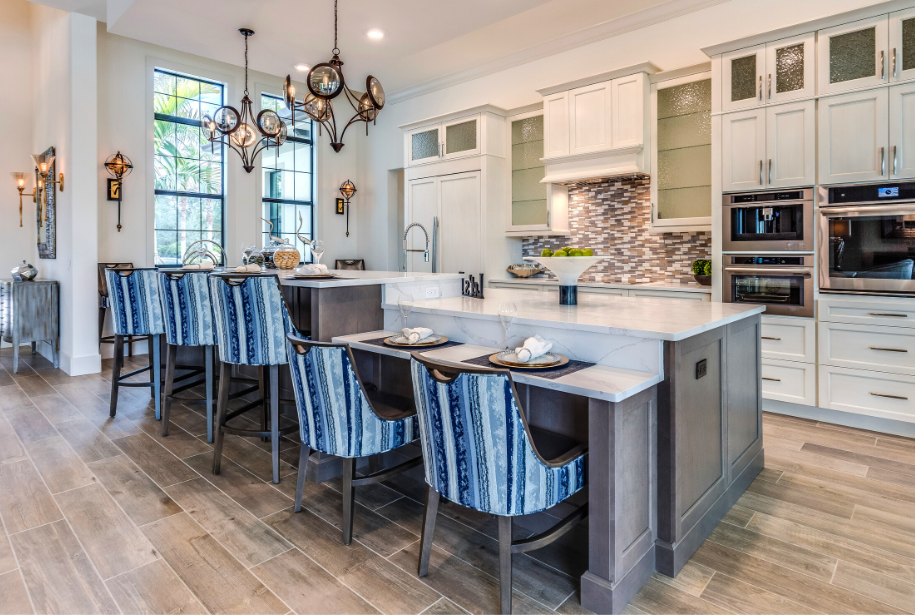 Personal Priorities vs What's Popular With Homebuyers
Many homeowners are curious about the ROI of a remodel even if they don't plan to sell for quite some time–or even at all. Your future plans for your home will likely affect your perspective on a ROI and the decisions you make while designing your remodel.
Designing for Yourself
You may be considering a remodel for you and your family's own comfort. If this is the case, consider what you value most in a kitchen and ask yourself a few questions. Do you like to entertain dinner guests and host holidays? Is plenty of seating and storage high on the must-have list? What about an open floor plan? If you value high-end appliances, this might shift the amount of the budget you spend on a chef-worthy range, a small bar, or a high-end espresso station.
The types and grades of materials and finishes you choose will also depend on if, or when, you plan to sell your home. As you've read, high-end materials have a lower ROI but if a solid marble slab backsplash and hardwood floors feel important to your everyday experience in your kitchen, it could be worth it. Other design considerations include a walk-in pantry, trending colors on your cabinets, and nuanced appliances.
Designing for a Future Buyer
Most home buyers today value energy-efficient appliances, making the investment a selling point in your listing. Quartz countertops, which are less expensive and more durable than marble, is a better choice if you're going to sell your home sooner rather than later. High-end lighting, fixtures, and custom cabinetry look nice, but won't get you a satisfying ROI, so choose mid-grade finishes and prefabricated cabinets instead. However, everyone loves a kitchen island, lots of storage, luxury vinyl tile, and neutral colors, so work those into your remodel if you can.
Higher-end finishes tend to be more personalized. Because of this, your newly renovated kitchen may not be every buyer's preferred taste. For more details like these, ask a local realtor or your custom home remodeler for guidance.
Take the First Step and Call a Design-Build Professional
There is a lot to consider when planning to remodel your home, especially a complex remodel like your kitchen. So many decisions go into a kitchen remodel that having a professional by your side to guide the process and ask the right questions could save you time, money, and stress.
JMC Home Improvement Specialists is a design-build firm that has been delivering beautiful and functional spaces to homeowners in New Jersey for decades. We work to get the kitchen you want for the budget you have and the value you deserve. Let us help you explore your options by contacting us to schedule a consultation today.