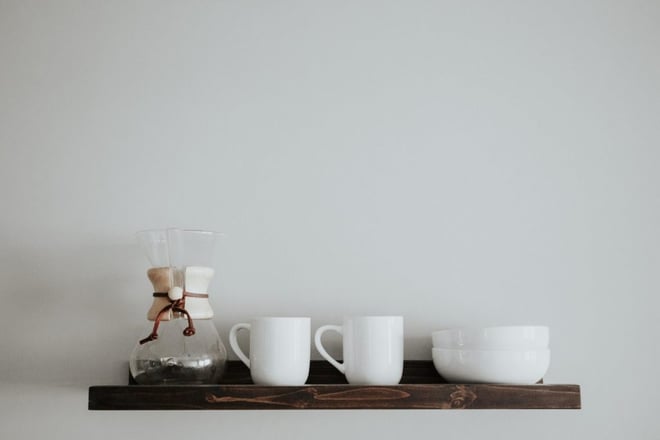 Living in a smaller home is great. They are easier to maintain, and it takes less time to clean them -- meaning you have more free time to do the things you love. A smaller home is a smarter financial investment and frees up more cash to be spent on experiences. When you live with less stuff, you get rid of the emotional and mental attachments to material items that weigh you down. A smaller home has less of an environmental impact. In a smaller house, you become closer to your family — both literally and figuratively. And if you ever decide to move, a smaller house is an easier sell for your real estate agent.
A big reason many people don't like their smaller home is because they have too much stuff and not enough room to store it. Instead of moving to a bigger place, it's better to pare down possessions and embrace creative storage solutions that make the most of a small space. If you're living on a budget, you can save space without investing too much money.
Float On
Floating shelves are inexpensive and easy to hang. They also make for a great way to combine cool decor with functionality. Floating shelves add storage to vertical space and can be styled with your favorite books, mementos, and houseplants. This frees up floor space while giving your home a personal touch. If you're in the market for affordable floating shelves, remember to check for sales and discounts at retailers such as Crate and Barrel.
Get Low
Taking advantage of vertical space is a great storage hack, but remember what goes up also goes down. Taking advantage of the space below furniture to add storage makes it easy to keep rooms uncluttered and clean. You can take advantage of low-profile plastic containers that easily fit under beds, couches, and other large pieces of furniture, and you can save some money by looking into Bed Bath & Beyond promo codes.
If you don't like the idea of sliding boxes under the bed, consider investing in a platform bed frame that has drawers built into it. These models are perfect for storing socks, pajamas, toys, books, and more while also being stylish to boot. To save money on a new bed frame, check listings on sites like Craigslist, where you can score used furniture for a fraction of the cost. And if you still need more tips for storage to get your home organized, HomeAdvisor provides a guide that breaks organization tips down into rooms.
Spark Joy
Marie Kondo's KonMari method, which teaches people to let go of possessions for a tidier home, has become an international sensation. In her book The Life-Changing Magic of Tidying Up, she details how she spent her younger years trying every storage solution known to man, only to find that all they do is add to the clutter. The true key to a tidier home is getting rid of unnecessary items and establishing a "home" for each thing you decide to keep. Best of all, using this method is completely free.
A plan of attack is essential when it comes to clearing out your possessions. Tackle your home room by room to avoid getting distracted and giving up in the middle of a project. When deciding whether to keep something, hold it in your hands and ask yourself if it sparks joy within you. If it doesn't, thank it for serving its purpose in your life and let it go.
A small house has many benefits, but if you have a lot of stuff, you may be wary about having less square footage at your disposal. However, with smart storage solutions and a minimalist approach, it's possible to make a smaller place work for you. To save money on the items you need, be sure to shop at places that offer plenty of discounts to avoid paying full price for anything. Finally, don't underestimate your potential for paring down possessions. Living with less is truly the key to a tidier home.