Finding the right community to call "home" is almost as important as building the right personal residence to suit the size and dynamic of your family. After all, the surrounding neighborhood and inherent characteristics of your environment impact nearly every aspect of your life.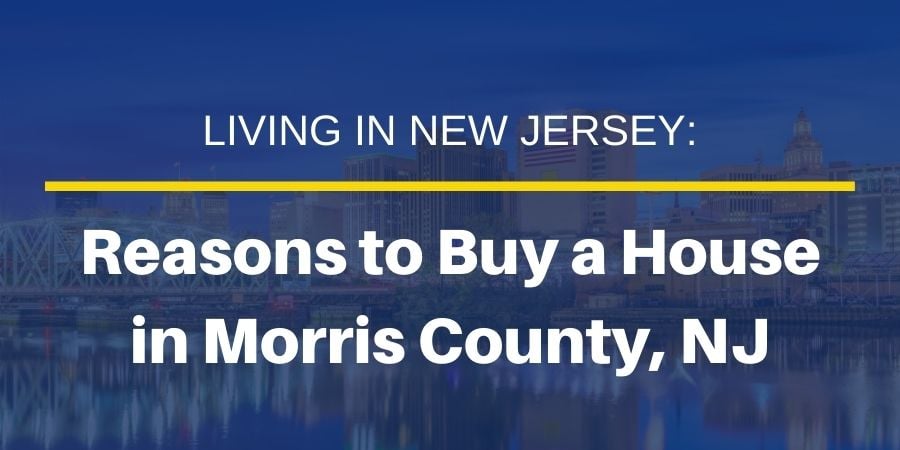 Morris County, New Jersey, has something to offer on both accounts. With nearly 2,000 houses on the market—and opportunities for new residential construction—as well as a variety of cultural, natural, and recreational amenities, you can create the life you desire for yourself and your family in Morris County.
Is Morris County a Good Place to Live?
Morris County, established in 1738, primarily consists of several small to medium-sized townships, with the Parsippany-Troy Hills Township being the most populous place with 53,238 residents. Overall, there are approximately 500,000 residents in the whole of the county, including young professionals, students, and families.
If you're wondering how you would fit into this historic and diverse area, here are some of the top reasons to consider buying or building a new home in Morris County, NJ:
1. Highly Rated Public School System
Numerous public schools and public-school systems in Morris County have either A+ or A ratings on Niche based on analysis of key statistics from the New Jersey Department of Education and reviews from students and parents. The region is serviced by 42 school districts and more than 100 schools. The Academy for Mathematics, Science and Engineering in Rockaway is the top-rated public high school in Morris County, with Morris County School of Technology, West Morris Mendham High School and Mountain Lakes High School trailing close behind.
2. Safety and Low Crime
In a 2020 national security review, seven towns in Morris County made it onto the list of the top 100 Safest Cities in America. The Morris County towns that were ranked as some of the safest places to live and work include Mount Olive Township; Washington Township; Jefferson Township; Randolph Township; Roxbury Township; Denville Township; and Morris Township. The list is developed by security experts at safewide.com who analyze the most recent FBI crime reporting statistics and population data. In general, cities in New Jersey accounted for 25% of the list.
3. Welcoming Housing Market
About three out of four households in Morris County, New Jersey, own their home. Although home values have increased about 9% in the past year, living in this area is still relatively cheaper than building or buying a home in nearby urban environments, such as Philadelphia and New York City. The median home value is approximately $486,000, but you also can find good deals on older homes that are perfect for remodeling and turning into your forever home.
4. Distinct Suburbs
There is regional diversity within Morris County, giving you the latitude to find the neighborhood or community that feels like the best fit in terms of size, local culture, public amenities and other factors. Mountain Lakes, Chatham and Madison are often ranked as the best places to live in Morris County, NJ, but there are compelling reasons to choose any of the municipalities. For example, Mountain Lakes has a strong sense of community, an affluent vibe and several social clubs and organizations. The Parsippany-Troy Hills Township has great access to major highways and is ideal for commuters and those who enjoy more of an urban-suburban mix.
5. Family Friendly Vibe
While there is a fair amount of nightlife and a handful of colleges and universities that help bring a larger population of young adults to the area, Morris County has long been seen as a great place to raise a family, thanks to affordability, safety, school quality and other factors. Popular attractions in Morris County, NJ, include historical landmarks—such as the Morristown National Historical Park, Ford Mansion and Museum, and Nathan Cooper Gristmill—and a wide range of local farms where you can get fresh produce and enjoy seasonal activities. Imagine That!!!, a children's museum, is another popular attraction for families.
6. Plenty of Outdoor Activities
When you feel the need to get outdoors and be in nature, you don't have to travel far. From the Frelinghuysen Arboretum and Loantaka Brook Reservation to Hacklebarney State Park and various city parks, there are numerous places to go for a walk, a jog or a hike. Living in Morris County also puts you in proximity to beaches and waterways, such as Mine Hill Beach, Shongum Lake, Cranberry Lake, and Shore Hills Beach. You're also only a couple of hours away from the Atlantic Ocean for the idyllic seaside getaway. There are plenty of outdoor activities, beautiful scenery, and restaurants to check out in and around the area!
7. Easy Commute to the Big City
Most locations in Morris County, NJ, are about one to one-and-a-half hours from New York City and about two hours from Philadelphia. Many homeowners choose to live in Morris County for the preferable housing market and cost of living and then commute to the city for work via bus or train. At the very least, when you need a big-city fix, you can easily escape for a weekend or even an afternoon to catch a show, shop or dine out.
Buying a New Home in Morris County, NJ
While there are dozens of empty lots in Morris County, NJ, that you can purchase to use for a new home build, it can be just as cost-effective to buy an existing home and renovate it to match your lifestyle needs. JMC Home Improvement Specialists assists homeowners throughout Morris County—including Morristown, Parsippany and Randolph—with custom home remodeling projects. Our design-build team helps you plan every detail of the project to simplify the process and maximize the return on your investment.