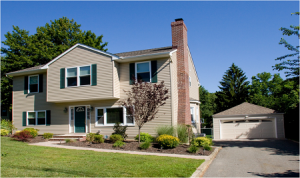 Believe it or not, spring is just around the corner. We're certainly ready to say goodbye to the cold and snow and welcome the warmer temperatures, green lawns and beautiful flowers. During the winter months, the harsh weather can wreak havoc on your home. That's why it's important to perform seasonal maintenance checks on your home. If you're not sure where to start, have a look at our list of spring home maintenance tips and take a weekend or two to get your home tip-top shape.
Inspect the following items for damage:
Siding for mold, weathering and chipping.
Exterior brick and stucco for chipping or water deposits.
Foundation for cracks, heaving or deterioration.
Roofing for missing shingles and flashings.
Chimneys for missing or cracked joints and white calcium deposits.
HVAC for leaks, verify drain pans are in order, and remove dust from equipment.
Attic for unwanted guests such as insects or small animals. Also look for mold damage.
Sprinkler systems should be tested.
If you find issues in any of these areas, correct them immediately and don't hesitate to call a professional for jobs that are beyond your comfort level or ability.
Clean or tend to these areas:
Gutters should be rid of any leaves or other debris.
Window and doors with cracks should be caulked. Screens should be free of holes, replace if necessary.
HVAC filters should be changed on a monthly basis.
Landscaping should be trimmed away from your home and walkways. Leaves should be removed from your lawn and flowerbeds.
While you're completing your spring home maintenance list, consider your house a whole. Are there areas of your home that aren't functioning as well as they could? Has your kitchen become outdated or are your bathrooms cramped and dark? Spring is the perfect time to start planning your remodeling project with JMC Remodeling. If you have something in mind, please contact us, we'd love to discuss your ideas or answer any questions you may have.