Designing your home remodel is an exciting experience that includes several meetings to discuss your design goals. The pre-construction meeting is also an opportunity to check in with your designer about key parts of your project. To ensure you and your New Jersey builder are on the same page, go to your design meetings with a checklist of questions. What are the questions you should ask your home builder during the pre-construction meeting?
While choosing features and materials for your renovation project is a fun experience, the design phase is also a time for doing your due diligence. The more well-informed decisions you make at this point, the more stress-free and efficient the construction phase of the remodel can be.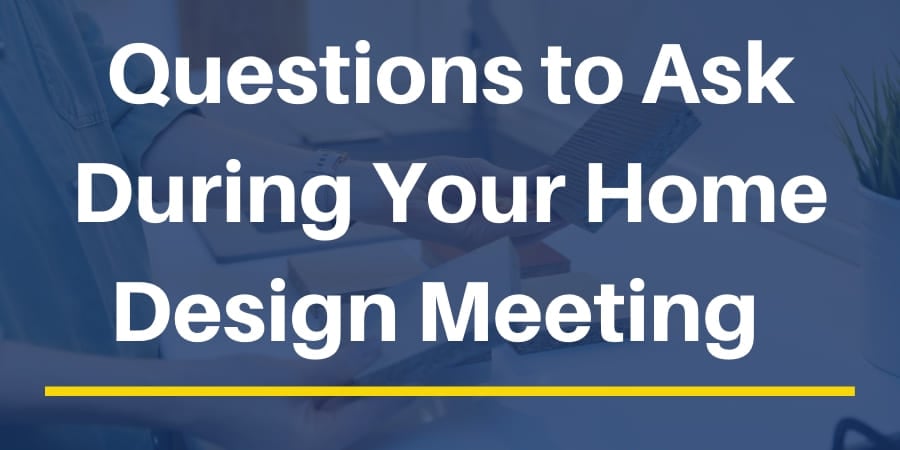 Home Renovation Design Center Checklist
After selecting a design-build contractor to manage your remodel project in northern New Jersey, you can expect to have at least a couple of meetings at the firm's design center or showroom to start reviewing your design options. During your first showroom meeting or virtual consultation, it's important to ask the right questions so you can better get to know your remodeling team and vice versa. Here is a brief home design checklist with topics to discuss and questions to ask during your showroom meeting.
1.
How Will My Remodeling Goals Be Prioritized in the Design?
You likely have a list of priorities that are driving your remodeling goals. It's important to share what you hope to gain from the renovation with your design team. Be sure to consider not only what your needs are now but also into the future. Also, if you're looking to remodel before selling your home, your builder can work with you to make design decisions specifically to increase the value of your home. Your priorities will guide the design process, so communicating your needs is critical for you and your builder to be on the same page.
2. Are We Clear on the Home Remodeling Budget?
You've already discussed your ideal budget during the initial consultation with the remodeling company. Now that you will be discussing finer details, your designer will be able to determine if there is enough room in your budget for all of your remodeling goals. Through understanding your home remodel needs along with your budget, the designer will be able to assist you in planning your remodel from the overall layout and construction costs to choosing the best fixtures and finishes.
Trusting your remodeler to keep design goals realistically within your budget is important. Be open to alternative design options that will keep your remodel from going over budget.
3. What Styles Are Trending?
Find out what styles, colors, fixtures, and materials are trending. Also, keep in mind that including timeless design trends are a great foundation for incorporating current trending styles. Ask your designer to have their portfolio of previous home remodeling projects handy to use as a springboard for design ideas for your own remodel. You can also contribute design ideas by using the Pinterest or Houzz apps before your meeting.
You may see home features in their completed projects you didn't think to include, such as a home theater, an outdoor kitchen, or a custom bar. Your New Jersey home remodel should feel unique and custom to your wants while also feeling current and stylish.
4. Who Will Be My Main Point of Contact?
You will want to find out how the design-build team is structured and who will be the main point of contact. Your main point of contact will likely be the person to whom you will communicate desired changes and concerns.
Ask your designer if they use communication software. Communication software shows necessary changes in real-time and is used as the primary communication platform, keeping all documentation in one place.
Additionally, find out if they work with any subcontractors or if they have a full in-house team as well as a list of go-to vendors. Also, let your designer know if you'd like to use any personal connections for sourcing materials or fixtures.
5.
Will I Be Able to Make Changes to the Design During Construction?
Changes, or change orders, during construction, are inevitable. A material may suddenly be unavailable, there may be a change in the cost of the fixtures you've chosen, or there may be an unexpected weather event that affects the construction phase.
These types of changes will create the need for a change order, which can create an increase in your budget. Find out from your designer what the process for a change order entails, at what point are you unable to request them, and how a change order that wasn't initiated by you will be communicated.
6. What are the Phases of Construction? What Role Do I Play In Keeping Things Moving Forward?
Find out from your designer what their company's typical process looks like, how long you should expect your project to take, and how you will be kept in the know as the process moves along. Most homeowners prefer to be a major part of the decision-making process and to be kept informed, even doing regular site visits. Ask about when those visits would be least interruptive and how you can be a part of the process without slowing things down.
Heading to the Home Design Center
At JMC Home Improvement Specialists, we want New Jersey homeowners to have a positive remodeling experience with your dream home being the outcome. We're here to answer your questions and are committed to providing the level of communication you need to feel confident about your project. Contact JMC Home Improvement Specialists for a consultation about your home remodeling project and to find out how to take the first steps toward your new home.