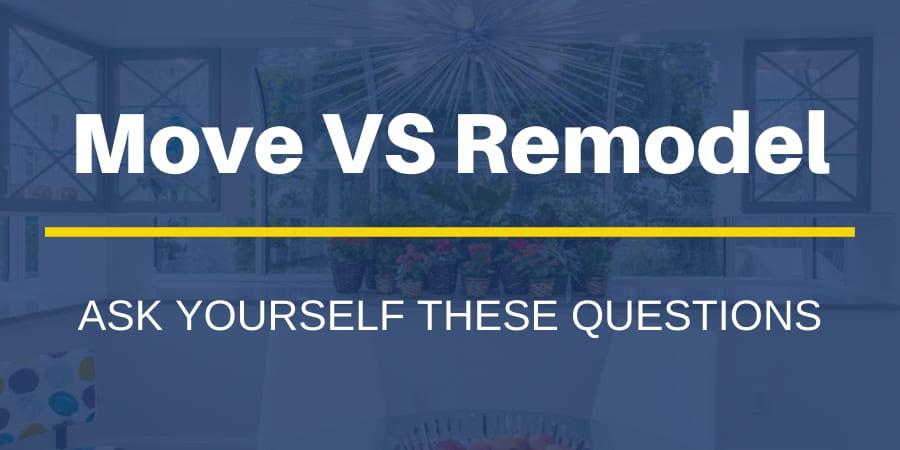 If you have been in your home for over a decade, chances are you have a list of renovations you'd like to have done on your home. Perhaps your family's needs have changed, the kitchen or bathrooms are outdated, or you simply need more space. When faced with a growing renovation list, most homeowners contemplate whether they should move to another area of New Jersey or remodel. You might be wondering, How do I know if I should move or renovate? Will a remodel add value to my home? These and other questions we will discuss will help you decide whether it's time to move or remodel.
Do You Love Your Neighborhood?
After living in the same New Jersey neighborhood for a few years, you may have become attached to the people, the nearby amenities, the schools, and parks. Leaving your community can be difficult and a big factor in deciding to stay or sell. Intrinsic value can play a big role in this decision and can be as simple as just really liking where you live. Perhaps your commute time to work is ideal, or the school district ranks high in your area. Take inventory of the pros and cons of living in your neighborhood to get a clear picture of how important your current location is to you and your family.
How Long Could You Stay in the Home if You Completed Your List of Renovations?
Sometimes, even completely remodeling your home will only afford you a few more years if there are circumstances that would lead you to move away regardless. An impending job opportunity, wanting to move closer to other family members, or growing tired of the climate in your area could all factor into moving in the near future.
However, if the reason for a possible move is to be in a home that's more suitable for aging in place, for example, then renovating will likely be the best option. Many homes aren't designed for aging in place from the start and will need updates. If you're fond of your community, consider hiring a home remodeling company that specializes in turning your home into a place you can live comfortably and safely well into your future.
How Will Remodeling Affect the Value of Your Home in Comparison to Others in Your Neighborhood?
Home values don't exist in a vacuum, so when you remodel, it's important to consider the market rate of other homes in your neighborhood. If your renovation could increase the value of your home to a price that's out of balance with surrounding homes, the choice between staying or selling gets a little tricky. In this case, you may want to find a home in a different area that checks all or most of your boxes. This is because if you decide later to sell your home, you may lose more of your remodel investment than you'd like.
On the other hand, consider the growth in your area. Is there a new school being built or an influx of businesses? Perhaps you're noticing an uptick in renovations happening across your neighborhood. This could be a good sign to make updates that would keep your home's value growing along with the community.
Will You Be Able to Find the Right Home in the Right Place?
If you'd like to stay in your neighborhood, are there houses for sale that would suit your needs? Many people move into a home and need to remodel right away, or plan to remodel in the near future. Buying a home on the market usually comes with a few compromises. There may not be an outdoor living area, too few bedrooms, a dated kitchen, or old wiring and plumbing. Finding a home that's a good fit and already updated isn't easy to do. In these cases, remodeling your current home to fit your family perfectly will save you from having to compromise on what's important for your comfort.
Will Current Mortgage Interest Rates Affect Your Decision to Remodel or to Sell?
With mortgage rates on a steady climb, analysts have seen a steady decline in mortgage applications. What does this mean for your decision between remodeling your home or buying a new home? Higher interest rates could mean lower house prices. That's good for buying a home, but not for selling your current home.
This could mean that the better decision is to remodel your home rather than sell. When the market bounces back and you're still interested in moving, your remodeled kitchen and updated bathrooms would put your home at a better market value than those improvements would in the current market.
When in Doubt, Consult a Professional
Even after considering each of these questions, you'll likely have more. Bring your questions and concerns to a professional remodeler that's helped a number of homeowners over the years who have had the same questions. It's a good idea to get the perspective of someone you can trust that has experience with these issues.
JMC Home Improvement Specialists have been the go-to voice of reason and source of knowledge for countless homeowners through the years. Our integrity and client trust is shown in how many of our clients are referred by a friend or family member that has worked with us in the past. Contact us to schedule a consultation and we'll help you with the important decision between remodeling your home or buying a new one for you and your family.