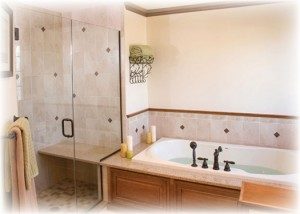 We've been remodeling homes in Morris, Union, Bergen and Essex counties for more than over 40 years, and we've seen some pretty interesting trends come and go. One of the major trends we've seen during the past few years has to do with the way homeowners view their bathrooms—and specifically their master baths.
More and more, we see homeowners treating this space in their home as a spa-like retreat from the stresses of daily life. It's no longer simply a place to get ready for the day (although there are a lot of improvements you can make to your master bath to make that function a lot more pleasant and convenient).The master bath has become a place to relax at the end of the day and to enjoy a bit of pampering.
A few years ago, Jacuzzi-style whirlpool tubs became very popular features in upgraded bathrooms. People enjoyed being able to soak away the worries of the day. And while these soaking tubs are still quite popular, many homeowners are opting for soaking tubs. It's just one more way to bring a bit of serenity into the home. And because some homeowners are also wiring their bathrooms for music—or even televisions that "disappear" into mirror fixtures—dampening the sound is even more attractive.
Not everyone, however, enjoys a long soak in the tub. And another trend we've seen emerging is an emphasis on the shower in the master bath. There is a definite move toward larger showers (which, naturally feel less cramped and constricting—and therefore are more relaxing). Many homeowners are installing multiple fixtures in their showers that deliver water spray from a number of different angles. That provides the massage-like effect of a spa—without the long soaking time.
Of course there are all kinds of new trends in flooring material, sink and faucet treatments and even in-floor radiant heating. If you're looking for some additional ideas, we invite you to take a look at some of the bathroom remodeling projects we've recently completed in the Morris, Union, Bergen and Essex county areas.
We've been doing this kind of work since 1977—and bathrooms have never looked better!